Meeting Downloads
OnBoard provides the Meeting Administrator the opportunity to export many objects from their meetings. From the Meeting Details screen, find the Downloads link. Here, we'll find all the options that can be exported from this particular meeting.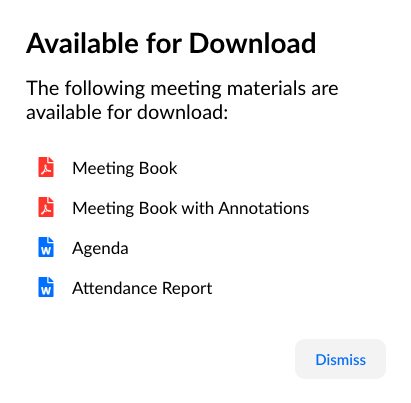 Meeting Book Download
The first option in this list will combine all of the uploaded documents into a single PDF and download it to your laptop/desktop's Downloads folder. If you do not see this option, either there haven't been any documents uploaded yet, or the Administrator has disabled this feature.
Meeting Book Download (With My Annotations)
This option behaves exactly like the one above, except it will also include annotations you have made on the board book. (NOTE: This download will only include the annotations YOU personally have made. It will not include any annotation created by another user that has been shared with you.)
Agenda Download
Selecting this option will export a Microsoft Word document containing all the details about the agenda. Each section will be listed, along with its description, duration, and presenters.
Attendance Report Download
This option exports a Microsoft Word document detailing the attendance record. How users have chosen to RSVP and if they've been marked as attending/not-attending will be included in this document.
Meeting Settings
Many additional meeting Settings can be found by clicking the Settings button, in the same area as the Downloads button.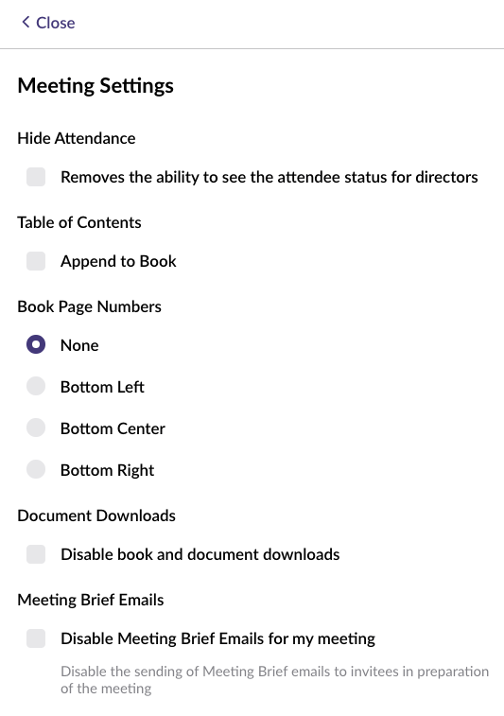 Hide Attendance Setting
As the meeting's administrator, you will always be able to see the meeting's attendance, regardless of any setting. However, when this setting is enabled, NON-ADMINS of this meeting will not be able to see how other people have chosen to RSVP. This eliminates the possibility of a user's attendance depending on another.
Table of Contents Setting
With this setting enabled, a new page is generated by OnBoard to be the first page in the meeting's board book. Configure exactly the type of content you wish to appear on this page by enabling the checkboxes for any of the following items: Organization Logo, Organization Name, Meeting Date & Time, Meeting Location, Agenda Section Descriptions, Agenda Section Document Names, and Agenda Sections without Documents.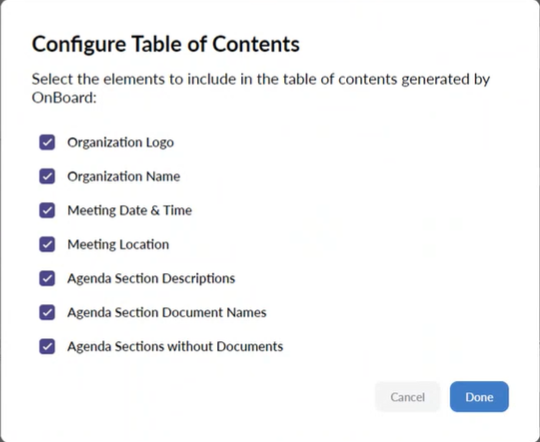 Book Page Numbers
You can choose to have OnBoard automatically brand each page with a page number. This number will continue consecutively through ALL of the documents that have been added to the book. Each separate document might have its own set of numbering, but it is quite helpful to have one total overarching set of page numbers that anyone can reference and understand which page to view.
Document Download Setting
By default, this setting is disabled, meaning users with access to the meeting will be able to export PDF copies of the board book for their own use, outside of OnBoard. When this setting is enabled, that ability is removed from ALL users for this meeting. Including the meeting's administrators. (NOTE: This is one of two ways this feature can be disabled. The other is from the Global Administration settings on the Dashboard page.)
Meeting Brief Emails
By default, this setting is enabled, meaning invitees will receive intelligent email notifications and an automated reminder to ensure they are better prepared for their meeting. Learn more