The Meeting Visibility dropdown menu allows the Administrator to choose how much of the Meeting other users can see. This is useful for letting your attendees know that a meeting has been scheduled for a particular date, but still keeping the Agenda or the Board Book private until it has been finalized. When a new meeting is created, it is automatically set to the Unpublished visibility state, meaning only the Administrator can see it for now. Just use the dropdown menu to select the various states of visibility.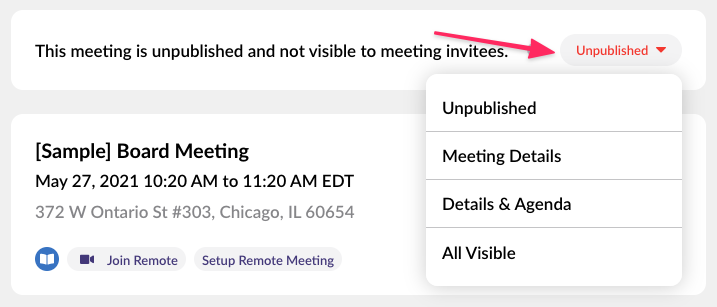 Meeting Visibility States
Unpublished – The default setting for new meetings. Unpublished meetings are only visible by the Meeting's Administrator. This is used to keep the meeting private, so that no other user can see it, even if those users have already been marked as "Readers" of the meeting.
Meeting Details – Setting the visibility to Meeting Details will open the meeting's basic information (such as Name, Date/Time, Location) to anyone who has been marked as a "Reader" to the meeting. The Agenda and the Board Book will still be hidden from those users.


Details & Agenda – As a meeting moves to the Details & Agenda state, the full Agenda can be seen by anyone who has been invited to the meeting. This state is also when the Contributors may begin uploading documents to their sections.


All Visible – All Visible is the final visibility state. This is also considered to be "Published". The entire meeting, including the details, agenda, and board book, is now visible to any user who has been granted access to it.