This guide walks you through how to link your Zoom account to OnBoard so that you can instantly create and link Zoom meetings to any OnBoard meeting. Before we begin, you must first be set as the Organization's Administrator, and have your Zoom account login credentials handy.
Setting up the Zoom App Integration:
Start by logging into OnBoard like normal (https://app.onboardmeetings.com), and navigate to the Settings page. From here click the Feature tab at the top of the page and scroll down until you see the Zoom Account section. Click the Connect Zoom Account button here.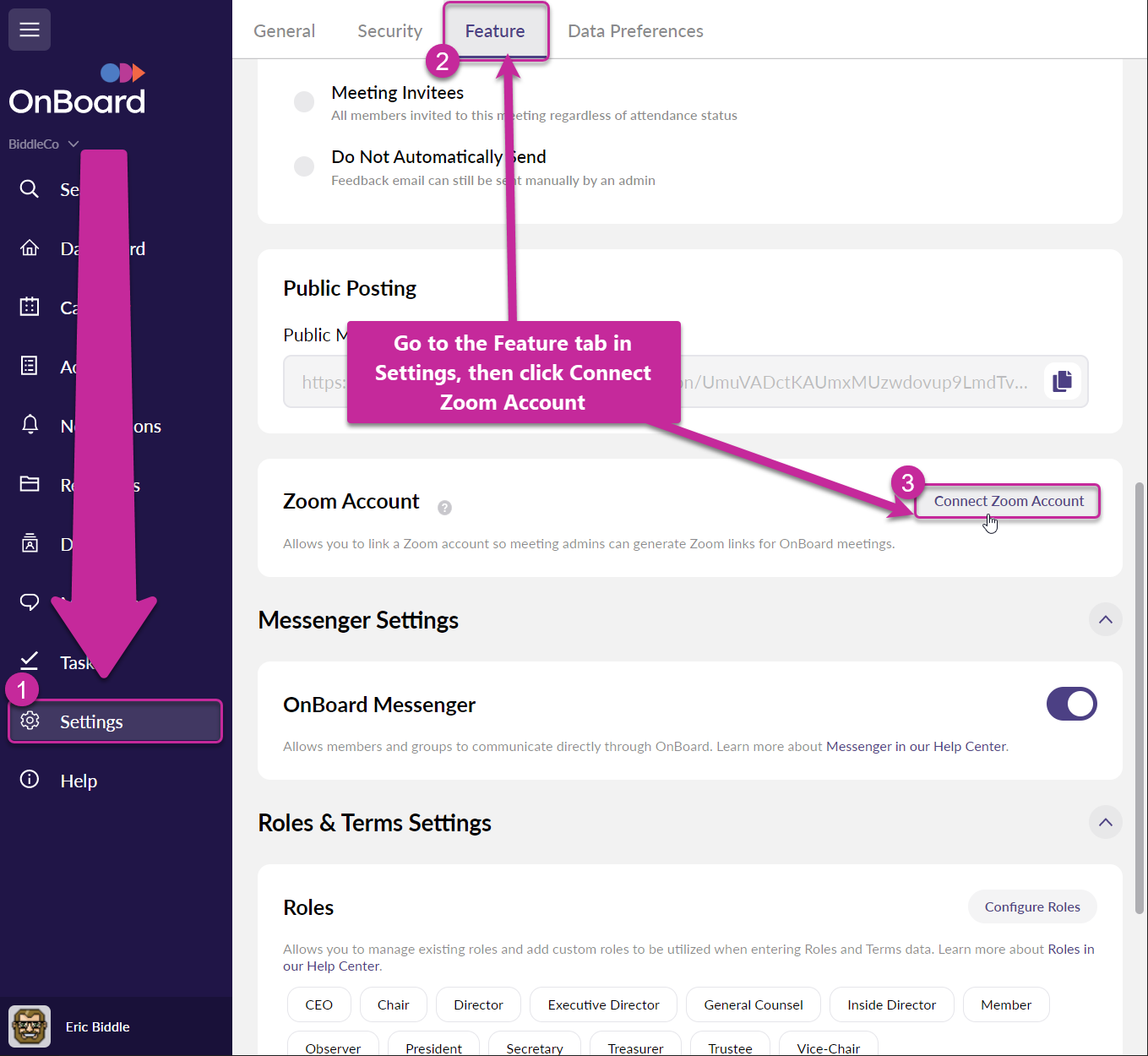 When you click Connect Zoom Account. You'll be redirected to the Zoom Login page. Go ahead and type in your Zoom credentials and click Sign In.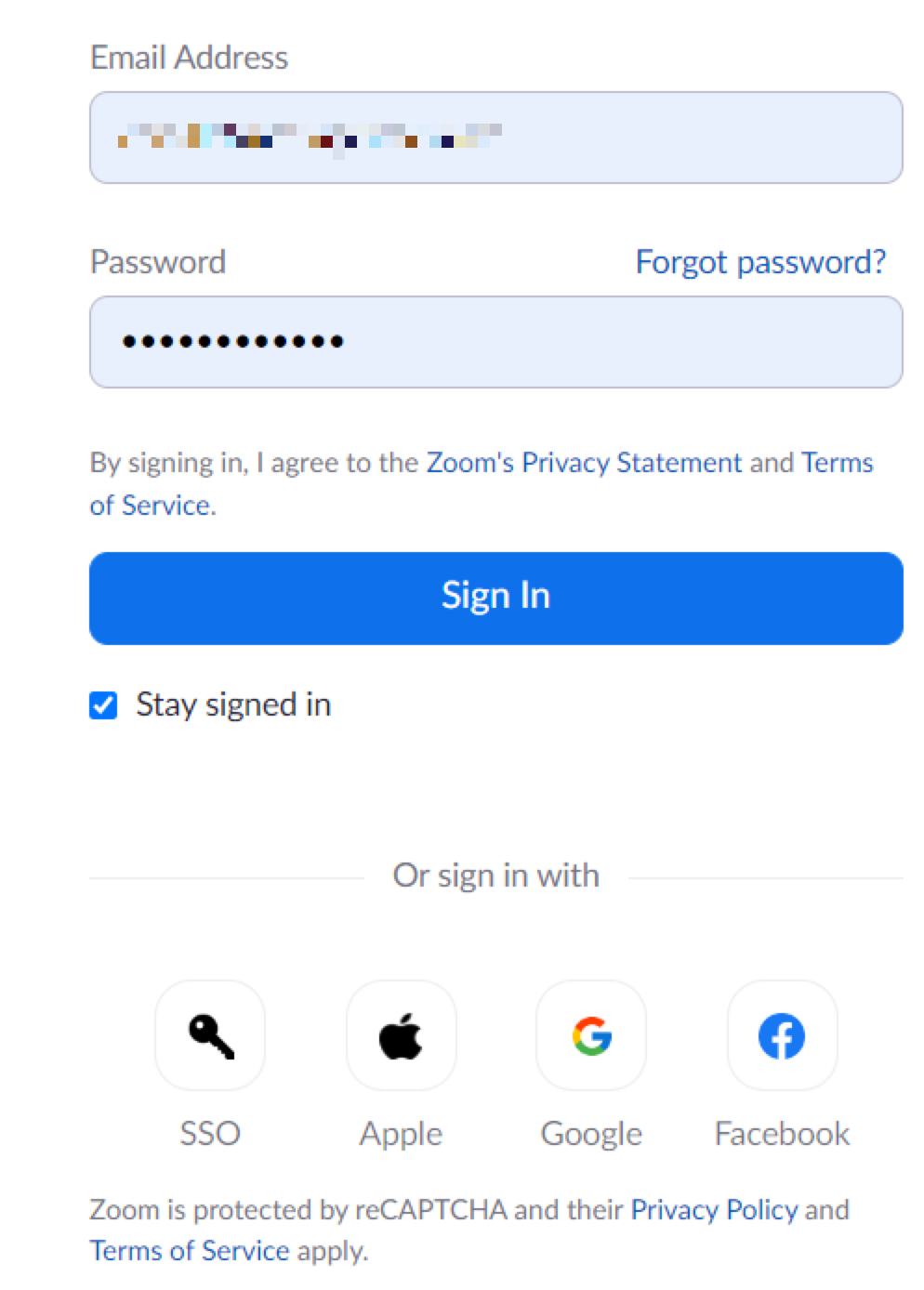 Next, click to check to "Allow this app to use my shared access permissions," then click Allow to confirm OnBoard's access to your Zoom account.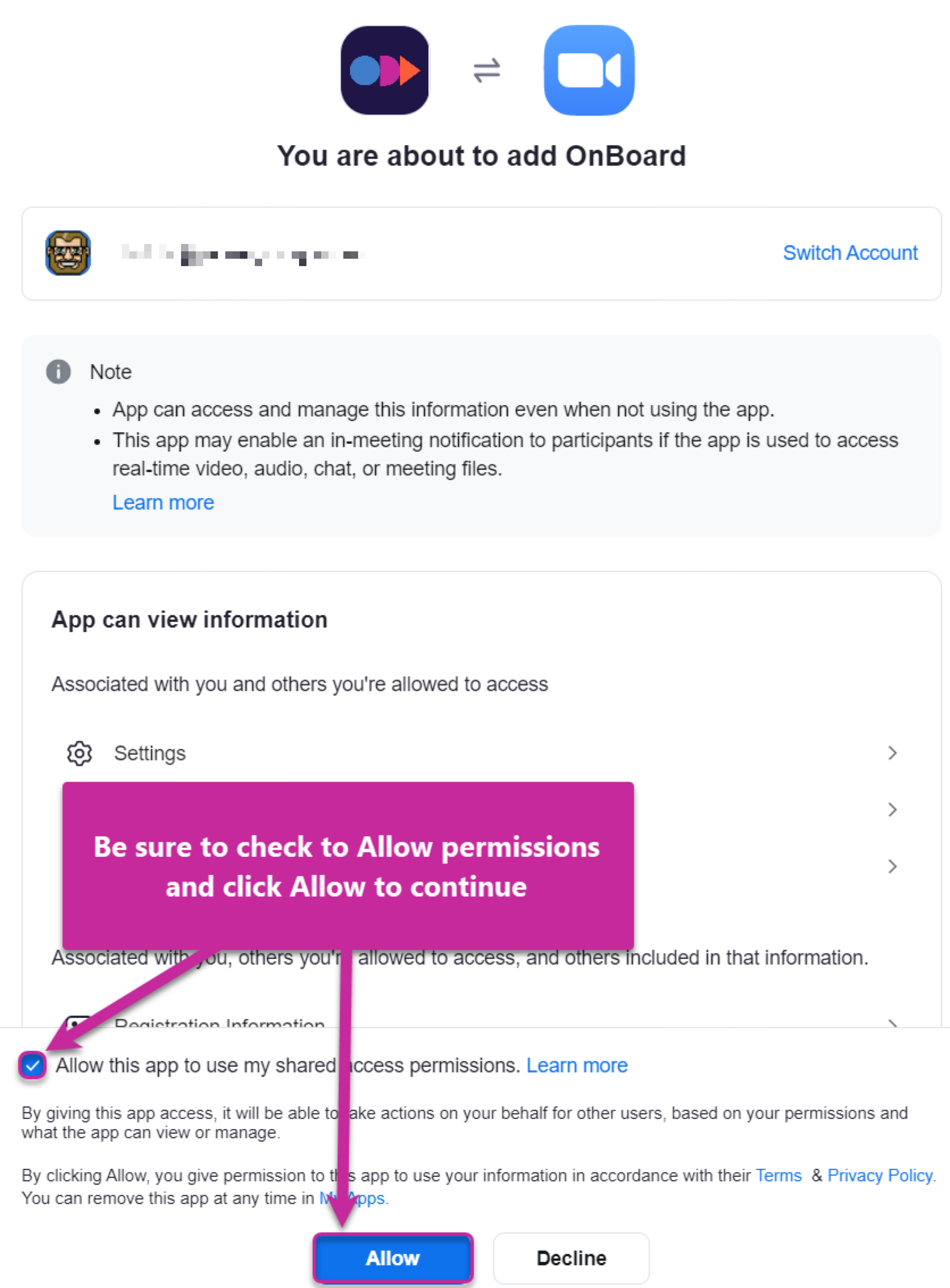 You'll also want to double-check the settings on the administrative zoom account by logging in at https://www.zoom.us/profile/setting and making sure that the following settings match:
Join before host = ON

Use Personal Meeting ID (PMI) when scheduling a meeting = OFF

Use Personal Meeting ID (PMI) when starting an instant meeting = OFF

That would disable the waiting room, but it would also allow members to connect instantaneously to the zoom meetings, and you'd still be able to manage users by running the actual Zoom application on the administrator account.
That's it! Your account is now ready to start creating Zoom video conferences directly inside OnBoard!
IMPORTANT NOTE: If you receive a message that says: "You cannot authorize this app", then your Zoom account likely needs an authorization from your Zoom Administrator. Simply click the button to Request Pre-Approval.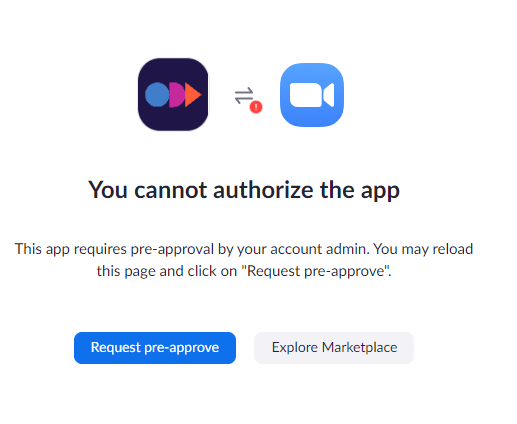 An email will be delivered to the person who holds that Admin status, letting them know to mark your request for approval. Once complete, you will receive a confirmation email from Zoom, saying that you're good to proceed with the process. Once this happens, you can proceed two different ways.
Just repeat the process described above. Going to the Dashboard/Organization Info tab, and clicking Link Zoom Account. This time, now that you have authorization, the process will complete as normal.

or
Follow the link in the Zoom Authorization email. This link will take you to the Zoom Marketplace where you can finish the integration setup. It will just look a little different than what we've seen so far. After clicking the hyperlink in your email, you'll need to click Sign In To Install, if you are not already logged into Zoom. Next, click Visit Site to Install, where you are delivered back into OnBoard. Choose the organization you'd like to link up. That's it!


For information on how to create new Zoom Meetings from inside OnBoard, be sure to check out this article: Creating a Zoom Meeting from OnBoard
Disabling the Zoom App Integration in OnBoard
From the same location the App was integrated, we can choose to disable the link between OnBoard and your Zoom account. Simply select the Settings page, click the Feature Info tab, scroll down to the Zoom Account panel, then click the Disconnect Zoom Account button.

Usage
Use Cases
Create and schedule Zoom meetings directly from within OnBoard

Join Zoom meetings with a single click right from a meeting in OnBoard

Without having to juggle multiple apps access OnBoard content and never leave your Zoom meeting
Prerequisites
Must have an OnBoard Administration account

Must have a Zoom account (Free accounts will work, but there are meeting duration limitations)
Contact Support
Standard support hours are 8am to 8pm Eastern M-F with emergency technical support available 24/7/365. During normal support hours a response can be expected within one hour for urgent requests and by the next business day for standard requests. Emergency support is available outside of normal business hours if required.

Our team can be contacted via:

Our Help Center: https://help.passageways.com/hc/en-us/requests/new

Email: help@passageways.com

Phone: 765-535-1880 option 1

Our knowledge base is available at https://help.passageways.com
FAQs
Q: Can I have more than one Zoom account linked to OnBoard?

A: OnBoard does allow multiple Zoom accounts to be linked for easier remote meeting management.

Q: Can the zoom link be used outside of OnBoard?

A: Yes. This functions exactly like a standard Zoom meeting and can be used but individuals without an OnBoard account.

Q: Can more than one meeting be held concurrently?

A: No. Since we're linking only a single account to OnBoard, only one meeting can be held at a time.

Q: What happens to the zoom meeting when I edit the meeting in OnBoard?

A: OnBoard will update the Zoom meeting when the meeting name, password, or date/time is updated. However, there is a 10 minute delay between when the change is made in OnBoard and when they're reflected in Zoom.

Q: Will I have access to the Zoom Host controls while viewing the meeting inside OnBoard?


A: No. If you wish to have any Host controls such as the ability to record the meeting or mute/remove attendees, you must join the Zoom meeting from Zoom.

Q: Do you need to have a zoom account to attend a zoom meeting through OnBoard?

A: No. If you open a Zoom meeting in OnBoard and do not have a Zoom account you can still attend the meeting and OnBoard just like a standard Zoom meeting.

Q: Do I have to have a paid account to use Zoom in OnBoard?

A: No. Free (Basic) Zoom level accounts will still function with this integration but have meeting duration limitations. You will not need a Zoom Account at all to join the meetings. Only one to link and generate meetings with.