Editing your Organization Information
On the second tab (Organization Info) of the Dashboard page, you will find all of your organization's contact information, logo, social media links, and more. Any of these panels can be edited by first clicking on the EDIT button out to the right. (NOTE: If the panel is completely empty, the button may appear as an ADD button instead).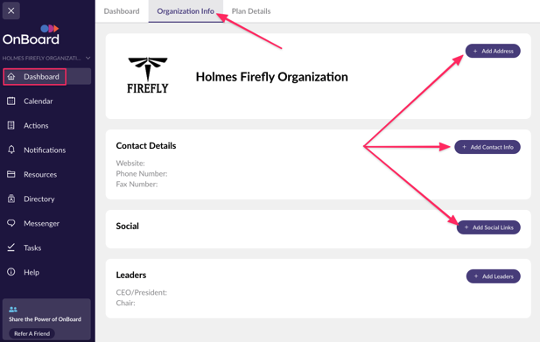 Editing Organization Settings
The Organization Settings can be found on the Organization Info tab just underneath the general information. This section is only visible to the Administrators of the organization, and they will control some important settings for your organization. These have been broken up into three categories: General Settings, Security Settings, and Feature Settings.
General Settings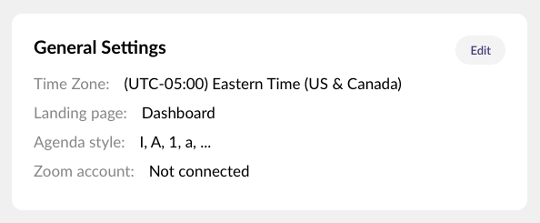 Organization's Time Zone
This setting can be used to adjust the time zone for your organization. Most of the items inside OnBoard will display a time in the user's local time. For example, a meeting scheduled for 5pm Pacific time will display as 8pm for anyone who is in the Eastern time zone. However, there are some timestamps that will always report the "Organization's Time Zone", such as eSignature timestamps, exported materials, and email alert notifications. The dropdown menu shown here is how the Administrator of the organization can set this desired time zone.


Organization's Landing Page
Users in your organization can be automatically directed to either your Meeting List calendar, or your Dashboards/Announcements page when they initially log in. Select either option from this dropdown menu to apply this setting to all users in your organization.


Agenda Numbering Style
Sometimes, different organizations prefer a specific type of numbering or ordering to their agendas, such as starting with roman numerals, then capital letters, followed by digits, then lower-case letters. Others may prefer something with all numbers, or all letters. In any case, select the desired Agenda configuration from the dropdown menu shown here. For a glimpse at an example of the selected setting, click View Agenda List Levels.


Zoom Account Linking
Zoom's video conferencing software is directly integrated into OnBoard, allowing you to utilize picture-in-picture Book/Video views. For detailed instructions on how to configure this setting, please have a look at the article for: Configuring the Zoom Integration for OnBoard
Security Settings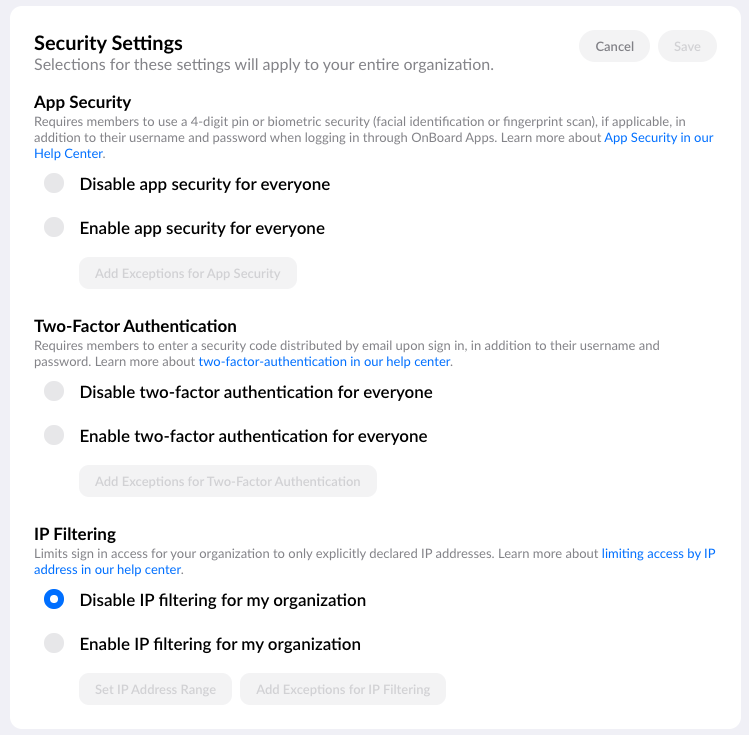 App Security
Enable this option to ensure that everyone who logs into OnBoard from their mobile applications (Android, iOS, Windows, etc.) will be required to set and use an additional security method code to authenticate. When enabled, users can choose either a 4-digit PIN code or any form of biometric security (TouchID/FaceID) as their secondary method of security, but that method will need to be used every time when logging into OnBoard from their mobile device. Use the "Add Exceptions" button (visible after clicking EDIT, and checking the box to enable the feature) to allow a few users to be exceptions to this enforcement rule. Users who are added to the Exceptions list will not be required to use Mobile Security on their devices.
Two-Factor Authentication
When this configuration option is enabled, all users will be required to authenticate by using a secondary code that is delivered by either email or SMS text message, in addition to their normal username and password combination. This will be required on both website logins as well as mobile application logins. Exceptions to this enforcement can be enabled here as well, just like above, by using the "Add Exceptions" button (visible after clicking EDIT, and checking the box to enable the feature) . Users added to the Exceptions list will not be required to authenticate with both methods.


Limit Access by IP Address
Important!
Using the IP Address Limit feature, it is possible to block you from accessing your own organization if configured incorrectly. If this happens, please contact Passageways Technical Support for further assistance. For this reason, this feature is disabled/hidden by default until a member of your team contacts Passageways Support to enable it.
OnBoard gives you many ways to tighten up security. With the IP Limit enabled, users who fall within a certain range of IP Addresses will be able to access your Organization's instance of OnBoard. Anyone trying to access your meetings outside of that IP range will be blocked. As soon as you check to enable this feature, a window will appear for you to designate which IP range to allow access to OnBoard. If you happen to choose a range that you do not currently belong to, an error message will display, letting you know that confirming your changes could kick you out of OnBoard until you log in from an IP address within the allowed range. Exceptions can be made to these ranges by clicking the Set Exceptions button. Any user set as an exception will be able to log into OnBoard regardless of their IP address.
Feature Settings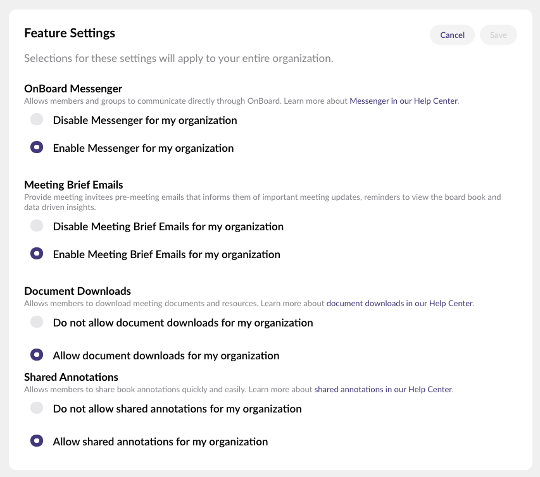 OnBoard Messenger
OnBoard Messenger is a useful instant messaging tool to keep in contact with your Organization's members. With this feature, send messages to a single user, multiple individuals, or an entire group of users. However, if you wish to disable this feature in your Organization, it can be done from this setting.
Document Downloads (for all Documents in OnBoard)
By default, documents attached to the agenda sections of meetings can be downloaded individually, or as one large PDF file. These files are placed in the user's "Downloads" folder on their computer and can be accessed however they wish from there. The ability to download these documents can be toggled on or off for each separate meeting individually. However, using the setting found here will completely disallow downloads across the entire organization, for all meetings. This setting will also apply to the documents found in the Resource Library. Use the "Set Exceptions" button (visible after clicking EDIT, and checking the box to enable the feature) to allow a few users to be exceptions to this download restriction. Users who are added to the Exceptions list will still be able to download books and resources, even when this feature is disabled for all other users.


Shared Annotations (for Meetings)
Shared Annotations is a feature available to specific package levels of OnBoard. If you do not see this setting, then your organization does not have access to the Shared Annotations feature. Sharing Annotations between users can be an excellent way of collaborating over meeting documents. However, should you wish to disable this feature for your Organization, simply uncheck this option. Once disabled, exceptions can be configured to allow access to the Shared Annotations feature on a user-by-user basis.


Data Retention Settings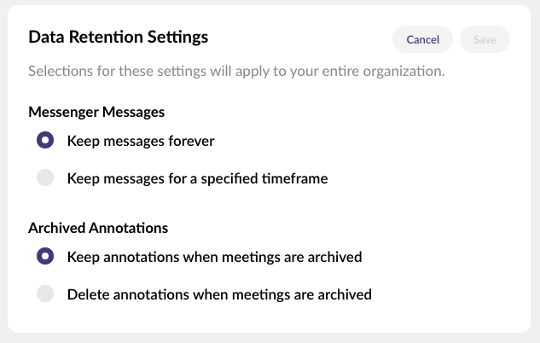 Messenger Messages
By default, messages received in your OnBoard Messenger inbox will be retained indefinitely. However, if you wish to automatically purge older messages after a specified timeframe, use this setting to choose from 24 hours, 30/60/90/180 days, or 1/2 years. After this time, messages will be permanently removed from OnBoard.
Archived Annotations
This setting will allow you to completely remove all annotations made by any user when a meeting is marked as Archived. This is a permanent and retroactive action, meaning enabling this will remove annotations from meetings that are already marked as archived, as well as ones from meetings that will be marked as archived in the future. There will be absolutely no way to recover annotations that have been deleted in this fashion. Enabling this feature also removes the ability to add new annotations to archived meetings.
Note: This feature has no effect on meetings that are not marked as archived.