Looking to gather some feedback on your meetings? The Meeting Feedback feature can help! OnBoard will use this feature to automatically alert your meeting's attendees and ask them to provide some reactions, insight, and opinions with an easy-to-use rating and anonymous rating system. Meeting stakeholders looking to up their meeting game can then review the information conveniently located in the same product where they'll be building their next meeting. OnBoard brings data-driven decision-making convenience and efficiency with the Meeting Feedback feature.
Important Note: Meeting Feedback submissions are Anonymous, so no user information is provided when Feedback is received by Administrators.
Organization Level Meeting Feedback Settings
To be sure you have Meeting Feedback enabled, you can go to Settings in the left Navigation menu in OnBoard. Then, In the Organization Settings you can then click Feature and scroll down to Meeting Feedback.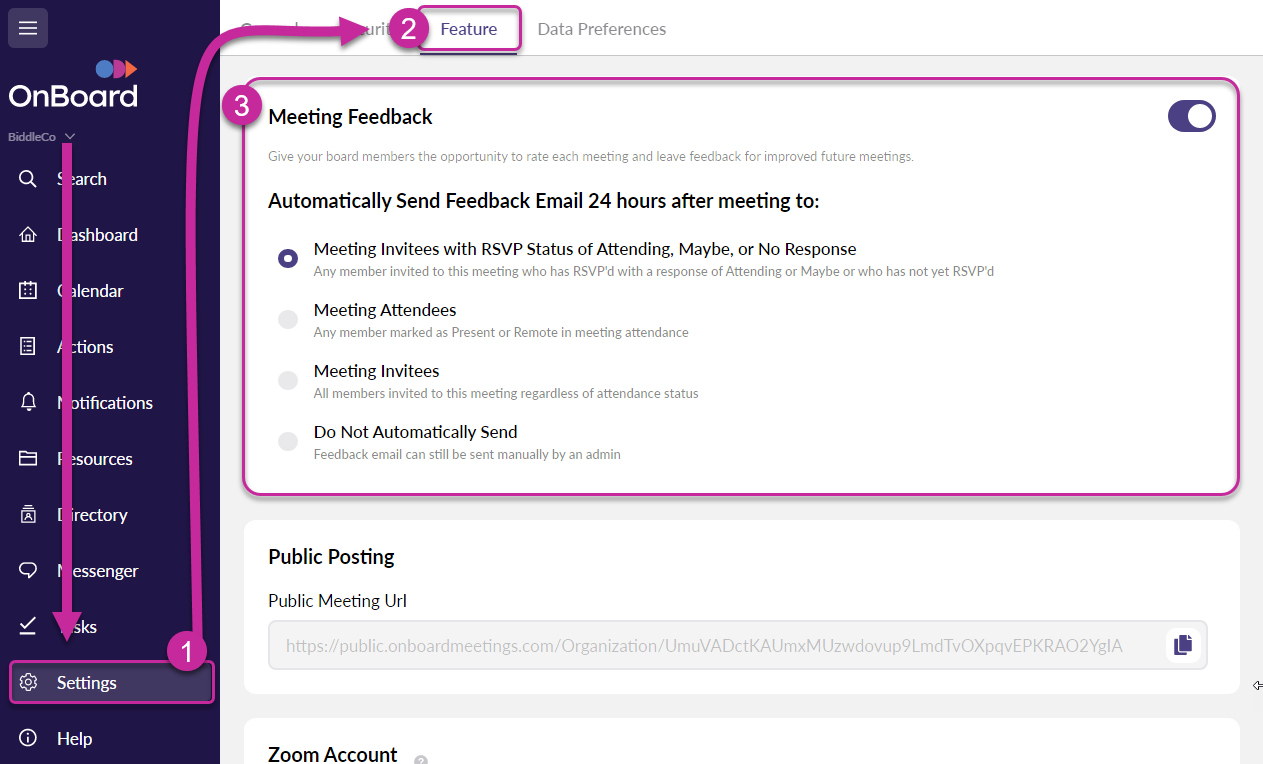 Here you can enable or disable Meeting Feedback at the Organization level using the toggle to the far right side of the panel.

When enabled, you'll have options to set the default behavior for all Meetings that have Meeting Feedback enabled. This will affect the automatic Meeting Feedback email that will be sent 24 hours after your meeting.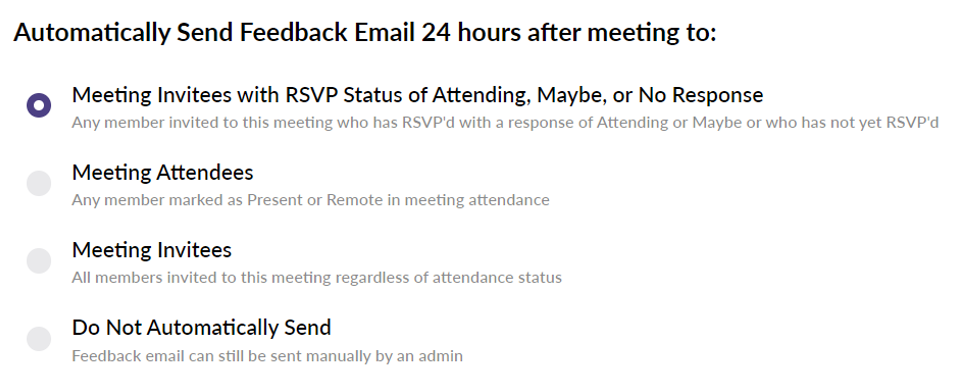 Meeting Invitees with RSVP Status of Attending, Maybe or No Response
This option will automatically send a Meeting Feedback request email to any user who had chosen an RSVP status of Attending, Maybe, or who has not yet sent an RSVP response.
Meeting Attendees
Only users who have been marked as Present or Remote in the Meeting Attendance will receive Meeting Feedback Emails.
Meeting Invitees
All users who have been invited to the Meeting will receive a Meeting Feedback email regardless of their Attendance status.
Do Not Automatically Send
Selecting this option will disable the Automatic Meeting Feedback email, but will allow an Admin of the meeting to manually request users for Meeting Feedback. This can be adjusted per meeting on an as-needed basis.
Meeting Level Feedback Settings
You'll be able to adjust the Meeting Feedback settings for the specific meeting you'd like by going to Calendar and selecting a Meeting.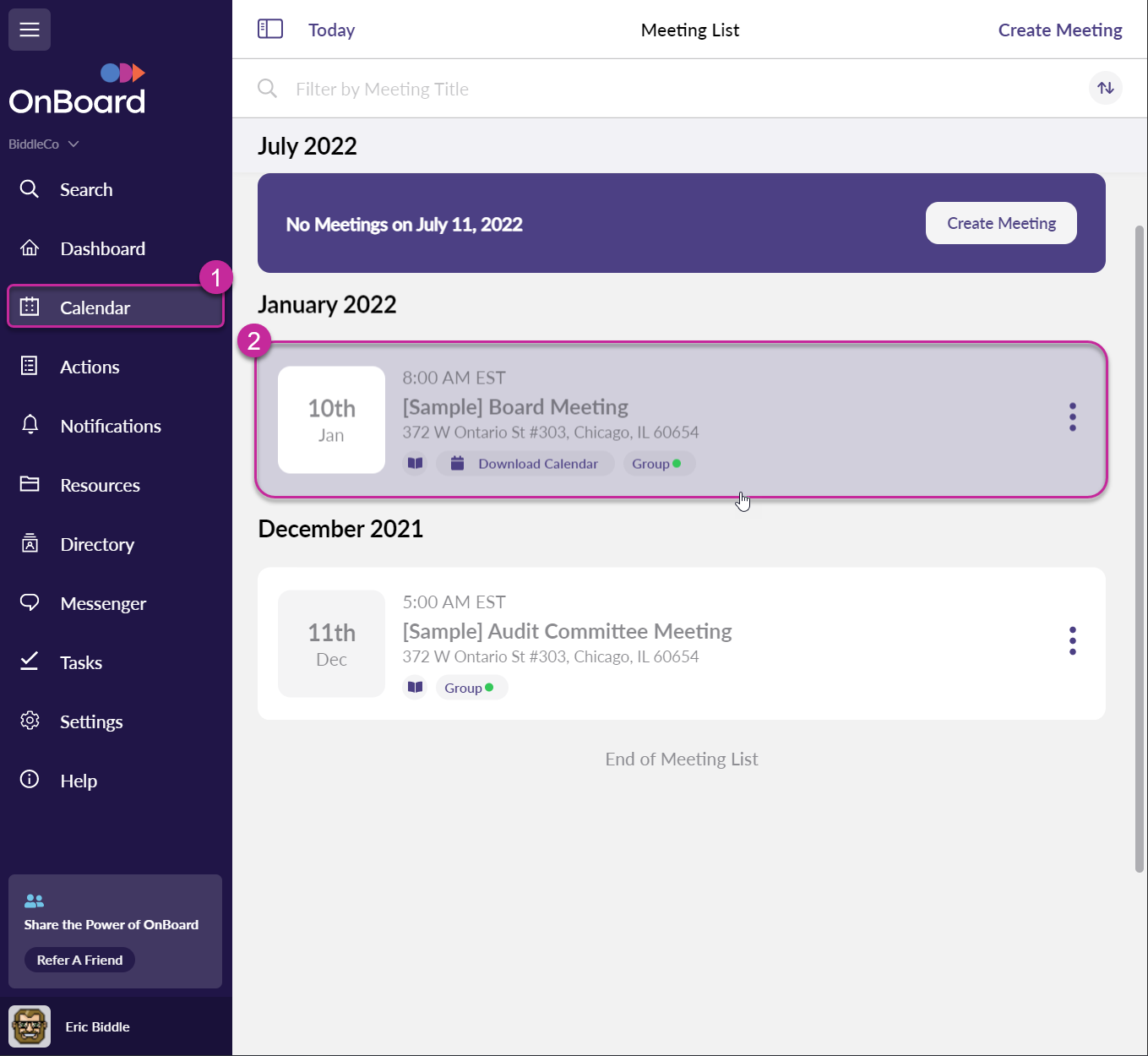 You'll then click on the Settings button.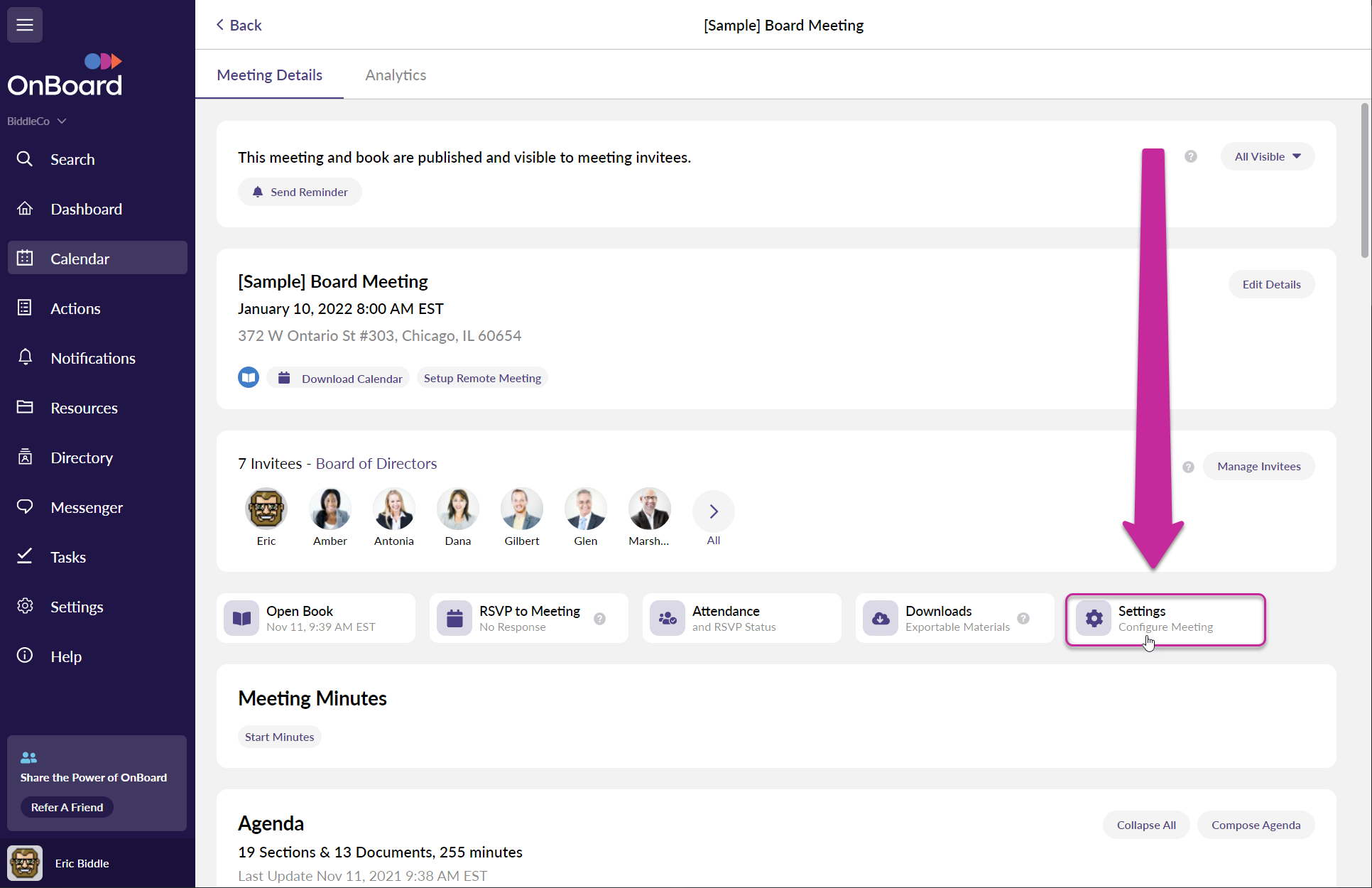 If you're on a smaller screen you may need to first click on the "..." button and then Settings.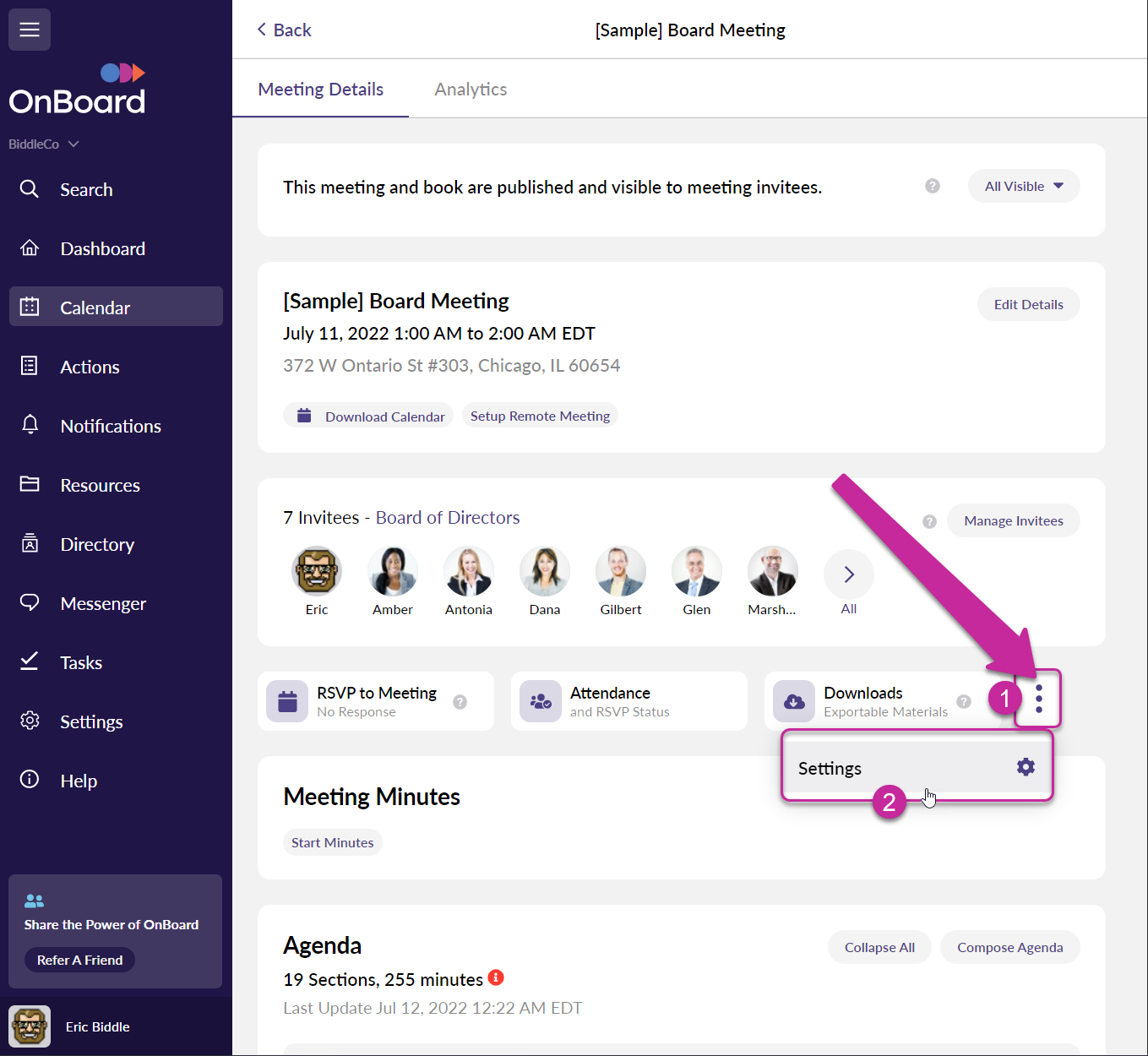 Important Note: For Organizations that have the Premium or Ultimate Package or the legacy Productivity Suite, you can find the Meeting Feedback feature at the top of the Meeting page by clicking the Analytics Tab. You can then click on the Meeting Feedback status in the top right corner of the Meeting Feedback panel to select the email options as seen above.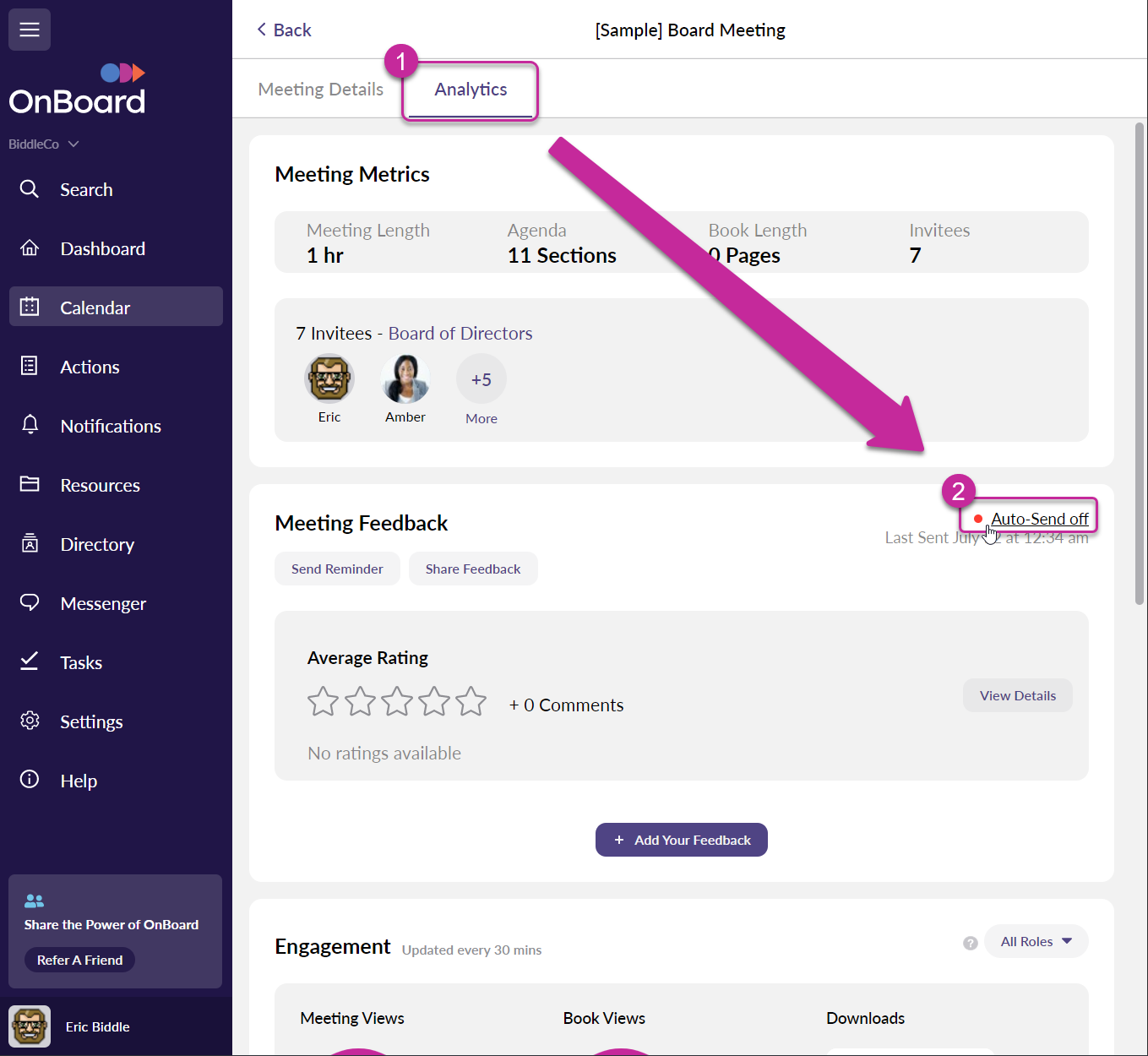 Organizations without Meeting Analytics, or with Meeting Analytics disabled can access Meeting Feedback by clicking the "Meeting Feedback" below the Meeting Invitees.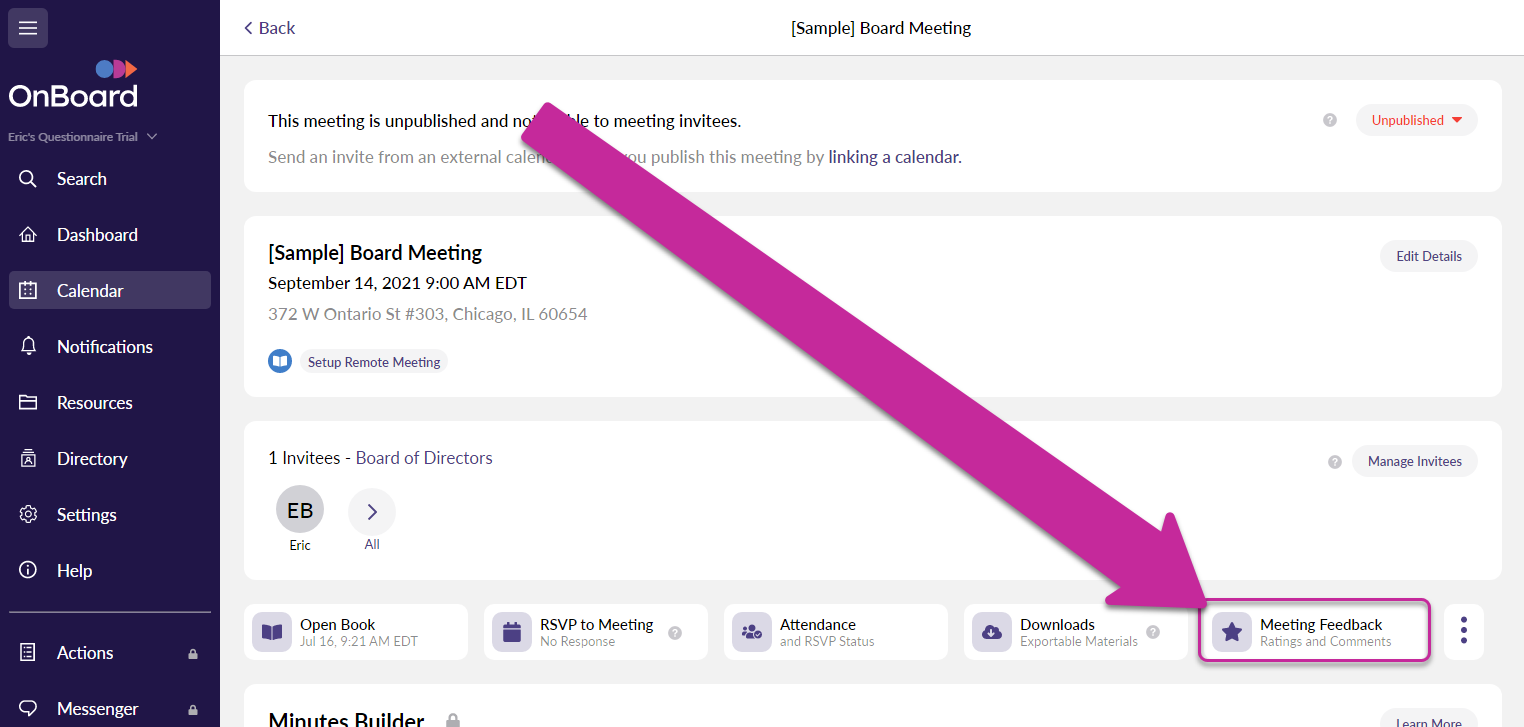 The settings here will affect the Automatic Meeting Feedback email that will be sent 24 hours after your meeting.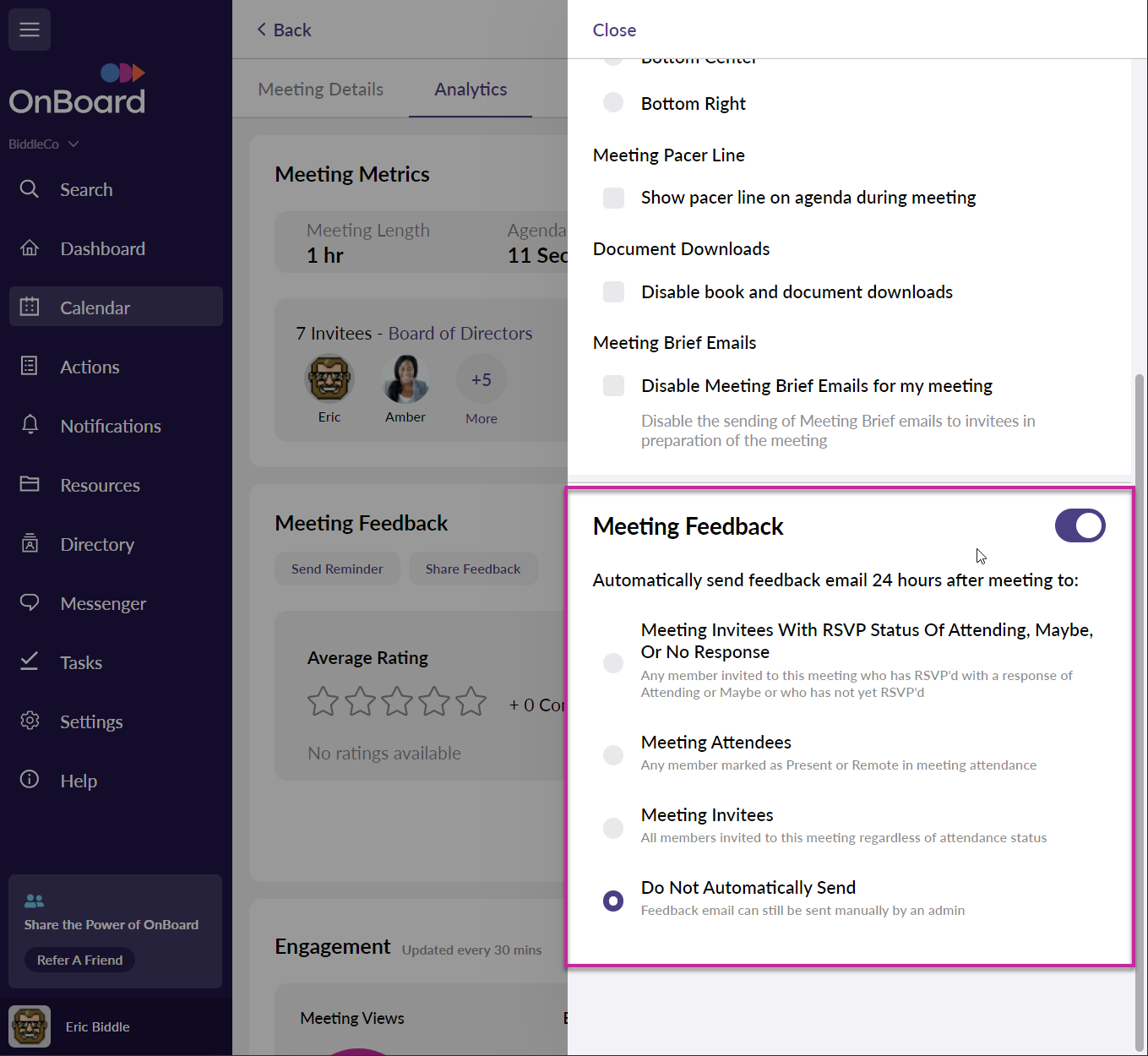 Similar to the Organization level setting for Meeting Feedback, using the toggle in this settings panel will disable Meeting Feedback fully for this particular meeting.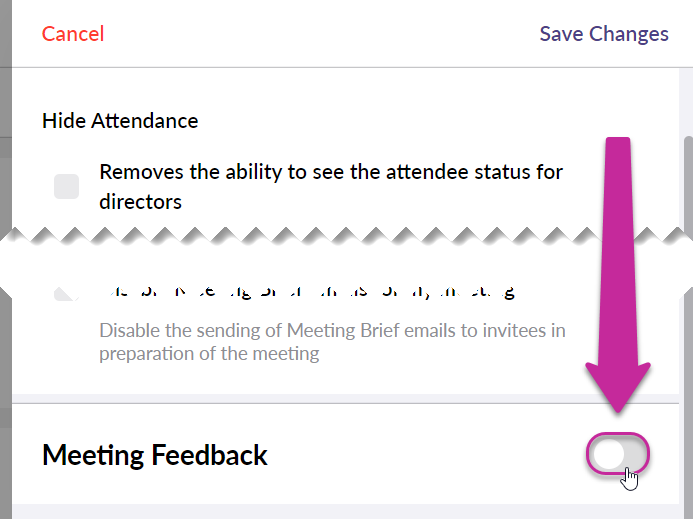 Manually Requesting Meeting Feedback
Administrators of a meeting can manually send out a request for Meeting Feedback by clicking on "Send Feedback Survey " on the Meeting Feedback panel.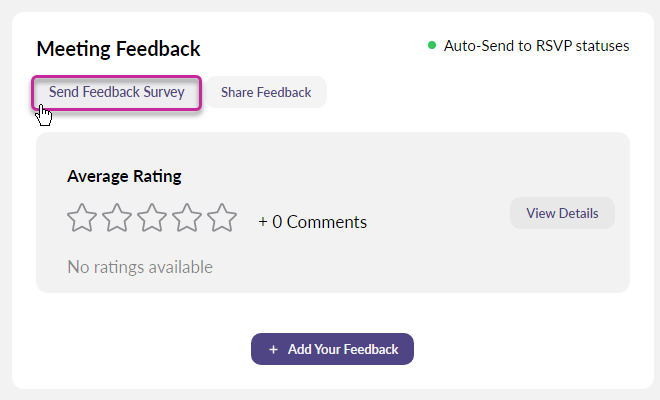 You can choose from the same user selections which are: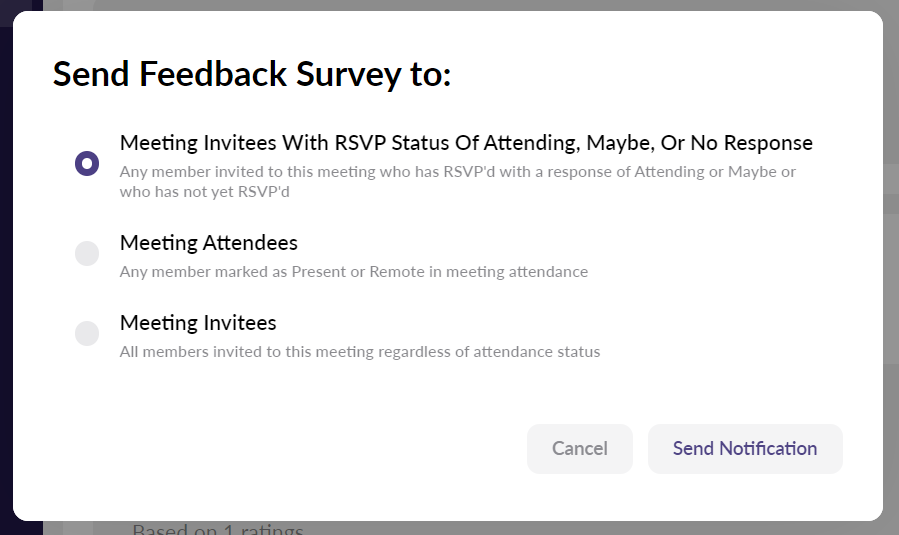 Click Send Notifications once you're satisfied with your selection.
You can remind users by returning to the same Meeting Feedback panel and clicking the "Send Reminder" button.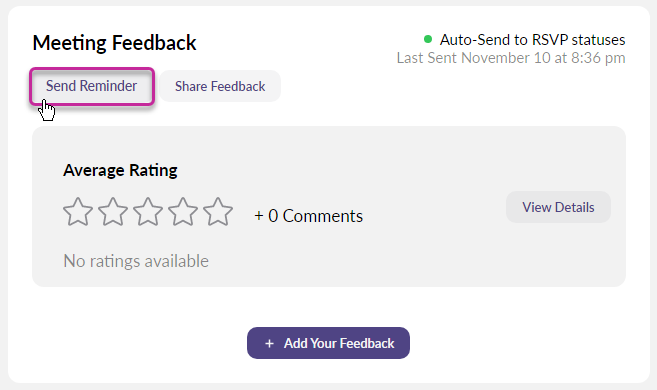 Providing Meeting Feedback
When users receive a request to provide Meeting Feedback they can respond and provide feedback using these options:
Open the Meeting Feedback email or Notification from within OnBoard and click the Rating level out of 5 stars.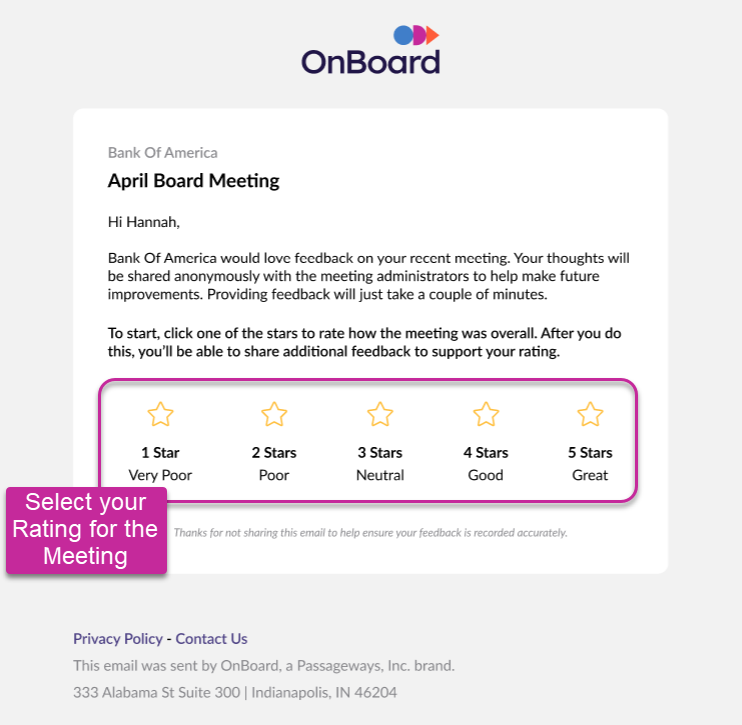 This will open the Meeting Feedback in OnBoard to allow you to add more information to your anonymous feedback for the meeting.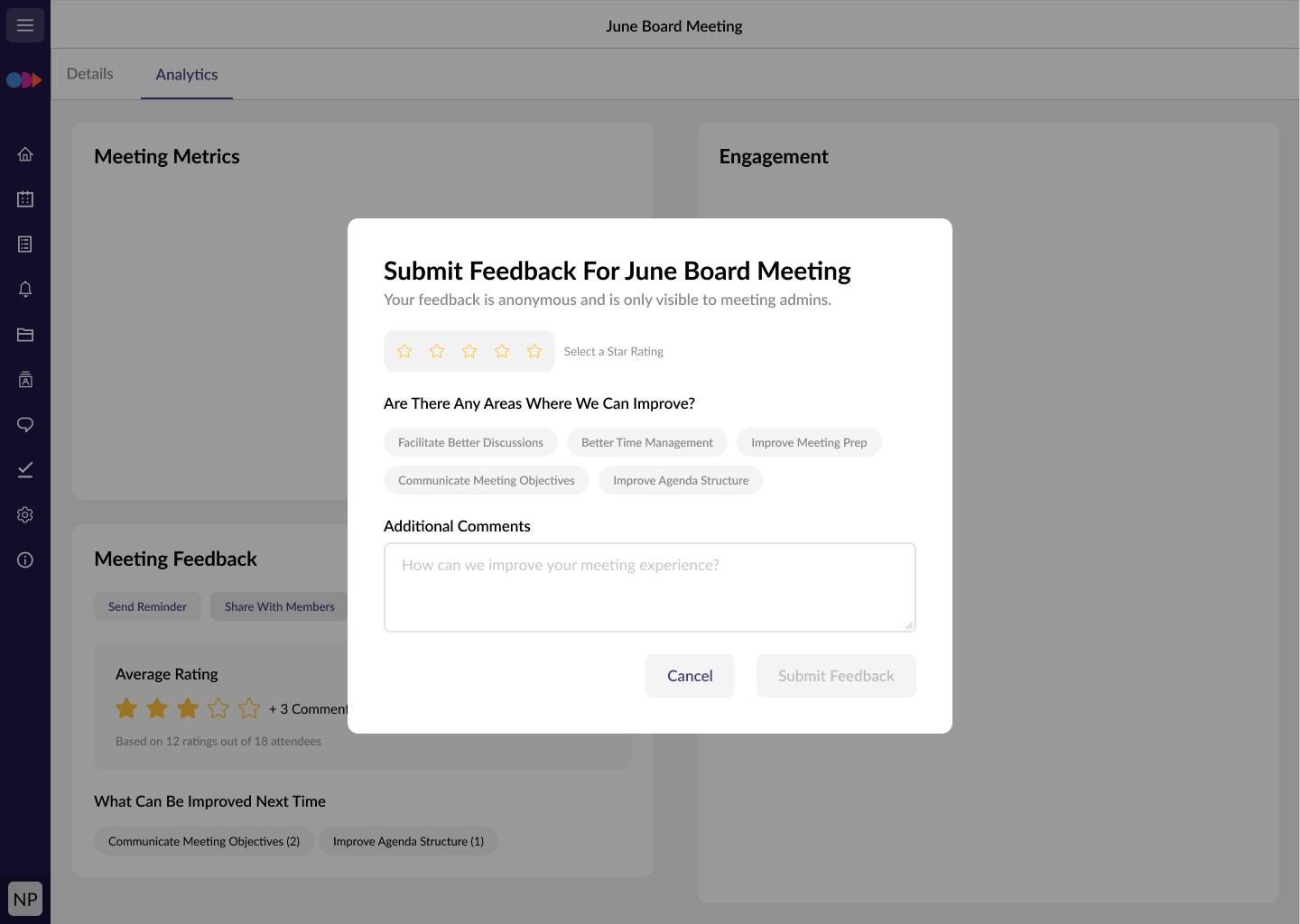 Alternatively, you can go to the meeting and click the "Meeting Feedback" button, or if your Organization has access to Analytics, you can click on Analytics at the top of the Meeting page.
Once at the Meeting Feedback panel click on "Add Your Feedback" in the Meeting Feedback section.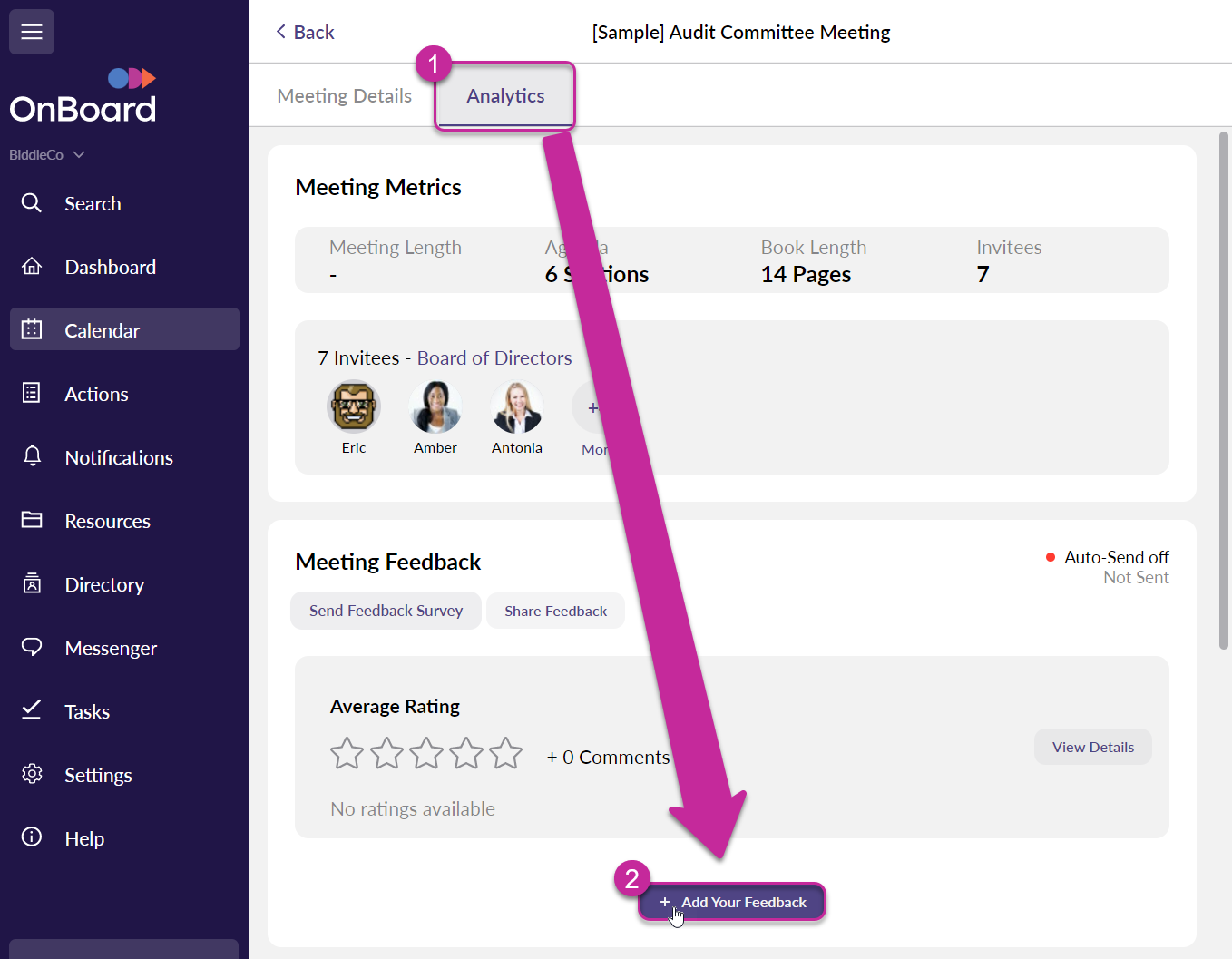 Select your rating out of 5 stars for the Meeting.

Important Note: Depending on the rating chosen the user may be presented with different options after their rating. A rating of 3 or fewer stars will prompt the user to select from the "Are There Any Areas Where We Can Improve?"
A rating of 4 or more stars will prompt the user to select from what may have gone well during the meeting.

Before submitting your feedback, it can be very helpful for your Meeting Administrators to add Additional Comments.

Once you're finished click Submit Feedback!
Important Note: Once your Feedback has been Submitted it CAN NOT be edited. Please be sure you have made your selections and comments carefully before submitting your Meeting Feedback.
Adding Meeting Feedback Viewers
In some instances, it may benefit an Organization to share the Meeting Feedback with more than just the Administrators of the meeting. Meeting Feedback has a Viewer permission that allows non-Admin members of a meeting to see comments and ratings for this specific meeting.
To add a user as a Viewer for your Meeting Feedback you'll select Analytics while viewing your meeting, then click on "Share Feedback."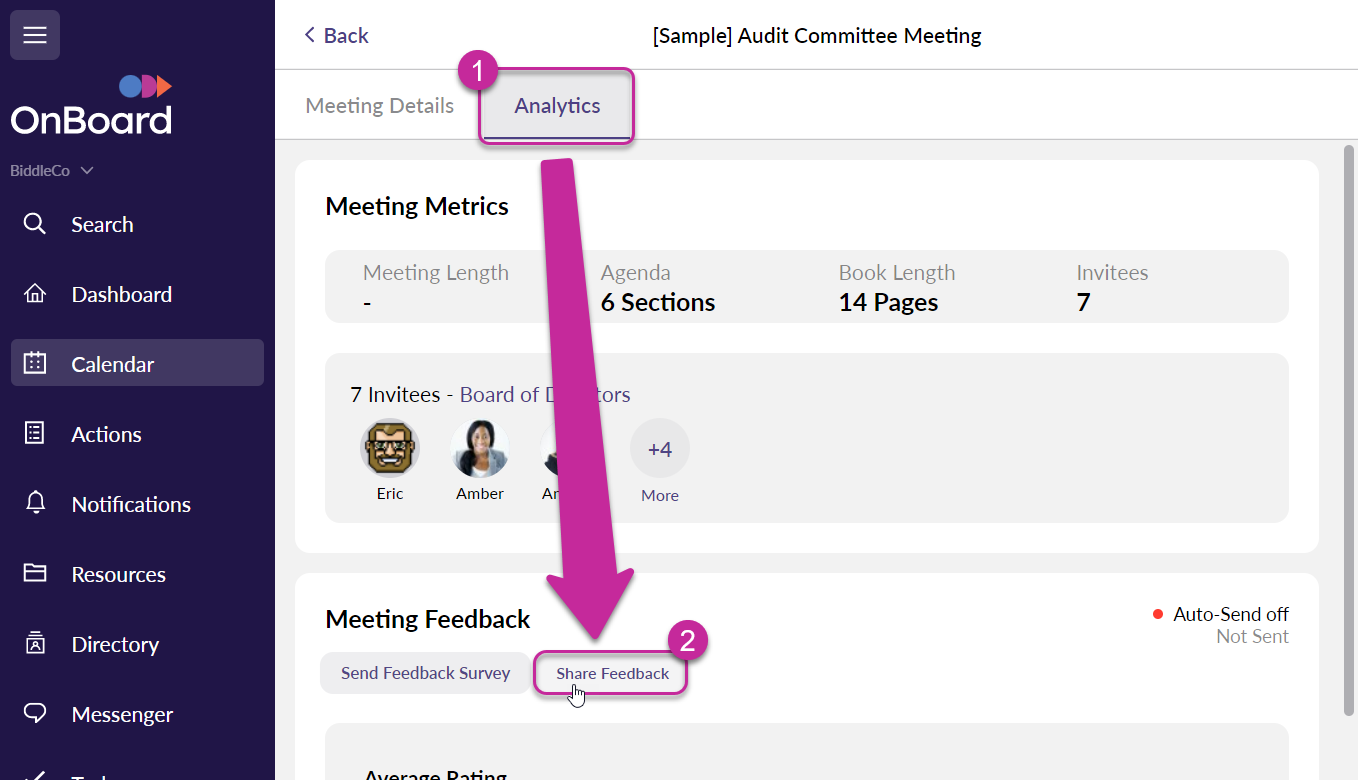 You'll then be presented with a list of users from the Meeting to share the Meeting Feedback data with.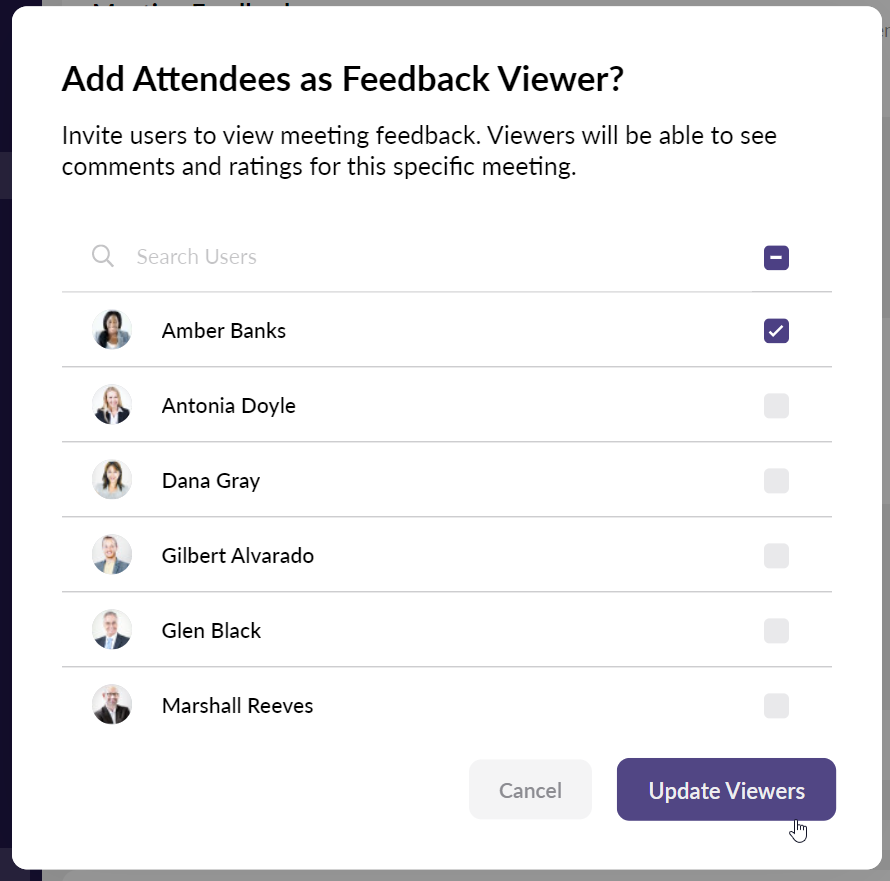 Viewing Meeting Feedback
To View Meeting Feedback you must either be an Administrator or user who has been set as a Viewer for the Feedback.
Open your Meeting and click on "Analytics" near the top of the page and scroll down to the "Meeting Feedback" panel. If feedback has been received the panel will begin showing average ratings, the items tagged for improvement, and any feedback you may have submitted to the meeting.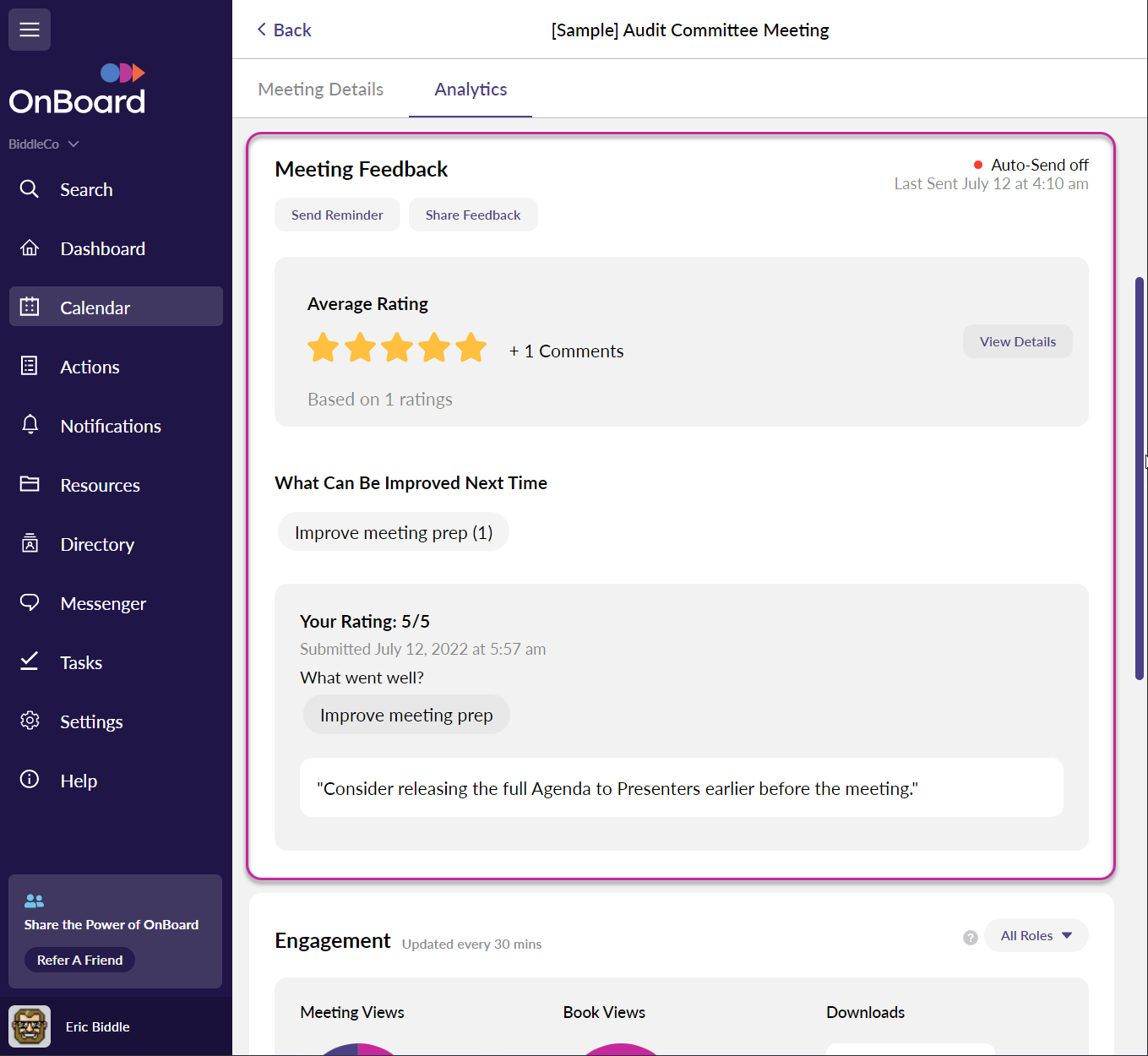 Important Note: Feedback submitted may take 5-10 minutes to populate after being submitted, so if you don't see anything here check back in just a few moments!
Unread Feedback Notifications
Once users have submitted their feedback, Administrators will be notified when unread feedback is available if:
They are the Meeting Admin.
It's been 7 days after they sent the Feedback request the first time.
They have one or more Feedback submissions they have not yet viewed.
Administrators can receive an email notification that can be clicked to open the Meeting Feedback directly: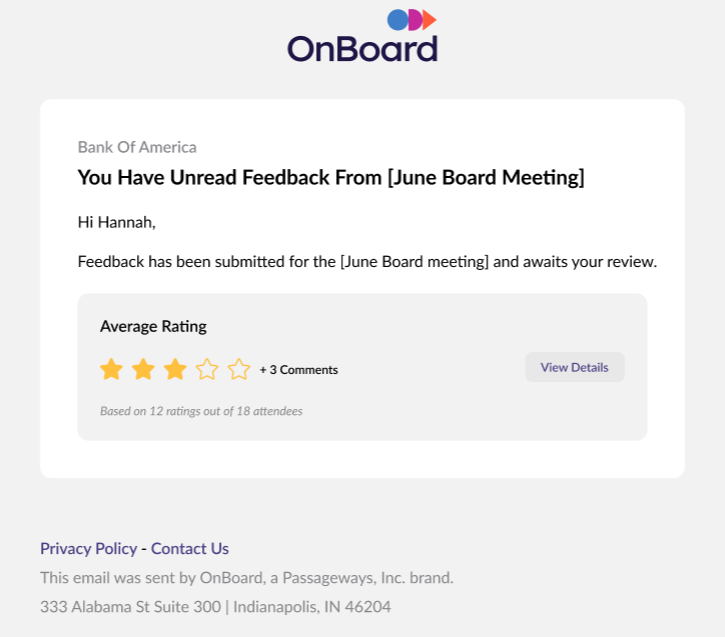 You can view these notifications directly from OnBoard by click on "Notifications" in the left Navigation.

Important Note: Additional notifications will be sent every 7 days after the initial 7-day period if new, unread feedback comes in.
Meeting Feedback FAQ
Q: When duplicating a meeting, will the same users be able to view Meeting Feedback on the new meeting?
A: No, the meeting admin will need to share feedback again for each new meeting.


Q: Can I resend the feedback email manually after OnBoard has already automatically sent it for me?
A: You sure can. This can be used as a way to remind people to send in their feedback, if they haven't done so already.
Q: When I choose to send the feedback email manually, can I choose who will be the recipients?
A: Yep! When choosing to send the feedback email manually, you'll have the same options mentioned in the automatically-sending list above.
Q: Can users who were not included in the communication (automatic or otherwise) still participate in offering feedback for the meeting?
A: Yes! Any user who has access to the meeting can submit their feedback from the Meeting's Feedback details section, even if they were not included in an automatic or manual email reminder delivery.
Q: When can users begin submitting their feedback on a meeting?
A: Any time after the meeting's Start Time.
Q: I submitted my Meeting Feedback. Why isn't it showing up on the page?
A: Not to worry! New feedback ratings will take 5-10 minutes to appear on the Feedback details page.
Q: Can I edit or add any of the pre-defined feedback responses?
A: Unfortunately, no. If you have different types of pre-defined responses you'd like to see included in the full release of this feature, that is valuable information we'd like to know! Please share this feedback with us!