With the OnBoard calendar integration, we work with a partner called Cronofy to help send invites and receive RSVPs to those invites back into the OnBoard system.
How the Invites Work
Each meeting has a meeting admin or admins. For that meeting any of those admins can send out an invite from the calendar they have linked in the system. This is limited to only sending an invite from one calendar for the event. This helps prevent the invitees from receiving multiple invitations for the same event. This also means that the other admins on the meeting can help manage and trigger updates to that event for things such as adding new invitees and changing the meeting details to help keep the invitees informed.
How RSVPs are Collected and Returned to OnBoard
RSVPs will be collected on the linked calendar and sent back into OnBoard to ensure that the invitees' status is properly reflected. This means that the invitees will not have to go into OnBoard or link their own calendars for the meeting admins to see their attendance status. This will save lots of time and headaches with managing invites outside of OnBoard and attempting to collect RSVPs for a meeting. Users will still be able to go into OnBoard to indicate their RSVP if desired.
How RSVPs Behave Based on Meeting Updates
Updates made to the meeting time, date, or location will only reset "Attending" RSVPs that were made inside the platform to "Needs Response".
Changes to meeting titles inside OnBoard won't trigger any reset of RSVPs since that change shouldn't affect invitees' attendance. This only applies to accepted RSVPs and not to tentative or declined responses. The RSVP status and where it came from will be reflected in OnBoard so a user can tell if the member's response came from the calendar invitation or from inside of OnBoard.
How Cronofy Handles Google Calendar Invites
Cronofy, our integration partner that we work with to help provide these capabilities, is concerned with ensuring that they don't reflect inaccurate RSVP statuses. One thing that they do that is slightly different is that they reset RSVPs on Google for any changes to the calendar invite. This means that things such as meeting time, date, or location updates along with adding or removing other participants can reset RSVP statuses. Each calendar provider works a bit differently, but this specific Cronofy with Google behavior is expected. This is something we want to work with them to improve as soon as possible.
RSVPing Inside OnBoard & Downloading the Meeting in Your Personal Calendar
Access the meeting like normal, from the Meeting Calendar page. Take Note: The device from which you mark your RSVP will have an impact on which external calendar you'll be able to export the OnBoard Meeting.
On any of the available OnBoard device platforms, you'll see the RSVP to Meeting button near the Open Book button when viewing the Meeting Details page. After clicking this button, you'll be presented the four available RSVP options. Click any of these to indicate your attendance intentions.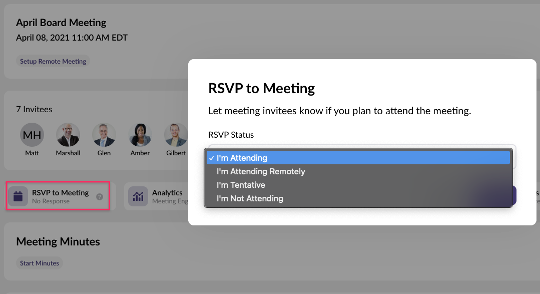 When RSVPing from the OnBoard App on your mobile device, when saying Yes on the pop-up confirmation, the meeting will be automatically added to the calendar associated with that device, such as your iPhone's calendar.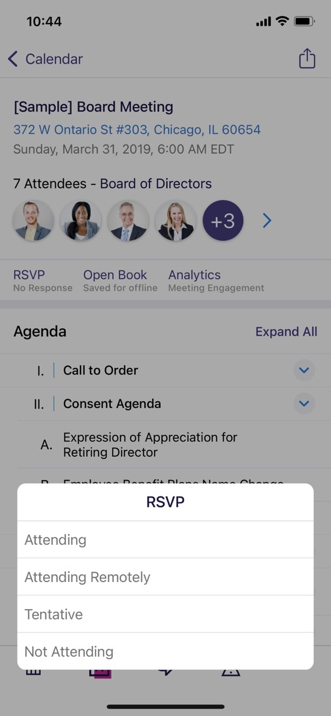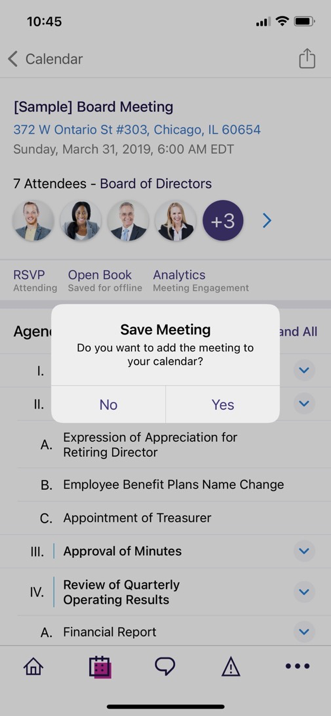 When RSVPing from a computer's web browser like Chrome or Firefox, you will be able to download an Event File (*.ics) to your computer's Downloads Folder by using the "Download Calendar" button within a meeting. Double-clicking this downloaded file will open it in your computer's default calendar program (such as Microsoft Outlook or iCalendar), where you can save it as an event to be reminded about later.
(Note: It is possible to import this .ics file into Google Calendar as well. Here's a Google Support article describing how that is done.)
---
OnBoard Group Trainings:
If you are interested, we do offer further education. You can find the calendar and register for OnBoard Admin group training sessions by clicking here.