When an Administrator creates a new meeting and uploads several documents to it, those documents are compiled together to form what we call the meeting's Book. Some organizations refer to it as the Meeting Packet or Meeting Docs.
Open and View the Meeting Book
Regardless of which device you access your meetings with, you'll need to start by clicking the Calendar button within the navigation menu and selecting the meeting you wish to view from the list of available meetings. Next, click the Open Book button.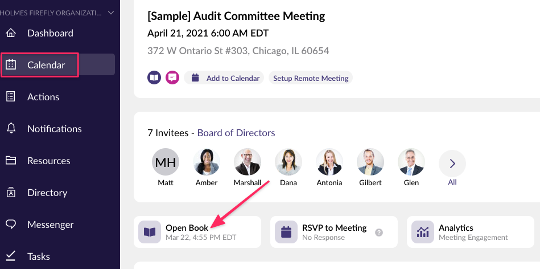 With the Book opened up, let's take a look at some of the page controls we have access to use. Note: Not all options are available on each device type. Smaller phone screens will have fewer options.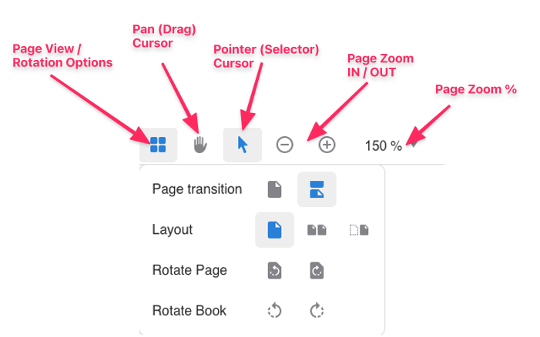 Navigate by Agenda Section
You can easily navigate around your Agenda a few different ways. One of which is the Agenda Section View in the top left corner. This will display a list of clickable shortcuts to quickly jump to a new agenda section in the book. Any section with a document attached (indicated with the blue page icon) can be selected.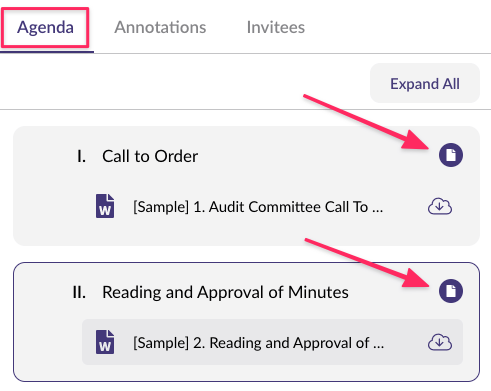 Here is that same Agenda Panel, but from the smaller iPhone-sized screen. You'll first need to find the three-dot icon in the top left corner of the screen to open the left-side panel. Once opened, you can select any agenda document to immediately jump to.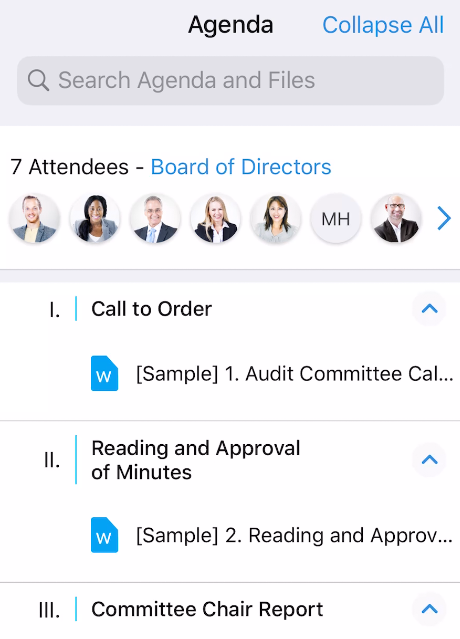 Navigate by Keyword Searching
Another way to quickly navigate through your pages is to type in a search term in the Search panel. Locate the magnifying icon along the top toolbar and begin typing the term you wish to find in the Book document.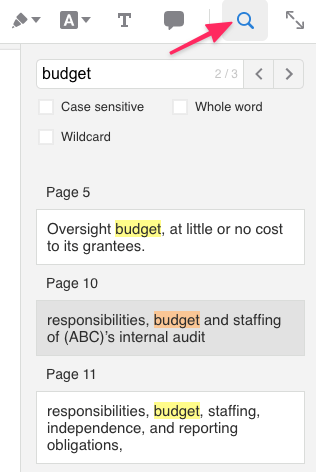 Navigate by Annotations
I happen to conveniently forget all the locations in the Book where I've made annotations. All the time. Thankfully, OnBoard has been keeping track of it for me. The Agenda Panel can be swapped out for the Annotation Summary Panel, where you'll see a list of every annotation you've created. Simply tap any of them to immediately jump to that location.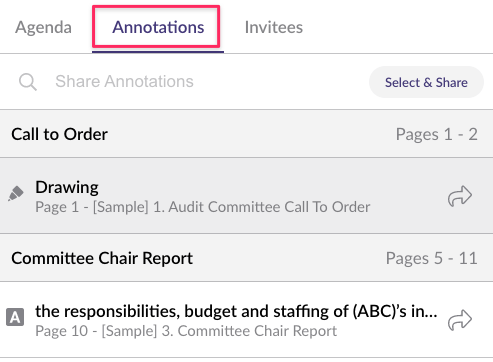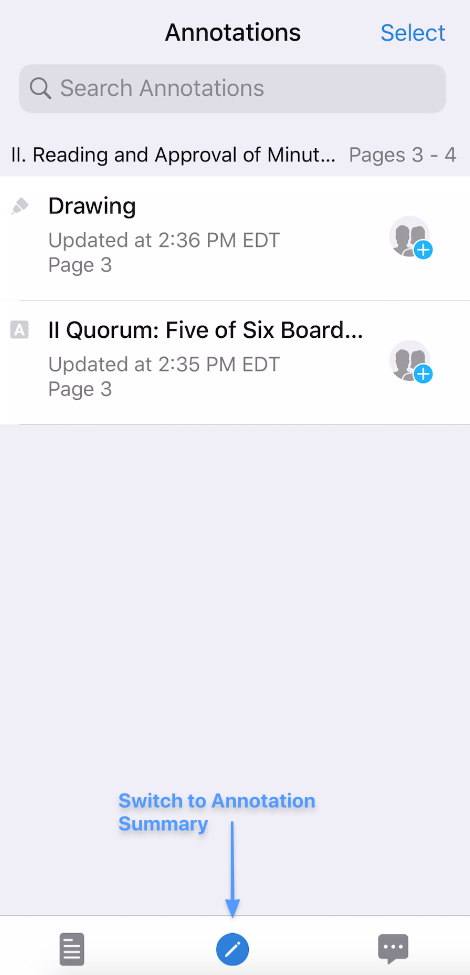 Open and View a Single Book Document
While the method mentioned above, clicking "Open Book" to view the entire board book and all of the agenda's documents, is the recommended viewing experience - it is still possible to click any single document within the agenda to view it. Doing so will transition OnBoard to a single-document preview. While in this view, you will not be able to make any annotations on this document. To view other documents in the book, you must either click the BACK button located at the top of the page and select another document from the list, or click OPEN IN BOOK to see all documents compiled together (Similar to the Open Book button mentioned above).