Welcome to OnBoard and the Passageways Family!
Now that you've got your instance of OnBoard up and ready to begin - where do you start? We're here to help show you the most common first steps everyone takes, so you can have your organization spun up in no time flat. This article will describe the four major milestones of the first things you'll accomplish:
Taking a Brief Tour / Learn the Lingo
Setting the Organization Settings
Inviting your Admin Team
Creating your First Meeting
In-App Tutorials:
When you first log into OnBoard (https://app.onboardmeetings.com), you'll most likely be greeted with a built-in tutorial that will help guide you through the very same things we're going to be talking about in this article. Be sure to check those out! If you decided to close those and save them for another time, you can launch them again from the HELP menu in the main navigation along the left. This icon is invaluable! From here, you will find all sorts of helpful tutorials, walkthroughs, and direct access to our Tech Support team if you get stuck.
Let's get started!
Milestone #1: A Short Navigation Tour & Common Definitions: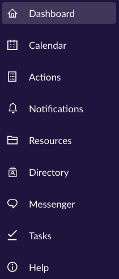 Here's a look at our main navigation in OnBoard. You'll use the icons to move from feature to feature inside the product. Let's take a moment to describe what sort of information you'll find in each one.
Dashboard - This page is dedicated to being a single destination our organization members can go to find all of the important upcoming information. Everything from your next meeting details, any sort of Approval or Survey you need to participate in, important Resource documentation to review, or important communications from your administration team. This page can be configured to be your Landing Page, so that every user is directed to view this page immediately after logging in.
Calendar - Here, you'll see all of the meetings you've created or been invited to be a part of. Review meeting details such as date, time and location. Open your board book/packet to brush up on the next meeting's contents. Make annotations directly on your meeting's pages. Though meetings are created and managed from this location, they can be configured to appear on the Dashboard page for quick access. This page can also be configured as a Landing Page for your members to view immediately after logging in.
Actions - Actions in OnBoard are common actions that may happen during your meeting, such as Approvals, Surveys, or eSignatures. Just like with Meetings, this location is where all of these Actions are created and managed, but they can also be viewed on the Dashboard for quick access. Here, we are able to cast our vote on Approvals, participate in Survey questionnaires, and sign our digital signature to eSignatures.
Notifications - Most actions that require your attention will send a Notification with its details. A new notification will appear when you get access to a new Resource, when it's time to cast your vote on an Approval, when a board book has been published, and more. Keep an eye out for the red dot badge to indicate new notifications waiting for you to view.
Resources - The Resource Library gives you a location to store all of your important documents, useful hyperlinks, informational or training videos, and more. Set up a folder structure for your organization to keep documents segmented between each of your committees or teams. Think of this like your OnBoard OneDrive or DropBox.
Directory - All user account management happens in the Directory. Use this to invite new users to join your organization, set their account permissions, and look up contact information.
Messenger - If your organization has this feature enabled, the Messenger can be used to send instant messages back and forth between other members of your team in OnBoard.
Tasks - The Tasks feature makes it simple to keep track of your action items that come out of your meetings. Add a new task for yourself, your colleague, or your Group to keep tabs on.
Help - Perhaps the most important icon in the whole list! Help will get you to all of our in-app tutorial walkthroughs, detailed articles and videos from the Help Center (like this one), and access to our Technical Support team for additional assistance.
Milestone #2: Organization Information and Settings
From the Dashboards page, click the Organization Info tab at the top of the screen.

On this page, you will manage settings that apply across the entire platform.
Organization Information - In each of the panels on this page, review the name of your portal and add address, phone, email, and website details. Edit the panel with the buttons off to the right side of the screen, make your changes, and be sure to click Save when you have finished.
Company Logo - While you're making changes to your organization's details, add a little personalization to your instance of OnBoard with your company's logo.
Organization Time Zone - In the General Settings panel, set the timezone for your company's home office. Keep in mind that this setting is only one location for the entire organization. It will have no effect on meeting or action times, however, when anything is exported out of OnBoard, timestamps will all be converted to the timezone chosen here.
Landing Page - Also in the General Settings, choose which page your users will see when first logging in. Options are: the Dashboard Page, or the Meeting Calendar page.
Additional Security - Moving down to the Security Settings panel, the App Security and Two-Factor Authentication features are centered around enhancing security around the login process. If you'd like to enforce the use of biometric sensors (Face/Touch ID) or additional pin codes to log into OnBoard, be sure to enable one or both of these features. User Exceptions can be made with the Set Exceptions button.
Disable Download - If you do not wish your users to be able to download Board Book or Resource Documents and access them outside of OnBoard, be sure to enable this setting. User Exceptions can be made with the Set Exceptions button. This setting is configured in the last panel on this page, Feature Settings.
These are the most important things to consider when first setting up your organization. Descriptions of the other settings can be found here: Article: Managing Organization Info and Settings
Milestone #3: Adding Additional Users
Our next step is to invite the other users who will be creating the content inside OnBoard: Your Admin Team. There are only a few steps to take to get these users invited.
Start by heading over to the Directory page.
Next, click Add Members in the upper right corner of the screen.
Choose Invite Members.
Fill in your user's Email, First Name, and Last Name.
Choose the user's Role for OnBoard (For users who need to be able to create meetings, choose Administrator or Creator)
Click Add Another if you wish to invite more than 1 person at a time, then repeat Steps #4 and #5 for that user.
Click Send Invites!


Each user in our list will receive an email from OnBoard with instructions on how to login and finish up their account creation.
For more information on this topic, check out the following articles:
Article: Inviting Users to your Organization
Article: OnBoard Master Permission List
Milestone #4: Creating your First Meeting
Meetings are the heart-and-soul of OnBoard. This next step will be to get a feel for how to create your very first one. Feel free to re-create your last meeting, or get a jump on creating your next upcoming meeting!
Start by navigating to the Meeting Calendar from the navigation.
Click Create Meeting in the upper right corner to generate a new blank meeting.
Fill out the meeting's details: Name, Date, Time, Location, then click SAVE in the right corner of this panel.
Next, move down to the second panel where we will click Manage Invitees to establish a list of users who will participate in this meeting.
A panel will slide into view from the right. Hover your mouse over any user you wish to add to the meeting and click the blue + icon that appears to the right of their name. This will give this user basic read-only access to this meeting. If necessary, the permission can be altered by clicking Reader and selecting another permission from the list.
When your permissions are configured to your liking, click Save & Close at the top of the panel.
Next, click Compose Agenda to begin creating the structure of your meeting's agenda.
Use the Section and Subsection buttons to generate new agenda sections. Indent and Unindent can be used to create/alter the nesting of sections, similar to a bulleted/numbered list.
When your agenda structure is finished, select any of your sections, then click the Edit button to begin changing that section's details.
The most important part of this panel is the Section Documents section. Use the Add button to upload the documentation you wish to attach to this section of your board book. Repeat this step for any other section of your board book you wish to edit.
Save the panel when you're finished, then click Back button to return to the previous Meeting Details screen.
In the upper right corner, the Meeting Visibility will control what portions of the meeting can be seen by other users who have been given access to this meeting. Ensure it's set to All Visible before attending the next meeting.
These are the most basic steps for creating a new meeting, but there are all sorts of other options and settings available to you. For more information about creating and altering meetings, please review the following articles:
Article: Working With Meetings: Creating/Managing the Meeting's Agenda and Uploading Documents
Article: Working With Meetings: Meeting Downloads and Meeting Settings
Article: Working With Meetings: Meeting Visibility States
Article: Working With Meetings: Managing Meeting and Agenda Permissions
What's Next?
Now that you've learned how to move around the product, create some meetings, and manage your users, you can start looking at some of the more advanced features of OnBoard. We recommend taking a look through some of the other articles in the Getting Started section of the Help Center, but if you're ready to move onto something new, check these out:
Article: Creating and Managing Groups
Article: Creating and Managing Announcements
Article: Creating and Managing Resources
Article: Creating and Managing Approvals
Article: Creating and Managing Surveys
Article: Creating and Managing eSignatures