OnBoard provides your organization a Resource Library. This is a perfect place for commonly-accessed documents, hyperlinks, photos, or video links for your team that are not directly associated with any one particular meeting. For example. Policies, Bylaws, Procedures and Strategic Planning documents, or a hyperlink to the OnBoard iPad training guide on the Help Center are all perfect examples of what the Resource Library is intended to be. The objects that are placed in the resource library can be made available to all members in your organization or access can be restricted to individual users and groups.
Creating Resource Folders
The first step in configuring your Library is to create some resource folders for your resources to live. To create a new folder, first navigate to Resources in the navigation, then click "Add" in the top corner of the screen and select "New Folder". Next, type the name of your newly created folder.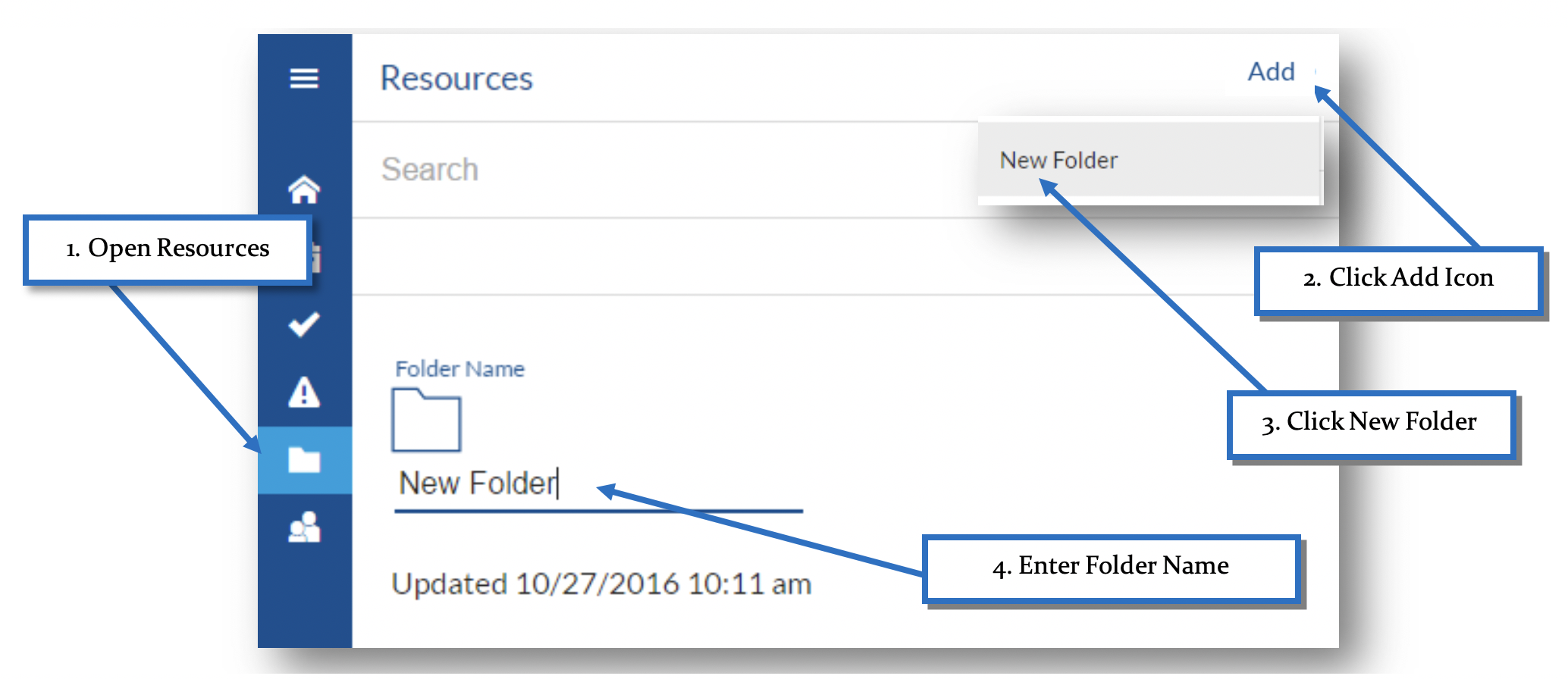 Setting Folder Permissions
After your new folder is created and named, we'll need to configure the list of users who will have access to interact with this folder. Hover the mouse over the folder's name and click the three-dot menu that appears to the far right. Select "Manage Permissions."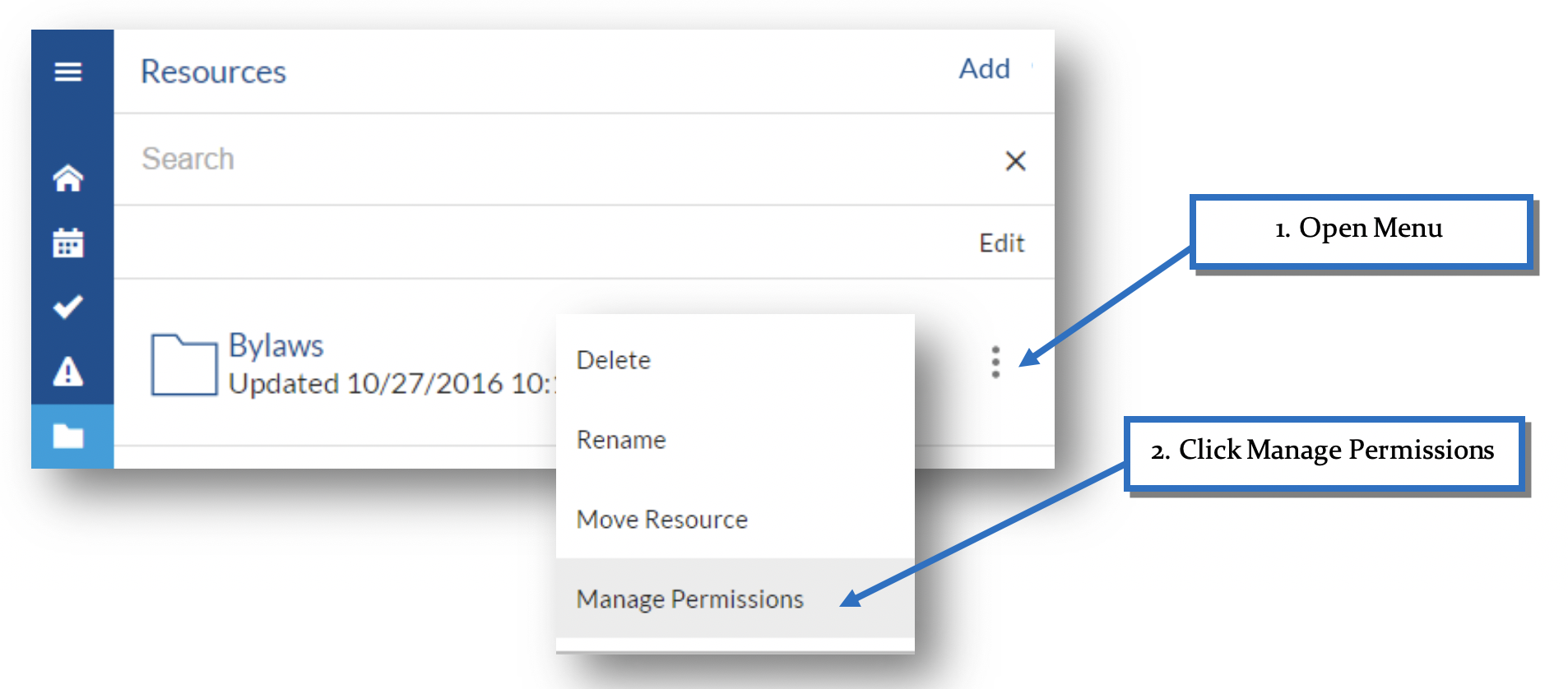 This will open the page where permissions can be altered for this folder. To assign access to an entire group, switch to the Groups tab and simply click the + icon next to the group's name. This will grant the basic Reader permission by default, but that can be further altered by clicking the blue Reader button and selecting one of the other available permissions. The same can be done for individual users, instead of groups. Switch back to the Members tab at the top and click the + icon to grant any user individual access. While on the Members tab, you may notice that users already have avvess to the folder from a group they're a member of. This will be indicated under the user's name, but that can be overwritten by selecting their current permission level and choosing another from the list.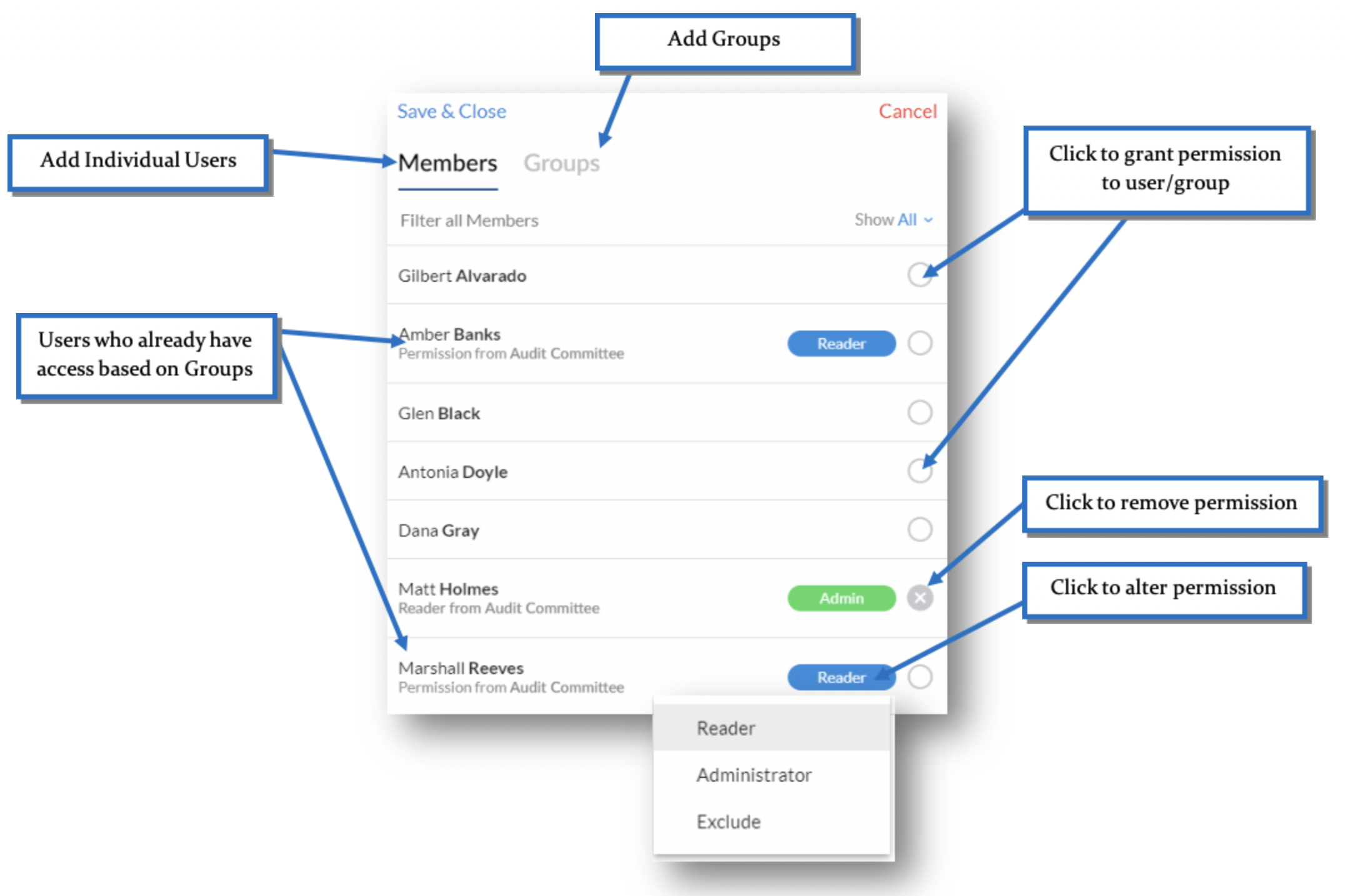 Adding New Resources to Folders
Once you have created a root-level folder, you can add resources to the folder by first opening it (clicking on the folder name), then clicking Add. There are five different options to choose from.

New Folder
The first option allows you to create a sub-level folder inside the root-level folder for additional organization. Choosing New Folder from this list of functions is just like creating a root-level folder described above.
New File
Selecting this option will allow you to upload any PDF or Microsoft Office document, which includes Word, Powerpoint, and Excel.
New Photo
Images files can be uploaded as well, but choosing the New Photo option.
New Video
This option can be used to embed YouTube videos directly into OnBoard. However, if your organization blocks access to streaming video services, OnBoard will respect that restriction. Meaning, in some cases, this feature may not be available.
New Link
The final type is helpful for including any sort of hyperlink to another website or external resource. An example of this would be to include a hyperlink out to a specific OnBoard training guide on the Help Center.
Moving Resource Folders and Documents
Administratorss can move resources and folders between locations in the Resource Library. In order to move a resource. hover your mouse over an item and then click the menu (three dots) that appear to the right. Choose Move Resource from the list of options. From here, click the destination folder you would like, then click the Move button to confirm and save your choice.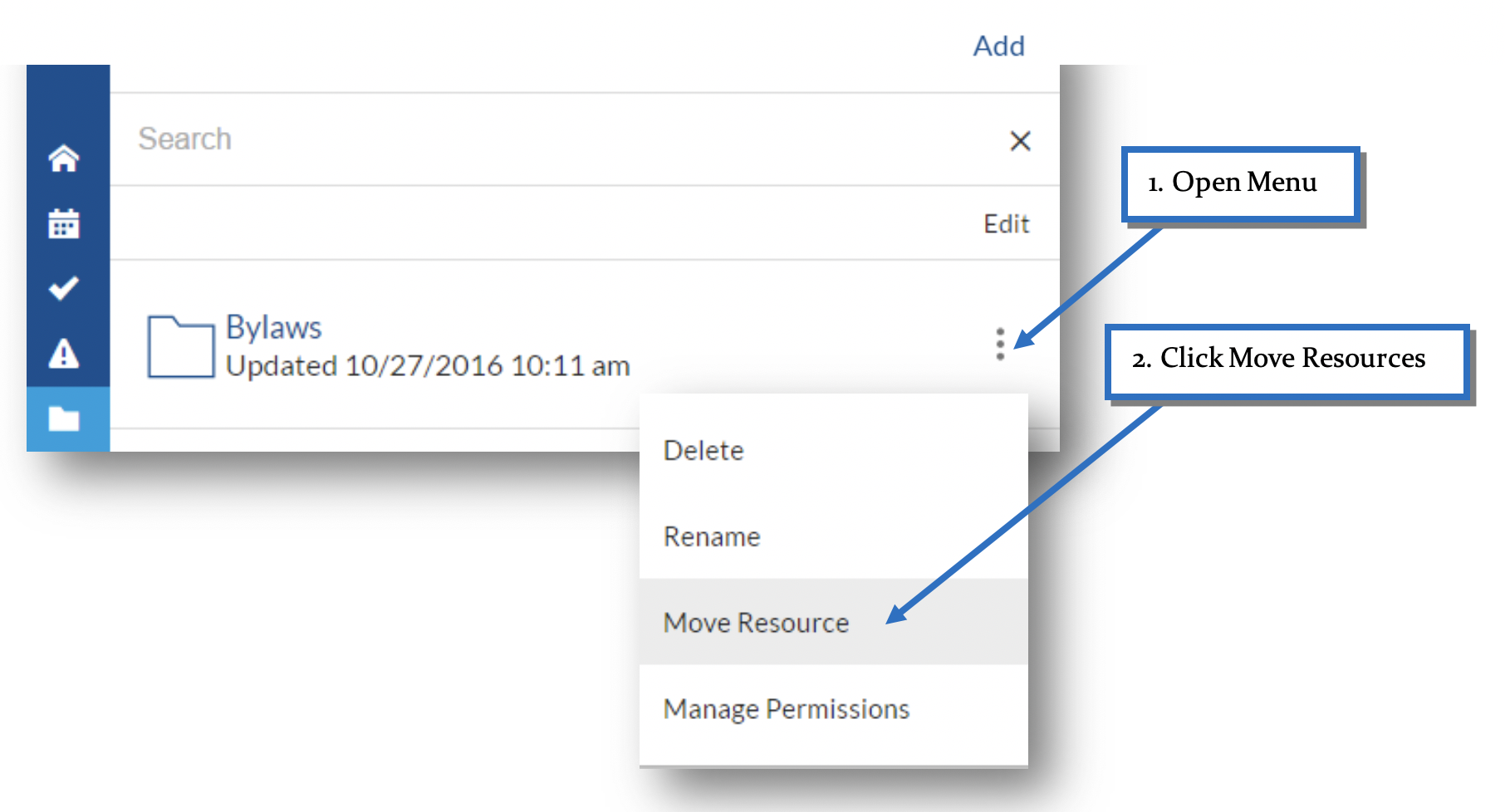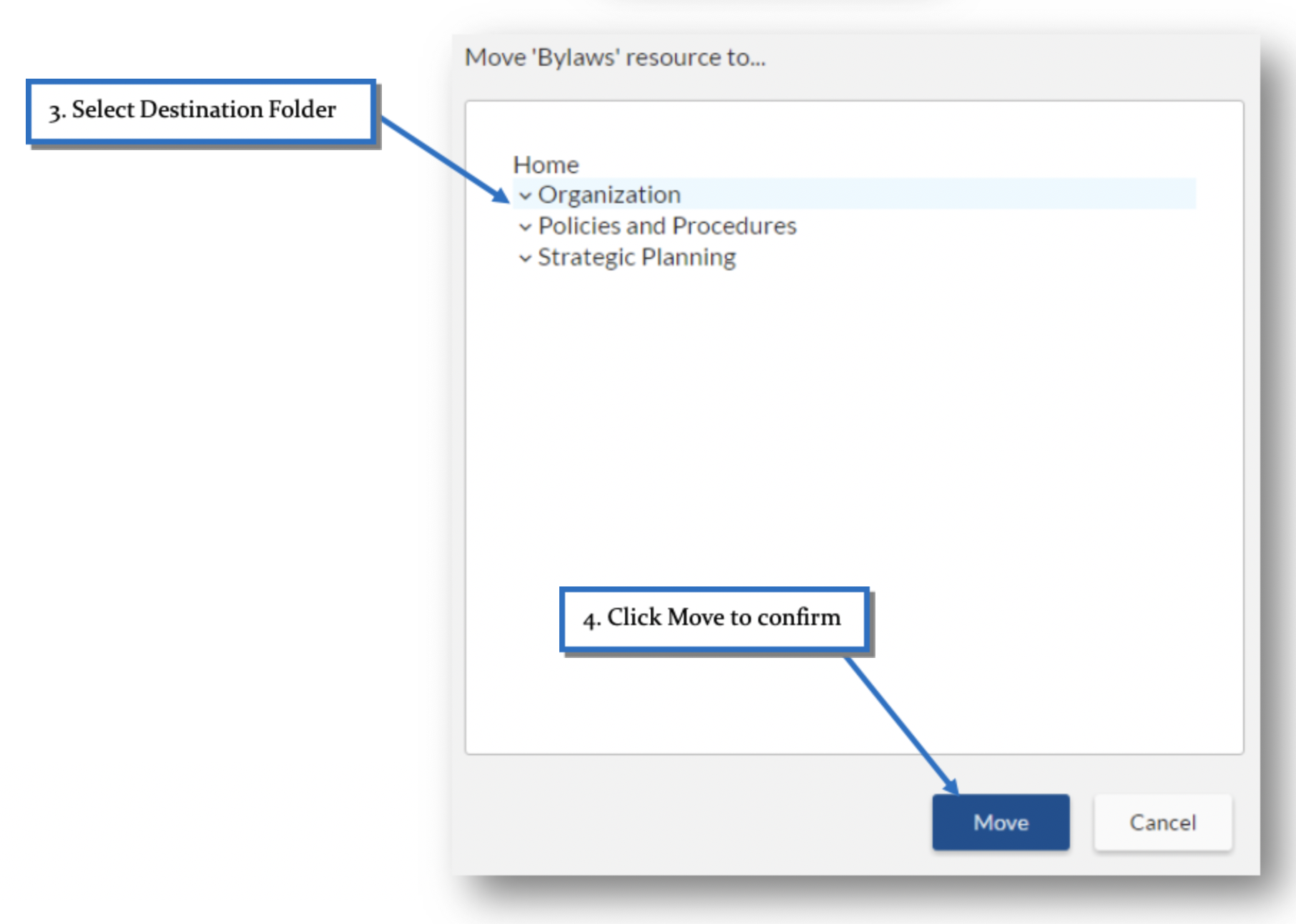 Deleting Resources
Resources can be deleted by hovering your mouse over the resource in the list and clicking the three-dot menu that appears to the right. Select Delete from this list of options. Keep in mind that deleting a resource folder will also delete everything inside that folder. Deleting is a permanent action that cannot be undone. Resources that have been deleted by accident will need to be re-uploaded into the Resource Library.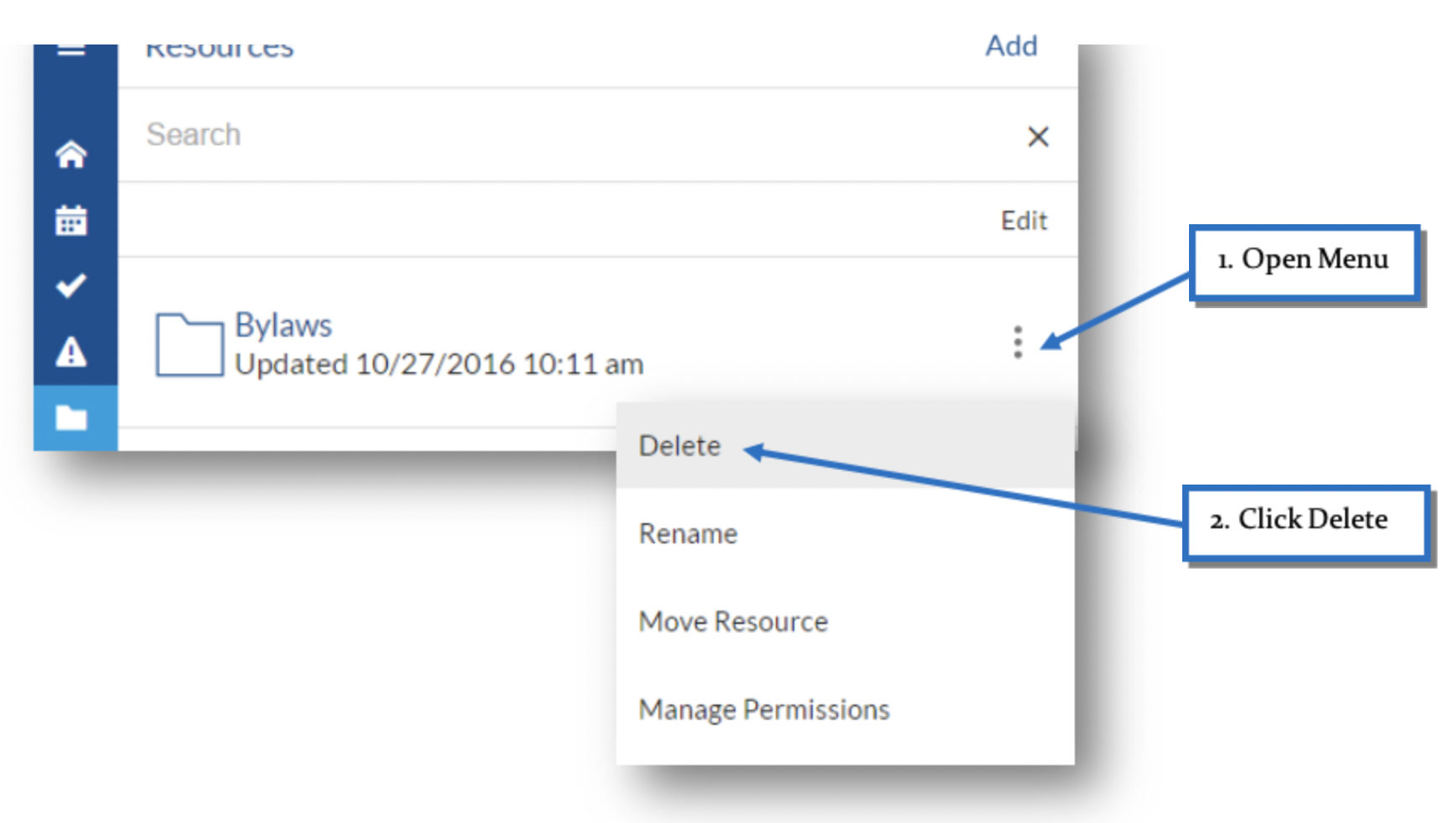 Multiple resources can be manipulated simultaneously by clicking the Edit button first, then clicking the check boxes that show up next to any item you wish to move or delete. Finally, click either Move or Remove to complete that action for your selected items.