Everything revolving around User Management can be found in the Directory on the main Navigation. From here you can edit organizational permissions, invite users, reset passwords, and remove users from your organization.
Inviting Individual Users to Your Organization
Adding users to your organization is easy! To send an invitation to your organization, click the Add Member button at the top of the Directory page, then select Invite Members.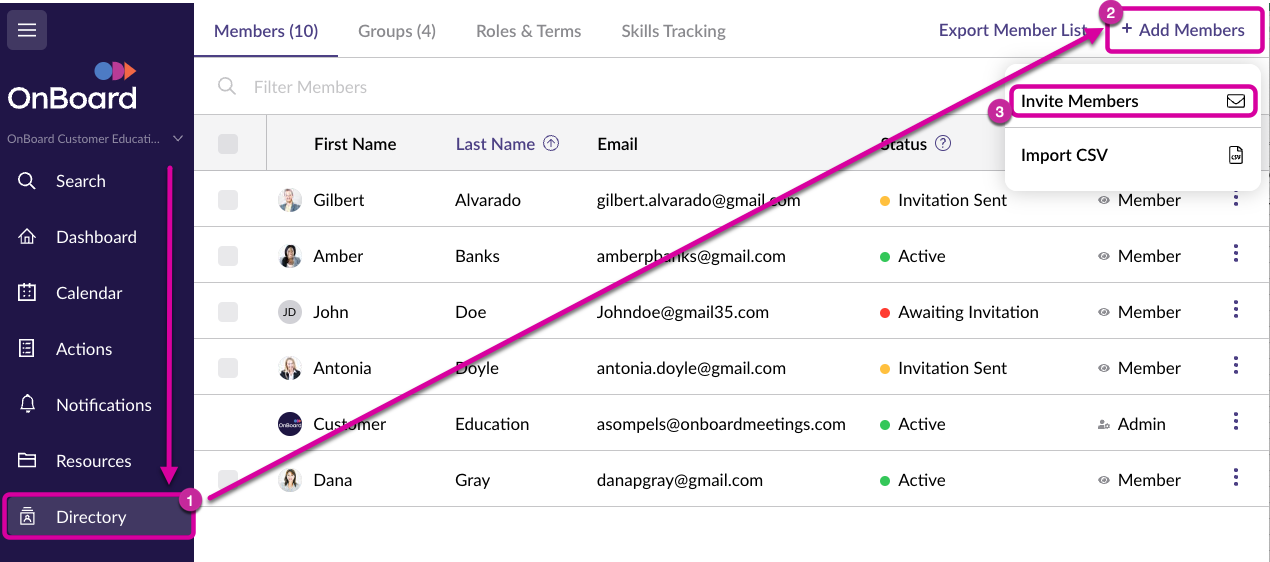 Type in the user's first name, last name, and email address and adjust the Permission column to assign an organization-level of access to this user.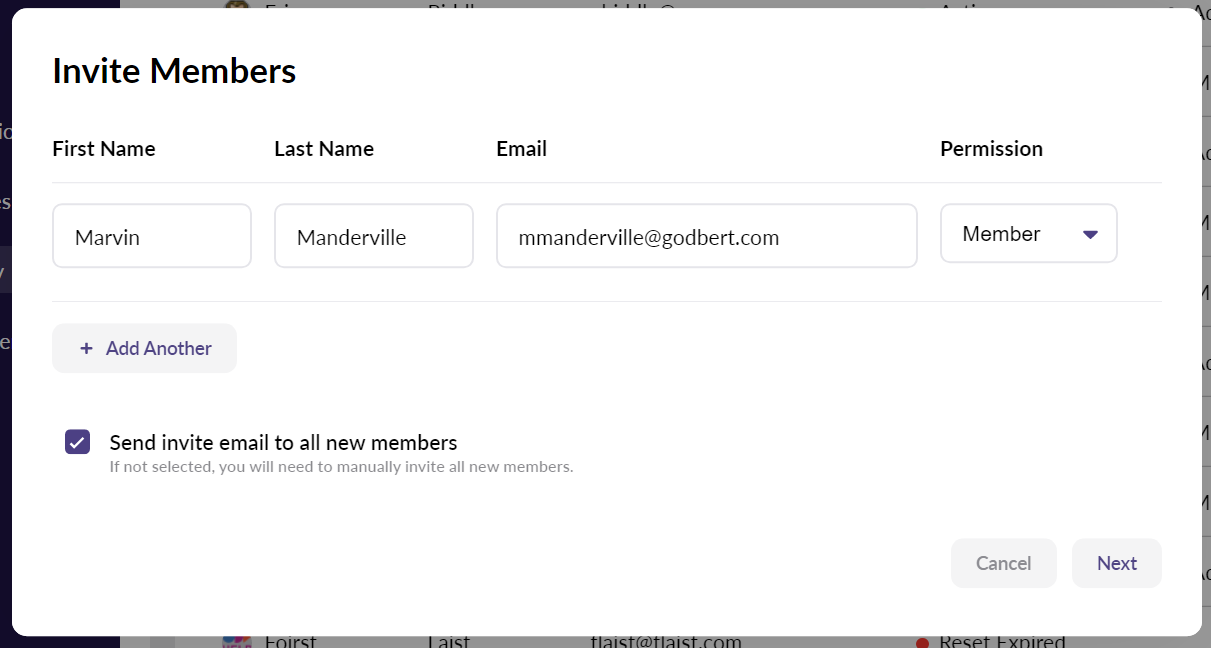 Multiple users can all be invited simultaneously by clicking Add Another.

This will allow you to add a handful of people all at once.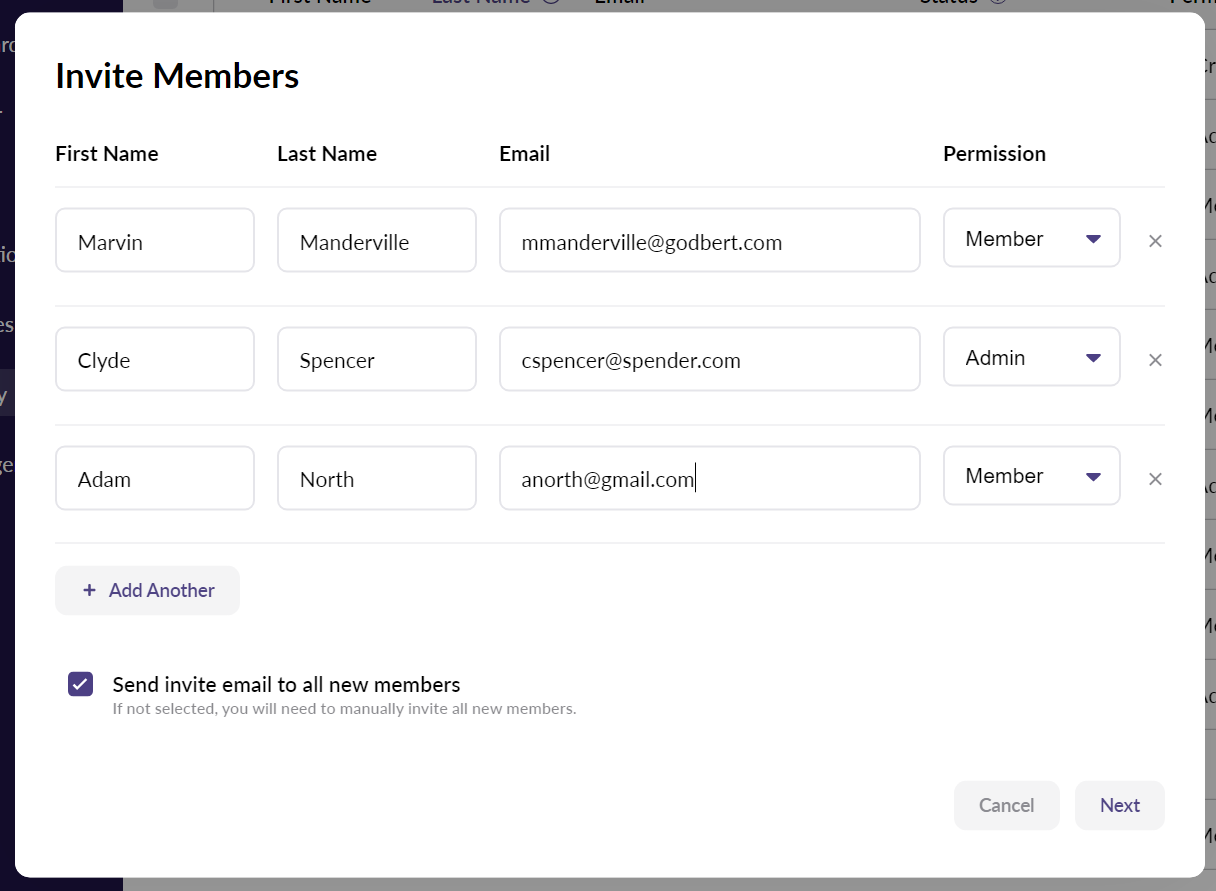 Before finalizing this process, take note of the checkbox at the bottom of the invitee list that says Send Invite Email to All New Members.
When enabled, this option will determine if your users are alerted by email right away. Some Administrators prefer to delay this notification until later, once they've had an opportunity to configure some other meeting or document permissions for this user. If that is the case, be sure to disable this checkbox. We can trigger that email invitation notification to happen later, whenever you're ready.
When Choosing to Send the Invitation Email:
If you have left the Send Invite Email to All New Members option enabled, or whenever you've determined to send the email after initially delaying it, you're given the option to include a customized message. That message can be typed into this text box. Just hit Send Invitation when you're ready to deliver your invitation to this new user.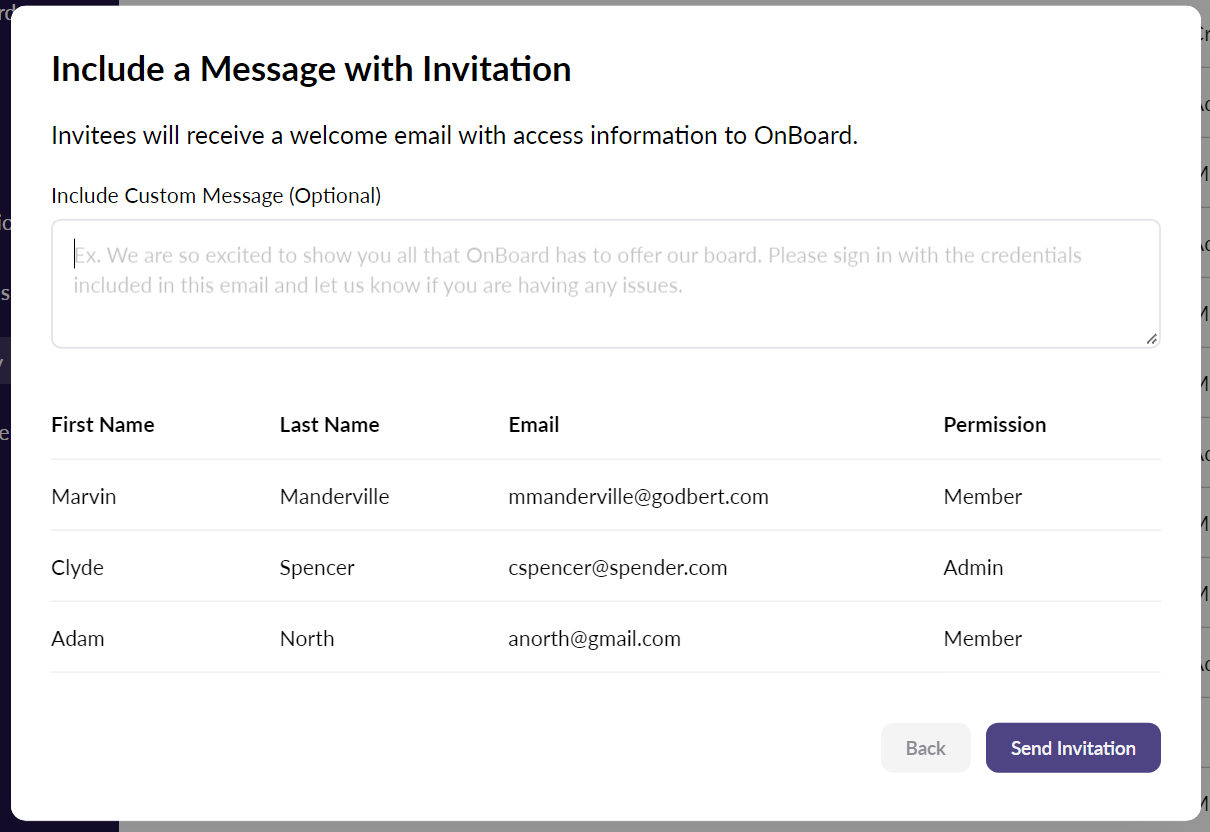 When Choosing to Delay the Invitation Email:
If you have disabled the Send Invite Email to All New Members option, these users will still be added to your User Directory, but their email notification will not be sent immediately.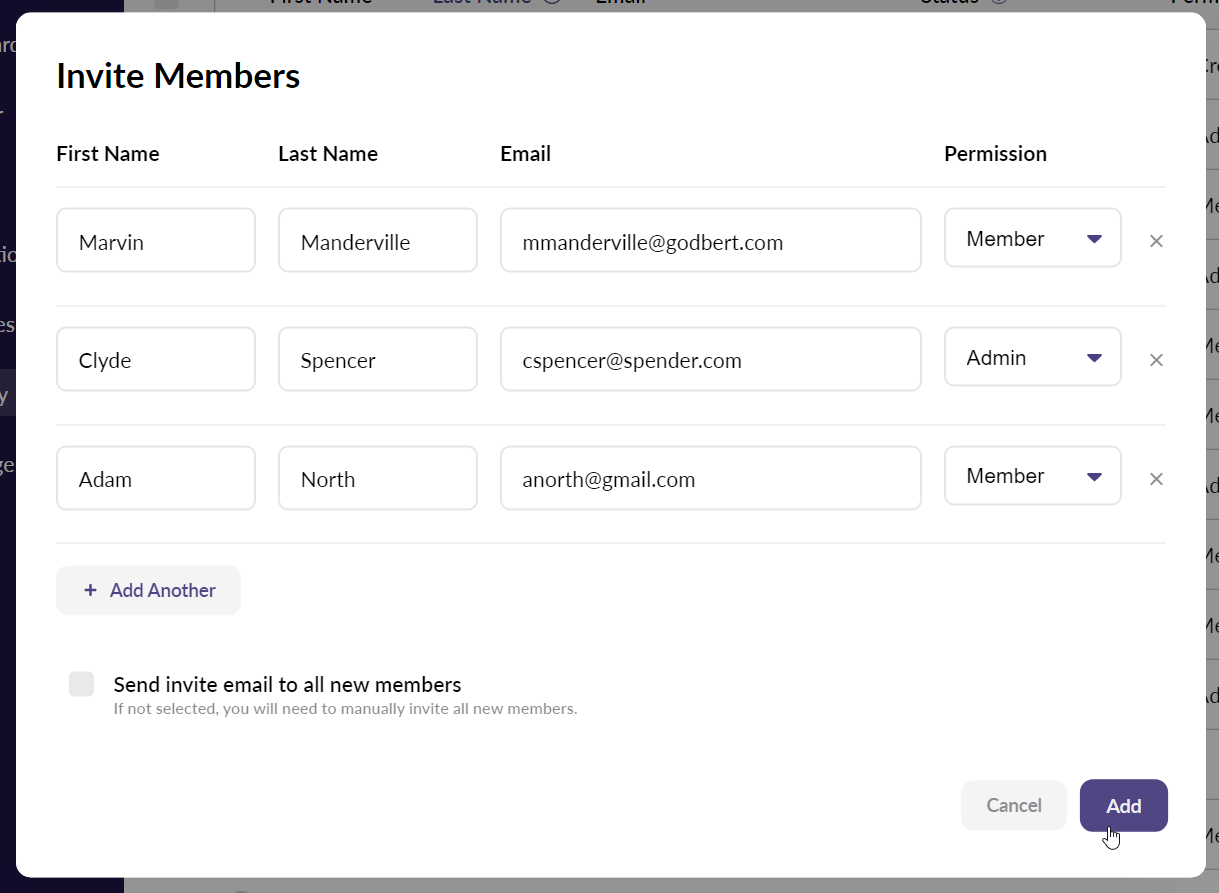 Their Status on the Directory will appear as Awaiting Invitation, letting you know that this person has not yet received a notification to join your organization.

Whenever you're ready to send this invite, you can click the user's 3-dot menu to the right side of their user in the Directory and click Send Invitation. At this time, you'll be able to include the custom message described in the step above.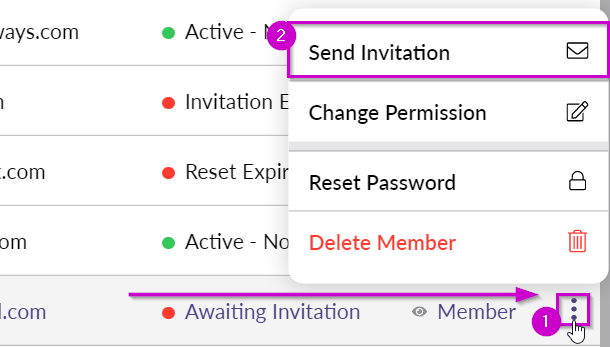 Inviting Users to Your Organization in Bulk
You can also invite users to your organization in bulk by using the CSV Import feature. This is a great option for getting a large number of users into OnBoard quickly. To start the bulk import, click Add Members from the Directory page, then select Import CSV.       

Important Note: CSV stands for "Comma Separated Values". It is important to NOT include any commas anywhere in the CSV file prior to the upload. This will cause the import to fail.
From here, you will want to click the hyperlink shown below to download the sample CSV Template.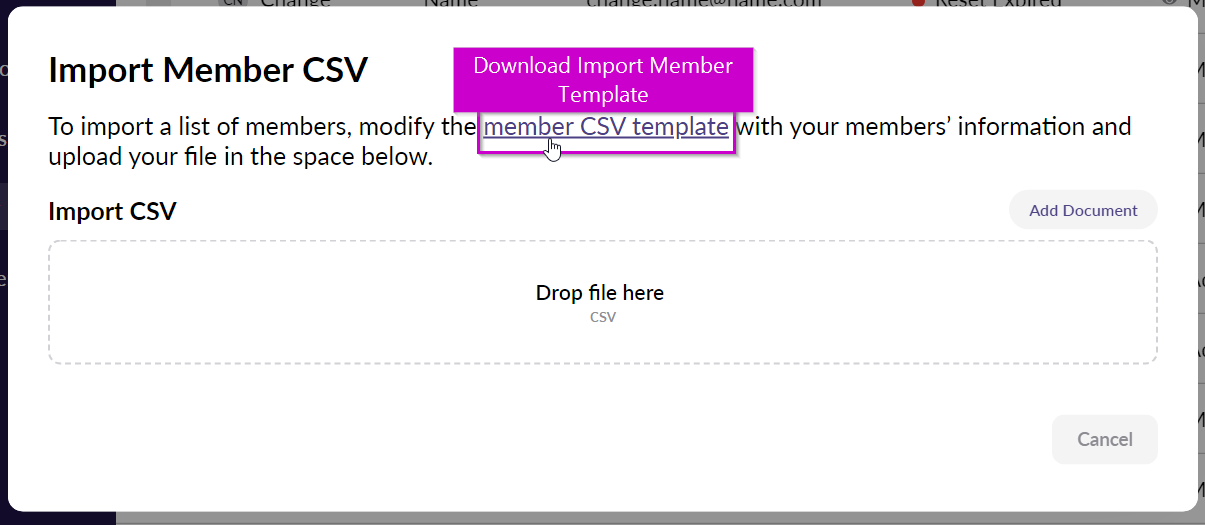 A file will be downloaded to your computer. You will need to populate this document with your users' profile information.  There are a few fields that you must enter for the upload to work correctly. These are required, but all other fields are completely optional.
First Name
Last Name
Email
Once you have the CSV file populated with the required information make sure to save the file and then click the Browse button on the CSV Import screen shown above.  This will allow you to browse out and find your newly populated CSV file. After you have selected the file, your user's information will be validated to make sure it is in the correct format.  Take one last moment to review your data and ensure everything looks accurate.  You're still given the opportunity to immediately deliver or delay the invitation email to these new users, just as described in the methods above.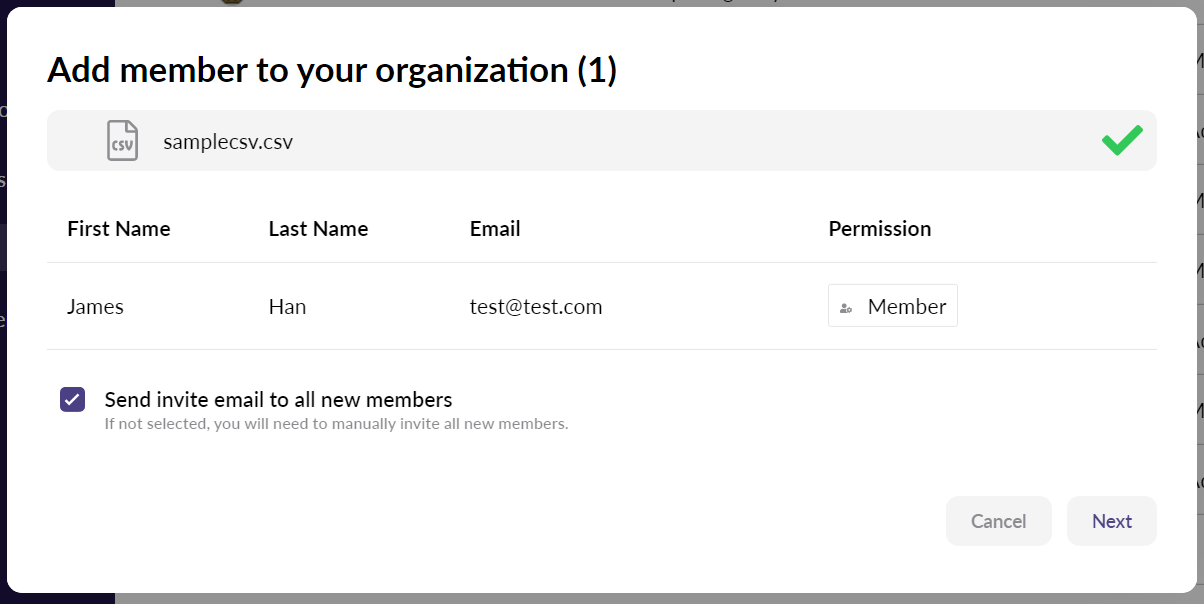 What Happens After the Invite is Sent?
Newly invited users will display one of these Status' in your Directory depending on whether they have received or accepted the Invitation.

Invitation Sent - Users with this status will have 7 full days from the time they received their invite to accept it. They simply need to go into the email they've received, and follow the instructions included to get logged in for the first time. 

Awaiting Invitation - The user has not yet been sent an email invitation to join the organization. And Admin will need to "Send Invitation" manually.

Invitation Rejected - User rejected the invitation and it must be resent.

Active - User invitation complete. Able to log in and access OnBoard.

Active - No Groups - The user is Active and can log in and access OnBoard, however they have not yet been added to any Groups.

Invitation Expired - Users who do not accept their invitation during the 7 days in which it is valid will change to an Invitation Expired status.
If this happens, the email they were originally sent will include outdated information. Their temporary password will no longer work, and they'll need to be delivered another. This can be accomplished by first selecting the 3-dot menu next to the user in the Directory and selecting Resend Invitation, which will again let you include another custom message.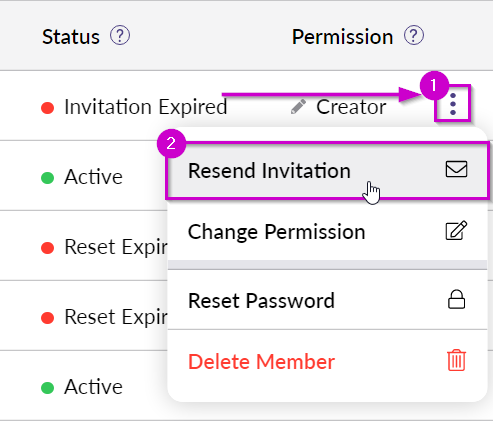 ---
OnBoard Group Trainings:
If you are interested, we do offer further education. You can find the calendar and register for OnBoard Admin group training sessions by clicking here.