Approvals are an important part of serving on the Board. OnBoard gives you the ability to create an Approval and capture votes instantly. In this article we'll cover:
Creating a New Approval
To create an approval, click on "Actions" in the left navigation, then click "Create New" in the top right corner.

Then select "Approval" and click "Create Approval."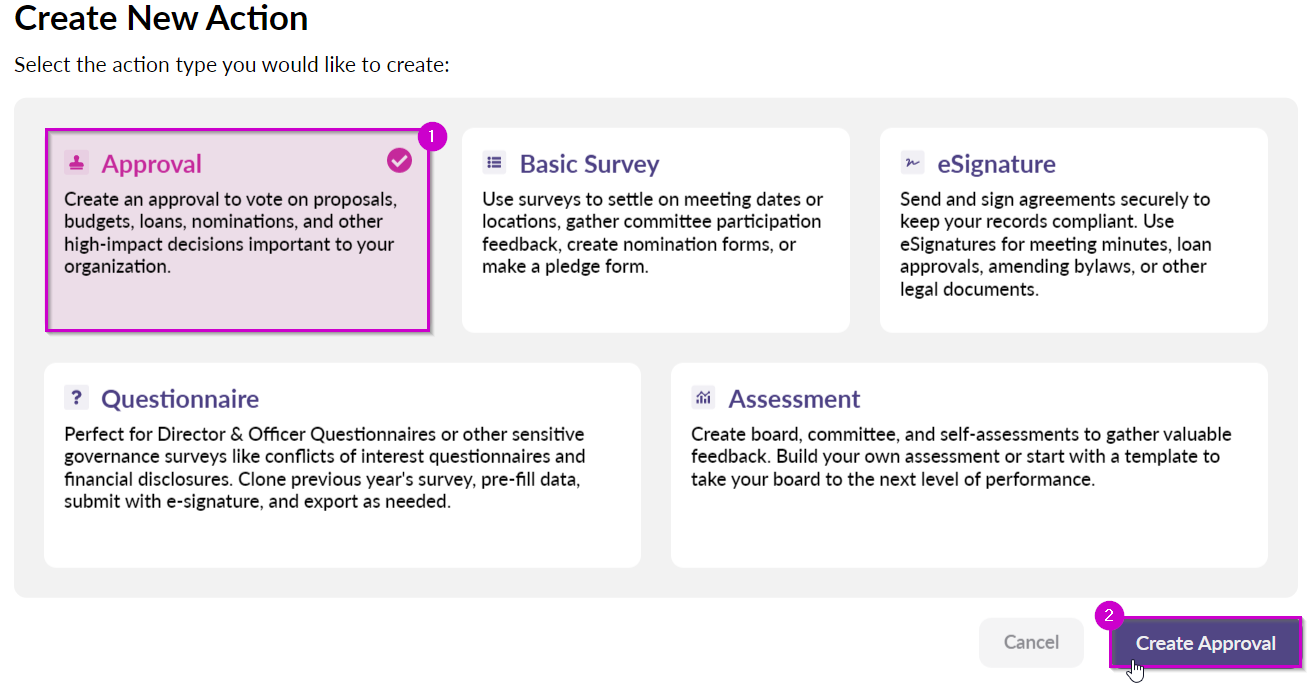 Once this is complete, a new Approval action will be generated for you to begin populating. Your Approval will stay in draft status and can be edited as needed up until it is set to Open.
Here you can fill in your Approval Name, set an optional Open and Close Date, add Motion and Second information, and a Description. You can also upload Supporting Documents to your Approval or Require a Signature with a user's vote if you'd like.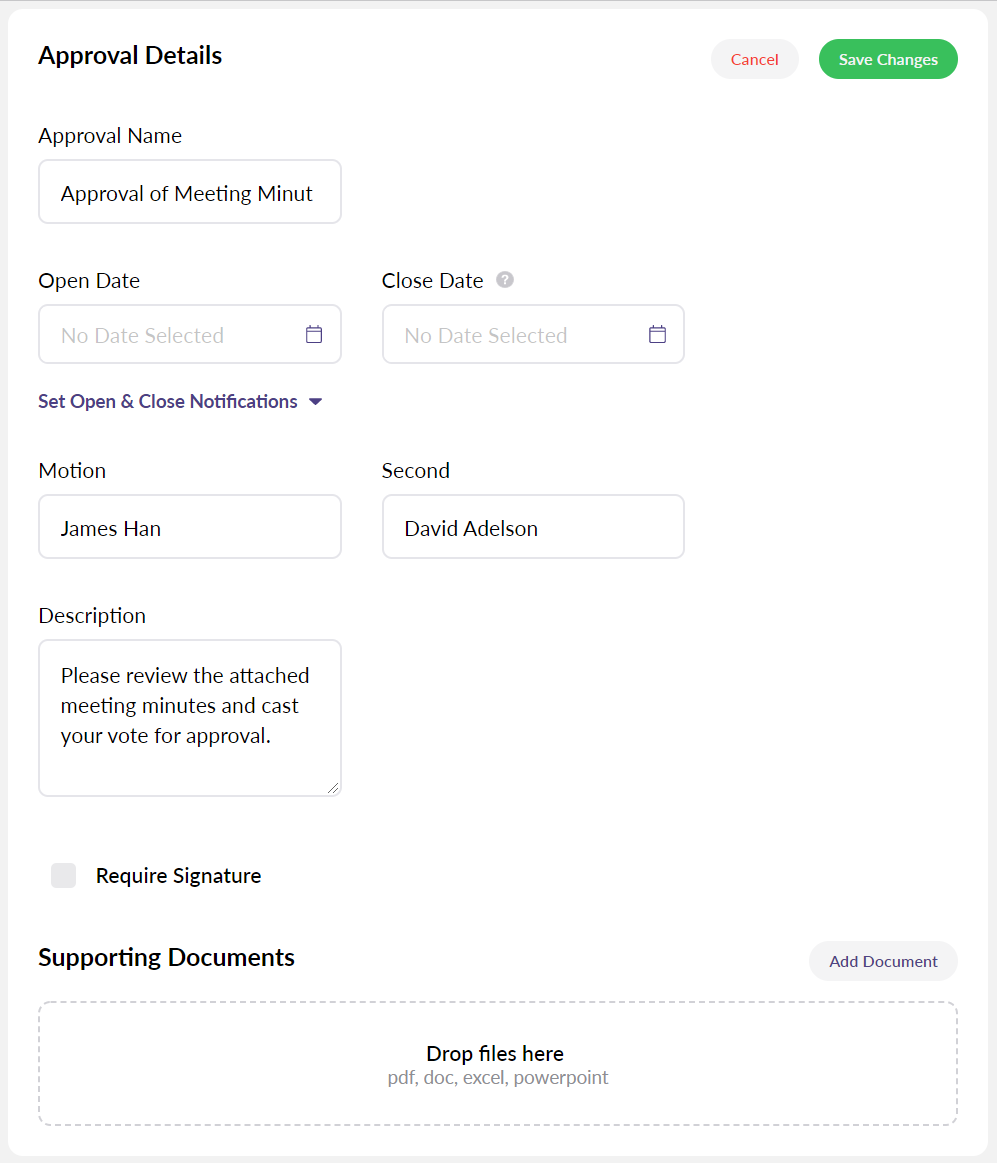 Before clicking Save Changes, you'll want to be sure to click on "Set Open & Close Notifications" to set your notification options for the Approval.
Important Note: If these options aren't set your users won't receive their initial notification that the Approval has been opened, nor that the Approval has been Closed once voting has ended.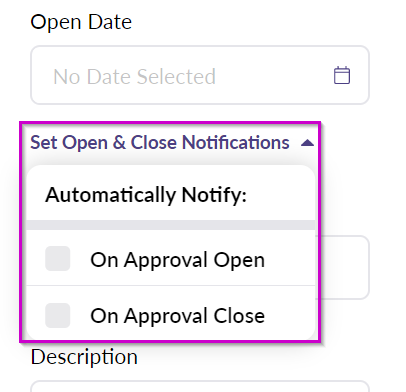 When filling out the Start/End Dates, keep in mind that these fields are completely optional. Filling them in means that OnBoard will automatically Open and Close the Approval action when these dates and times roll around. If you'd prefer to trigger these status changes manually instead, just leave these fields blank and use the Status dropdown menu to move the Approval forward in its lifecycle.
Important Note: If an Approval is prematurely closed it CANNOT be set back to Open.
Setting Results Display
When setting up your vote, you have a few different options for displaying results. Begin by clicking Configure in the Approval Results Section of the details page. Select either "Results Visible to Voters" or "Results Visible to Admins". You can then pick if you wish to provide a graphical and/or roll call view. Be sure to save your changes! Keep in mind, that the Roll Call option will display every participant's name and the vote they cast. You also have the option to give voters the ability to post comments directly on the Approval.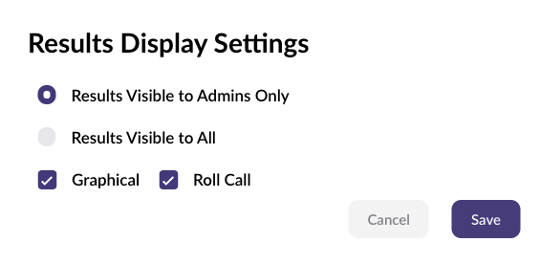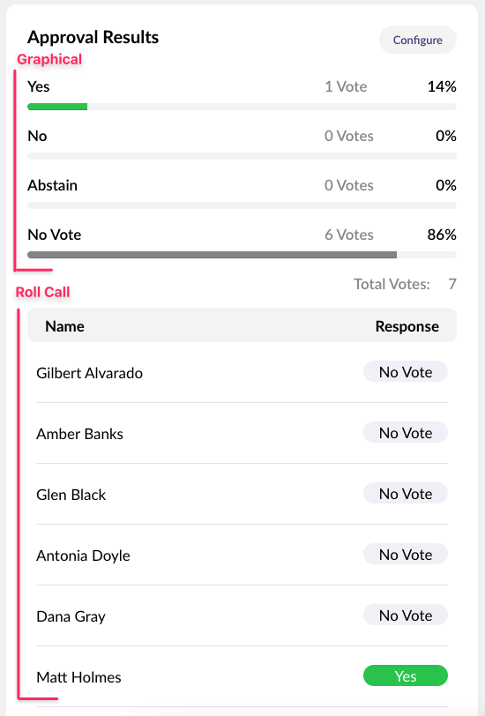 Setting Permissions on an Approval
Adding Voters to an Approval
Now that you have entered the details, you need to add your voters. Adding users can be done by Group or individual user. Like with the other permissions within OnBoard, the individual permission will override the group permission. Click "Manage Voters" in the Permissions panel. Click the + icon next to any group or user to add them as a voter, then click the Voter permission to further customize the permission.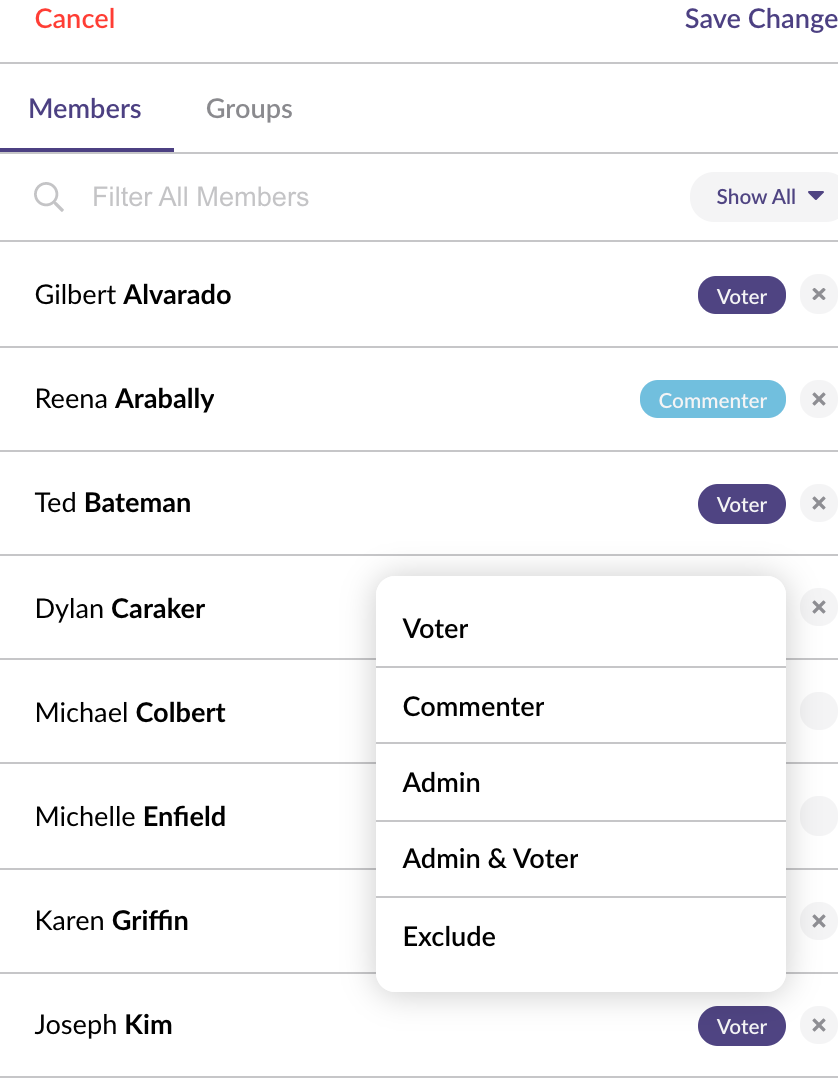 Voters will receive an email notification that an Approval is ready for them once the Approval has been marked as Opened. You can find a description of each permission in the Master OnBoard Permissions List section of this guide.
You may add voters to the Approval at any time before it "closes," however, voters added after it opens will not receive an email notification and will need to be notified personally.
Adding Commenters to an Approval
The "Commenter" permission type allows users to view and participate in discussions but restricts them from voting. This permission helps in the use case in which there may be a subject matter expert who needs to participate in the approval discussion, but are unable to cast a vote.
Voting as an Administrator
If your permission has been set to "Admin and Voter", you can cast your vote directly from the Cast Vote panel once the Approval has been opened. As this is a dual permission, you will see the admin features alongside the voter options.
Tip: For a true end-user experience, set up a test account and invite the test user as a Voter.

Opening an Approval
Once all of the Approval's details have been locked in, the Approval is ready to be opened for voting. This can be done two different ways. If you wish to open the vote immediately, so that the voters may begin casting their votes right away, simply open the Status dropdown menu at the top of the Approval Details page, and click Open Approval
Alternatively, you can set an Approval to open automatically by entering a value into the Start Date field. Once the date and time entered into this field become current, the Approval will automatically open, alert the voters, and begin capturing the vote results.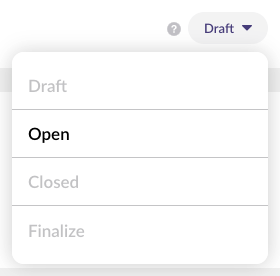 If you choose to manually open the Approval, you'll be prompted to confirm this action.

Clicking Open will prompt you to add a custom message if you would like to notify the Approval's participants that it is now open and they can now vote.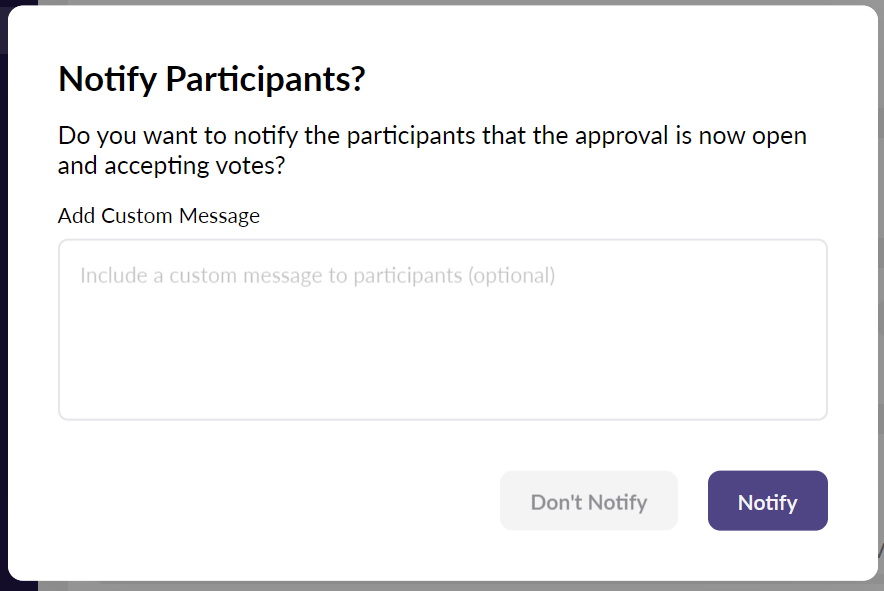 Selecting Don't Notify or Notify will complete the Opening process, allowing the Approval to be voted on.
The End-User Quick Reference Guide contains an overview of the experience as a Voter.
Enabling Discussion
The Approval Discussion feature is a good way for participants of a meeting to communicate before the vote has closed.
Just click "Enable Discussion" to allow Voters, Commenters, and Administrators to participate in, and add files to the Discussion.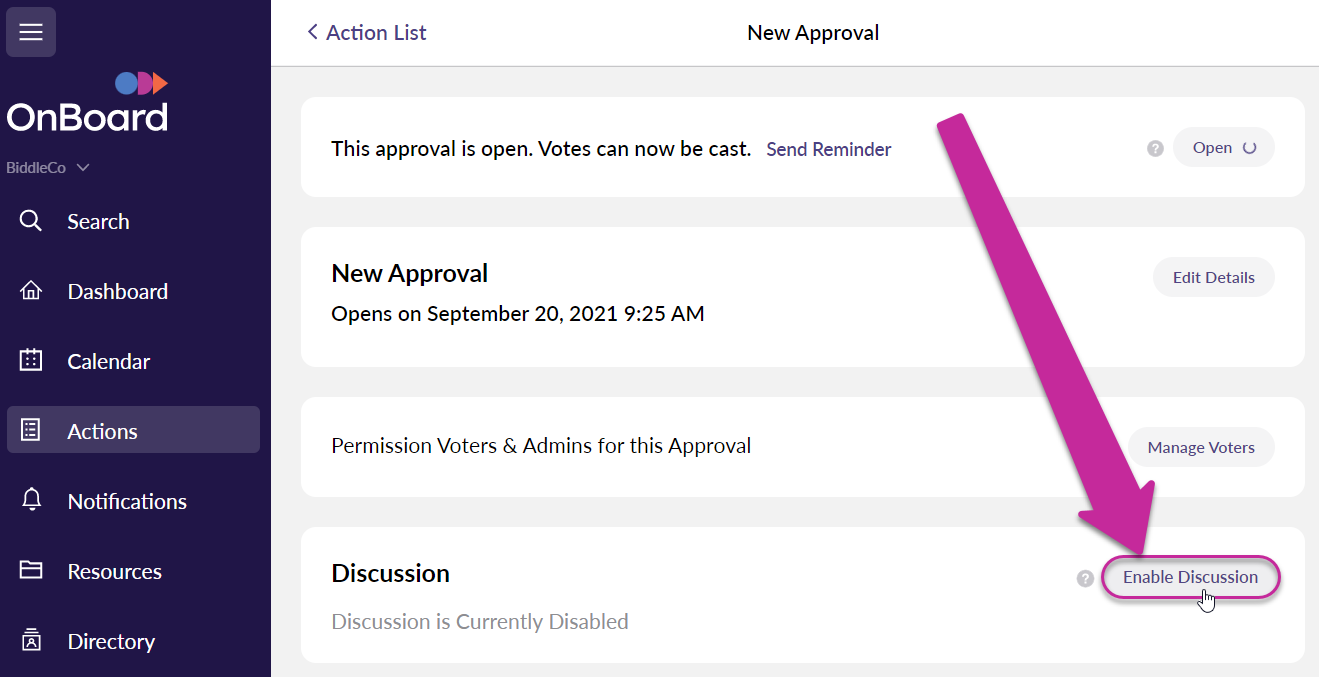 Clicking on the "View Discussion" button will open the Discussion panel.

Users will be able to see the current comments, and any files added to the Approval, and will be able to add files to the Discussion itself.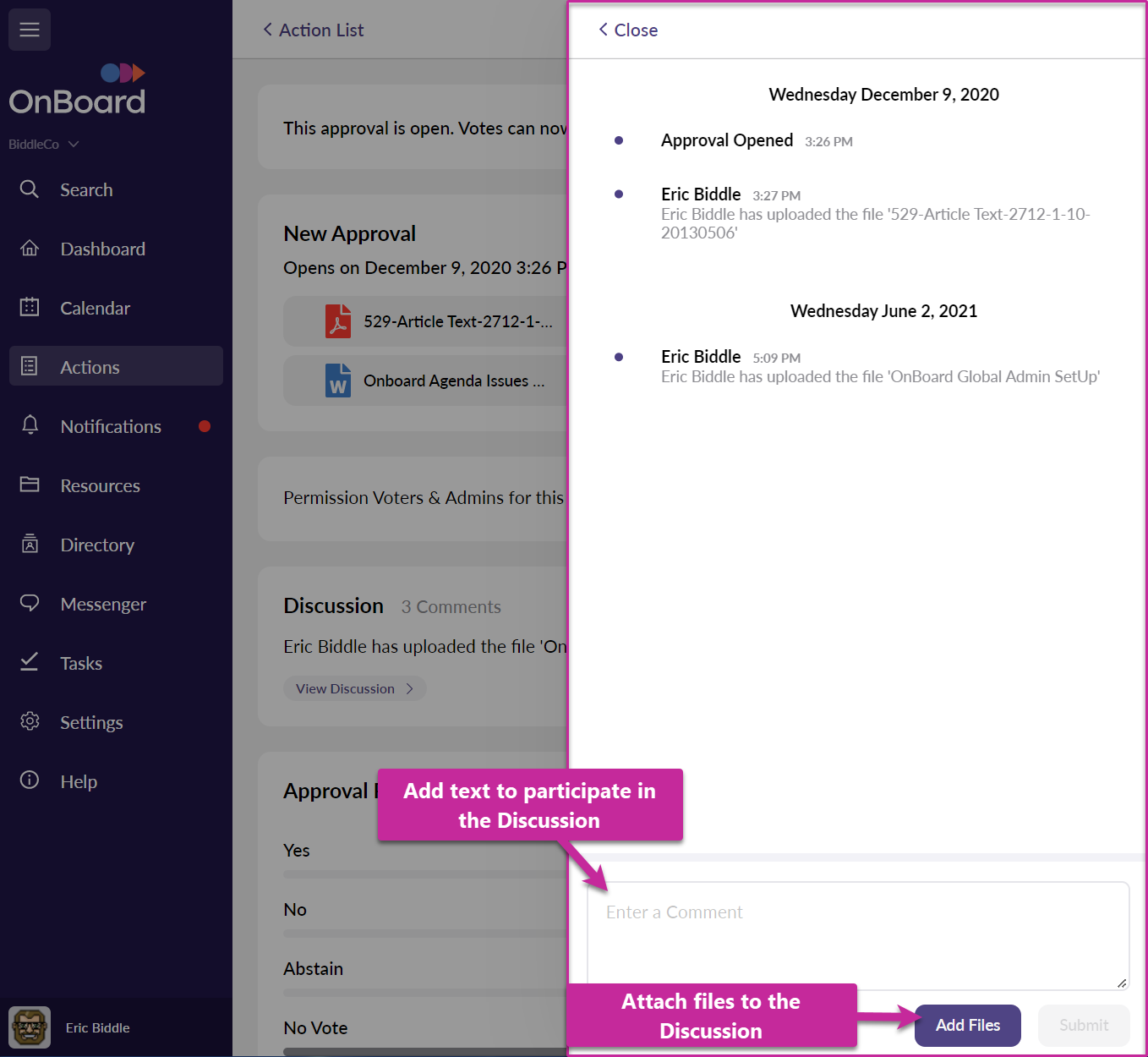 Once you've added a comment, it will display in the area above on the panel, with the newest Discussion items toward the bottom.
If you've added a file to a comment, you can click on the 3-dotted button on the right side of the file in the Discussion area to Rename, Download, or Delete the file.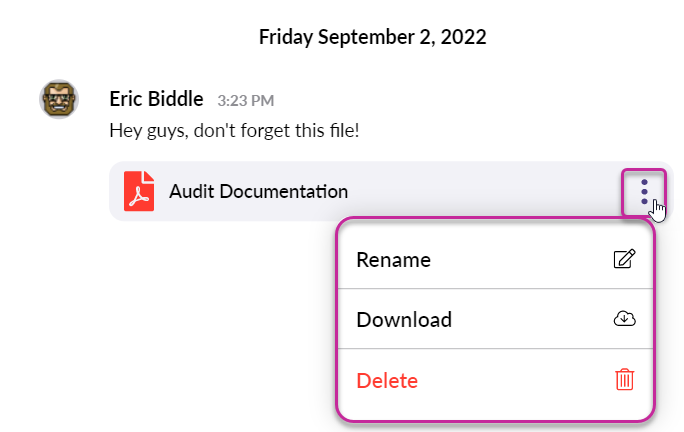 Users viewing the Approval can immediately see the most recent comment from the Discussion panel.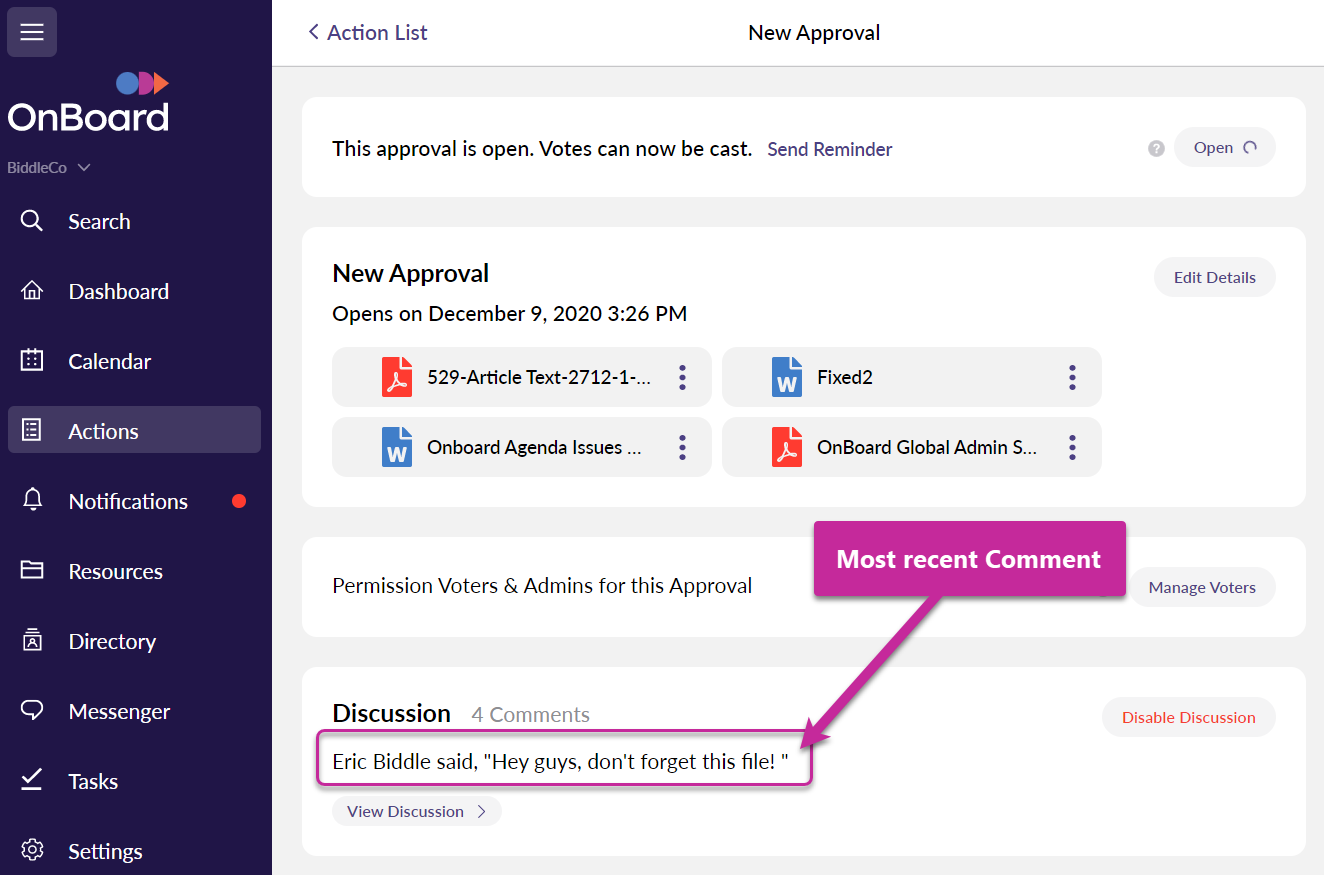 After an Approval has been Closed the Discussion will no longer accept new comments or files. Files already added to the Discussion can still be renamed, downloaded and deleted however.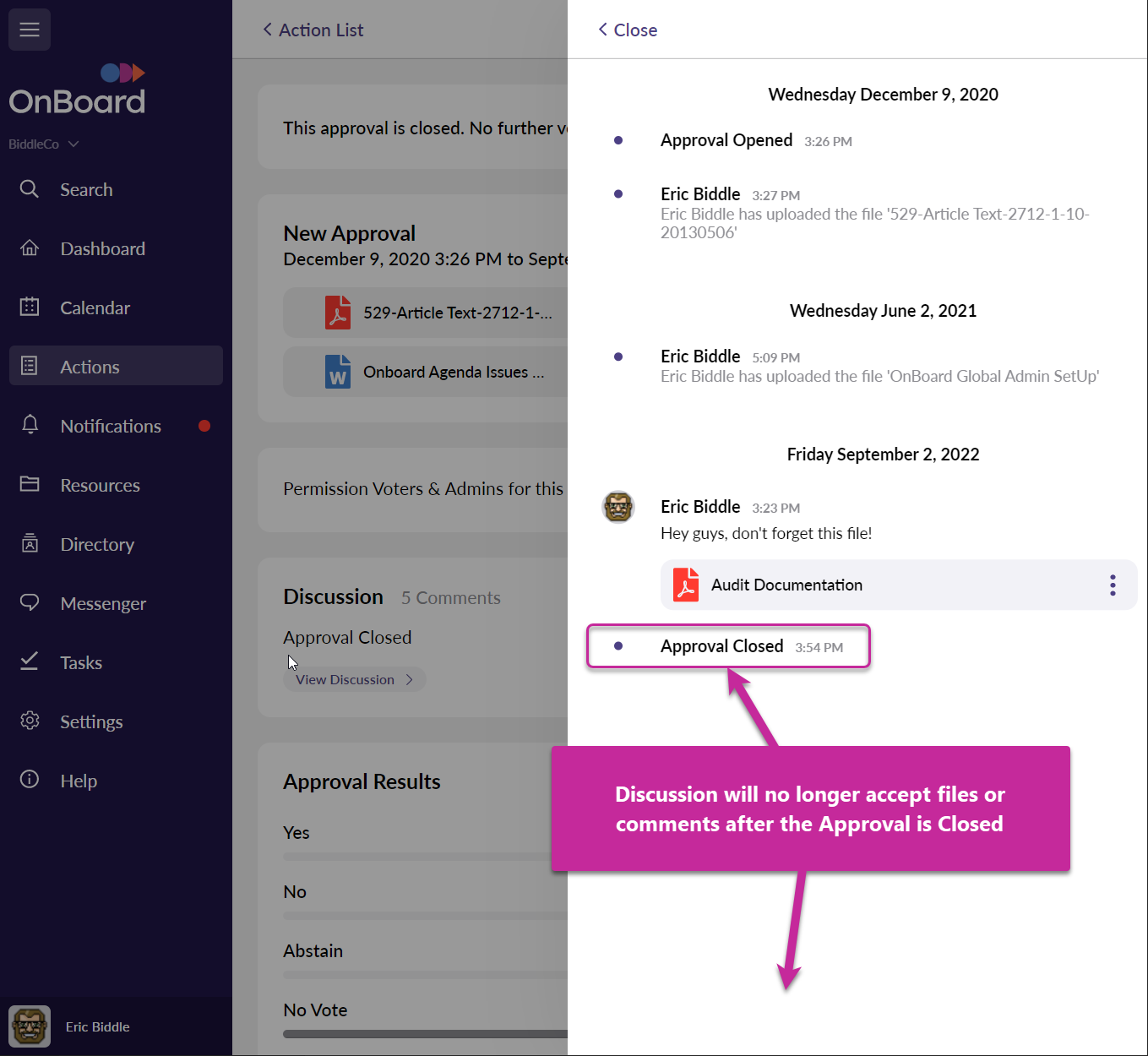 Sending Reminders to Voters
You can send Reminders to your voters if an Approval is Open by clicking "Send Reminder" on the Approval Status panel.

You'll have the option to send a reminder to everyone on the Approval, or only to users who have not yet voted. You can also include a custom message if you'd like!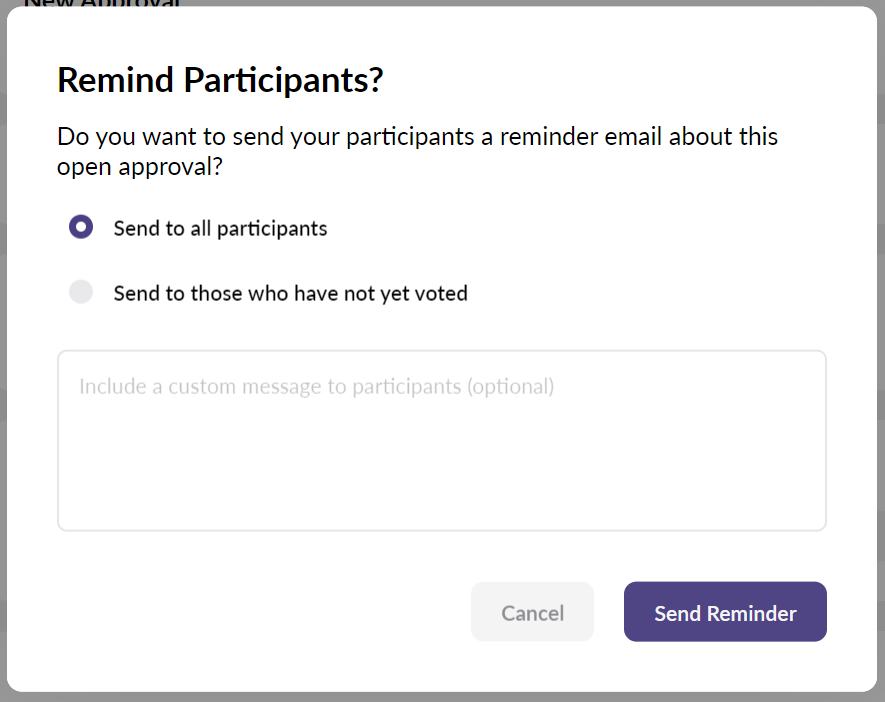 Closing an Approval
Once all of your votes have been recorded, you will need to close the Approval. If you want to set an auto-close date for users, you'll want to be sure to have Close Date entered.
Otherwise, you can click on the Close option from the Status dropdown menu.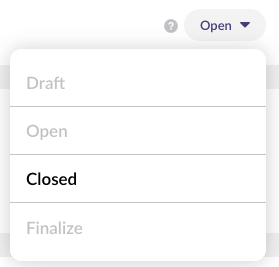 You'll be prompted to be sure you want to Close the Approval since this step cannot be undone.

You can supply a custom message to your users if you'd like to notify them that the Approval is now closed.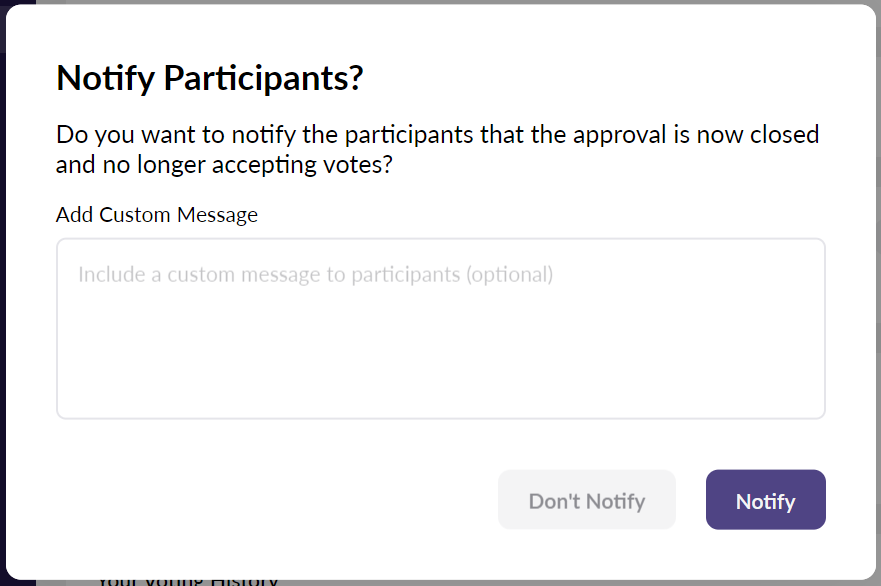 At this point, the Approval becomes locked and participants will no longer be able to cast or change votes.
Finalizing an Approval
Once the Approval is closed you can finalize the Approval results by first changing the status to Finalized from the Status dropdown menu. Next, select if the Approval is Passed, Failed, or Tabled as shown below. Once you have made your selection and entered any notes you must then click the Submit button to lock in the finalized details.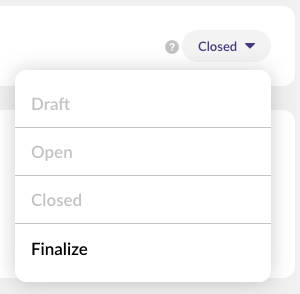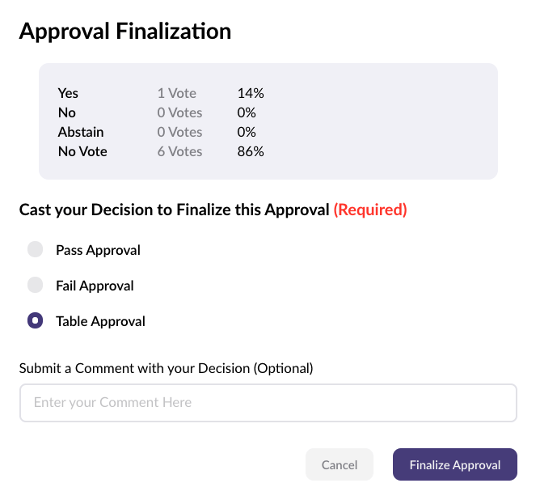 Downloading Approval Results
Once the vote has been finalized you are able to download the results via a Word document. This document will include the eSignatures of each user, if you've chosen to enable the "Require Signature" feature for this Approval.