Assessments are a powerful tool for boards to monitor performance against their goals. This article will give an overview of how to get started with the OnBoard Board Assessments Feature.
Creating a New Assessment
Begin by going to Actions and clicking "Create New"

You will then be asked to select what you'd like to create. Click on "Assessment", then "Create Assessment."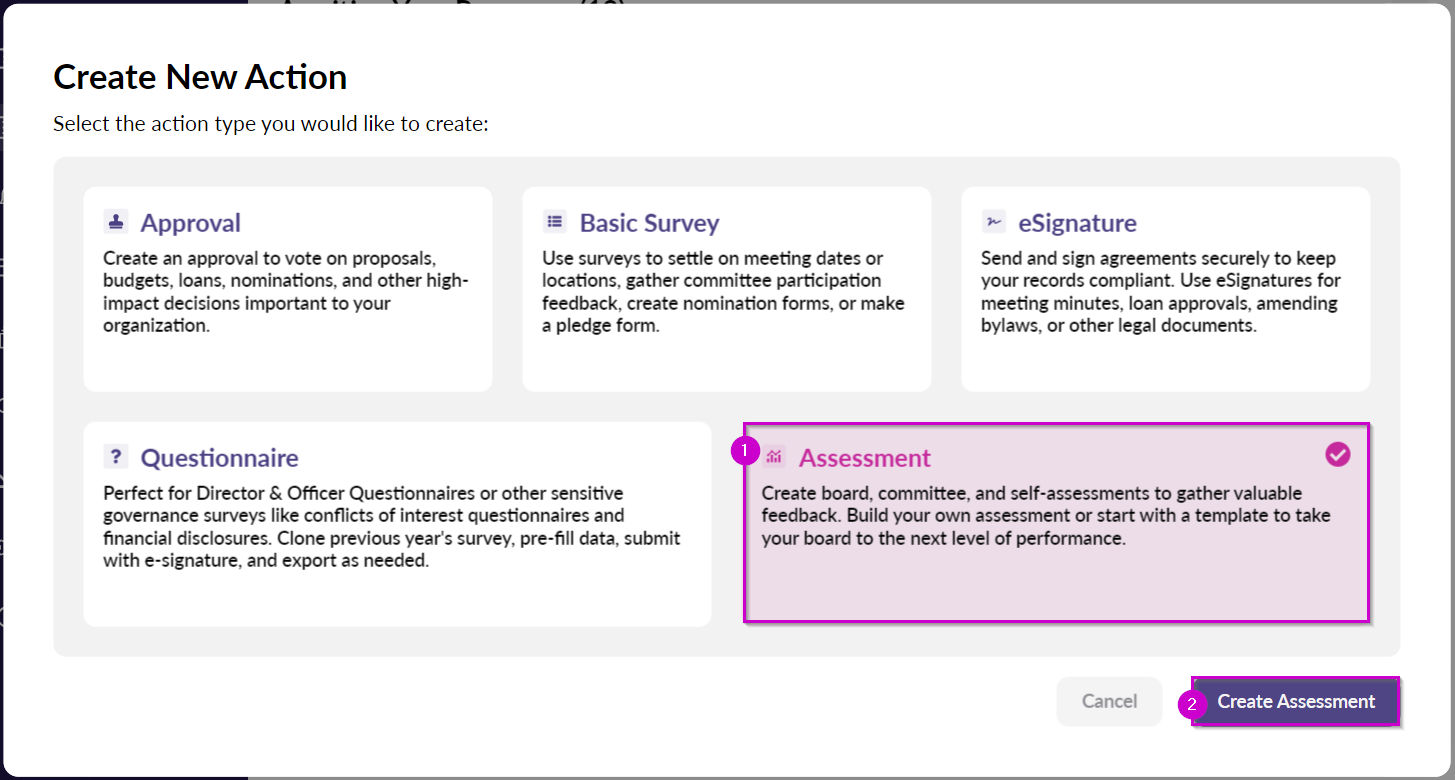 Now you can enter the title, due date, or description. You can also upload any supporting documents. "Anonymous Responses" being checked will ensure that responses remain confidential.
Click "Save Changes" to move to the next step.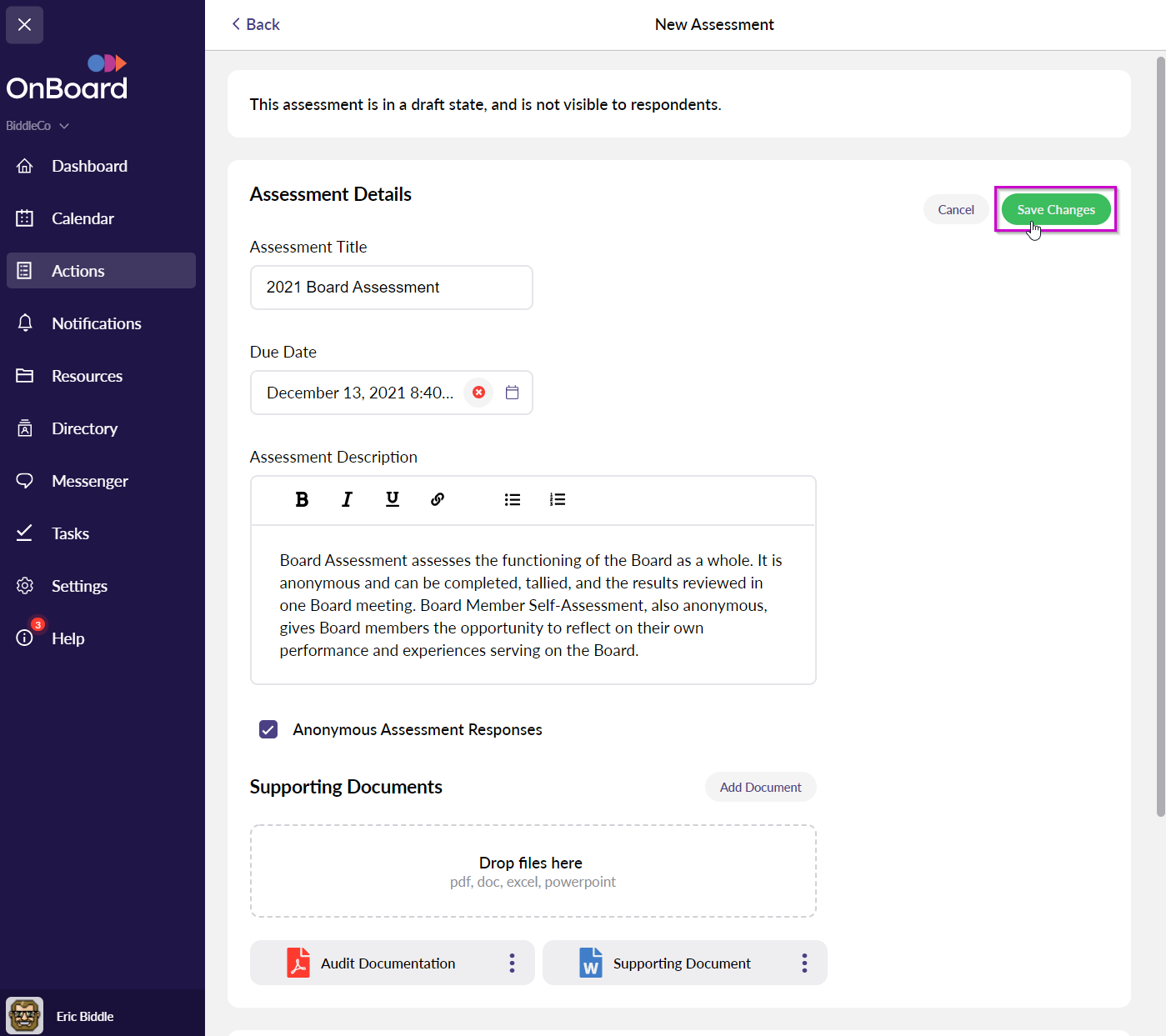 Managing Assessment Permissions
Next, click "Manage" to add in the people who should participate in the assessment.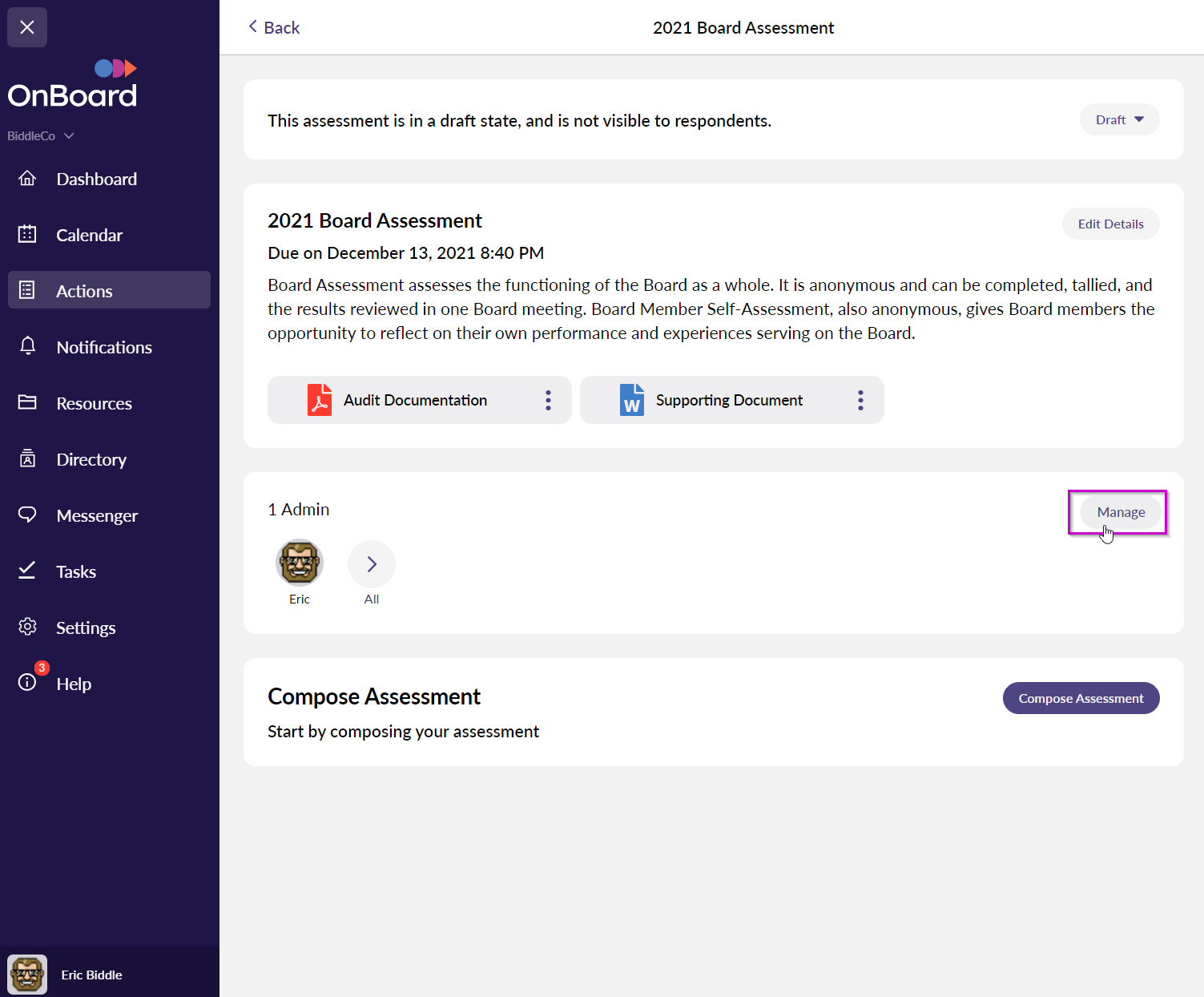 You can then select Members individually or by Group. Then click Save Changes.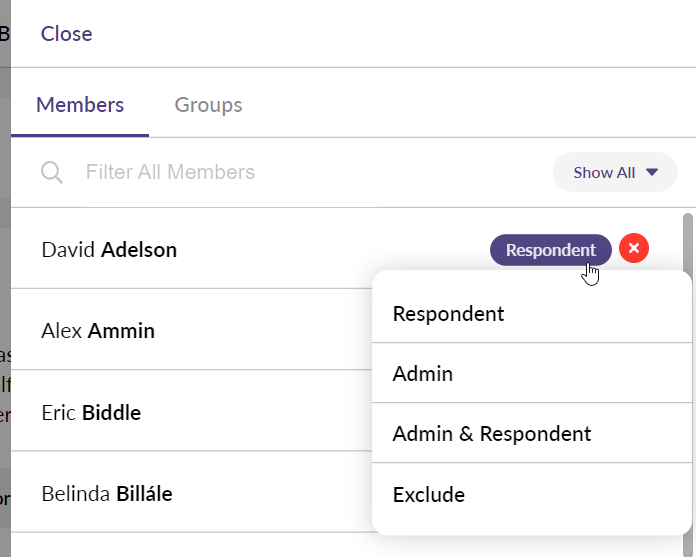 Composing Assessment Questions
Next, click "Compose Assessment"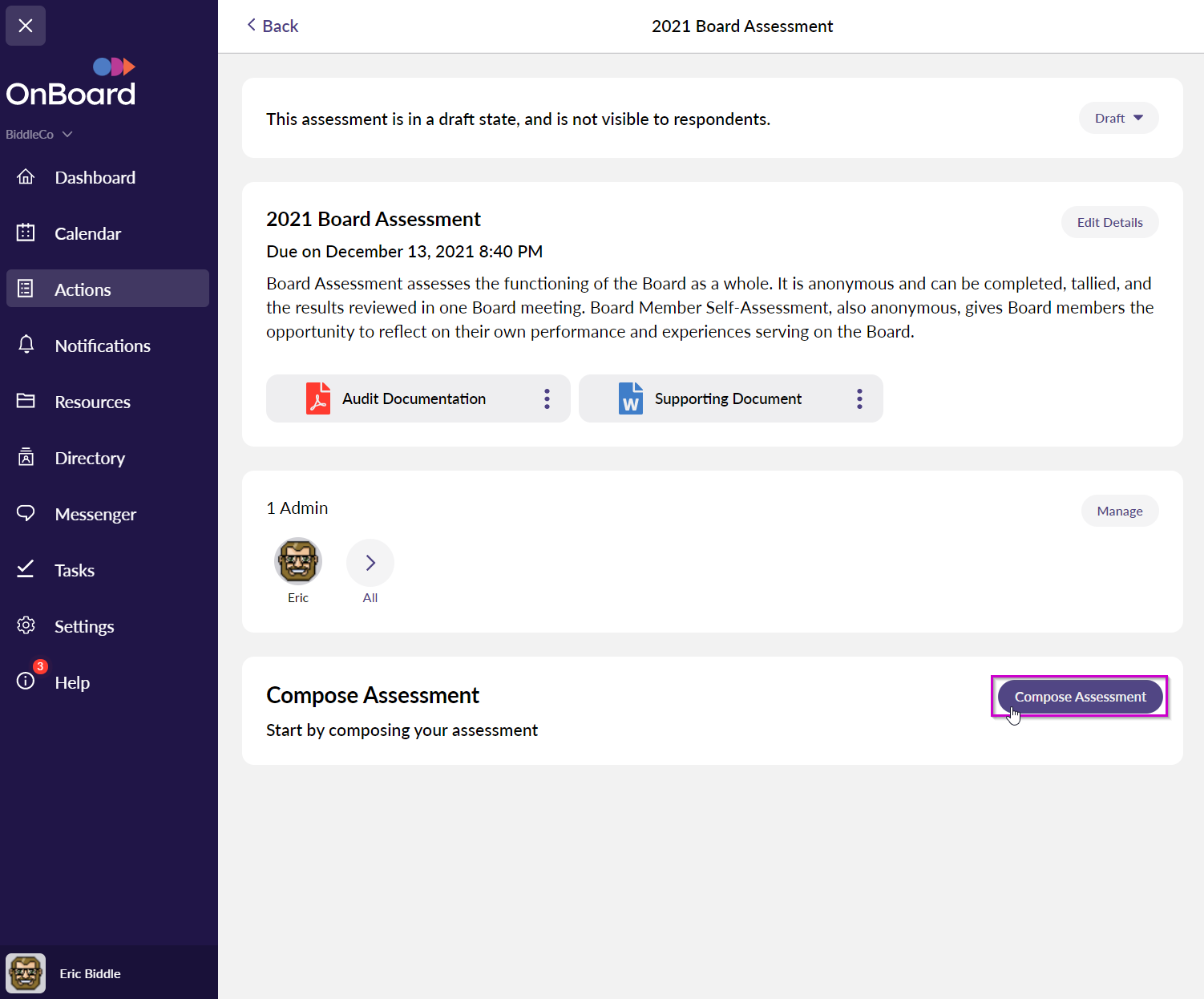 You now have a choice—you can use one of the pre-created assessment templates or you can create your own by choosing "Custom Assessment"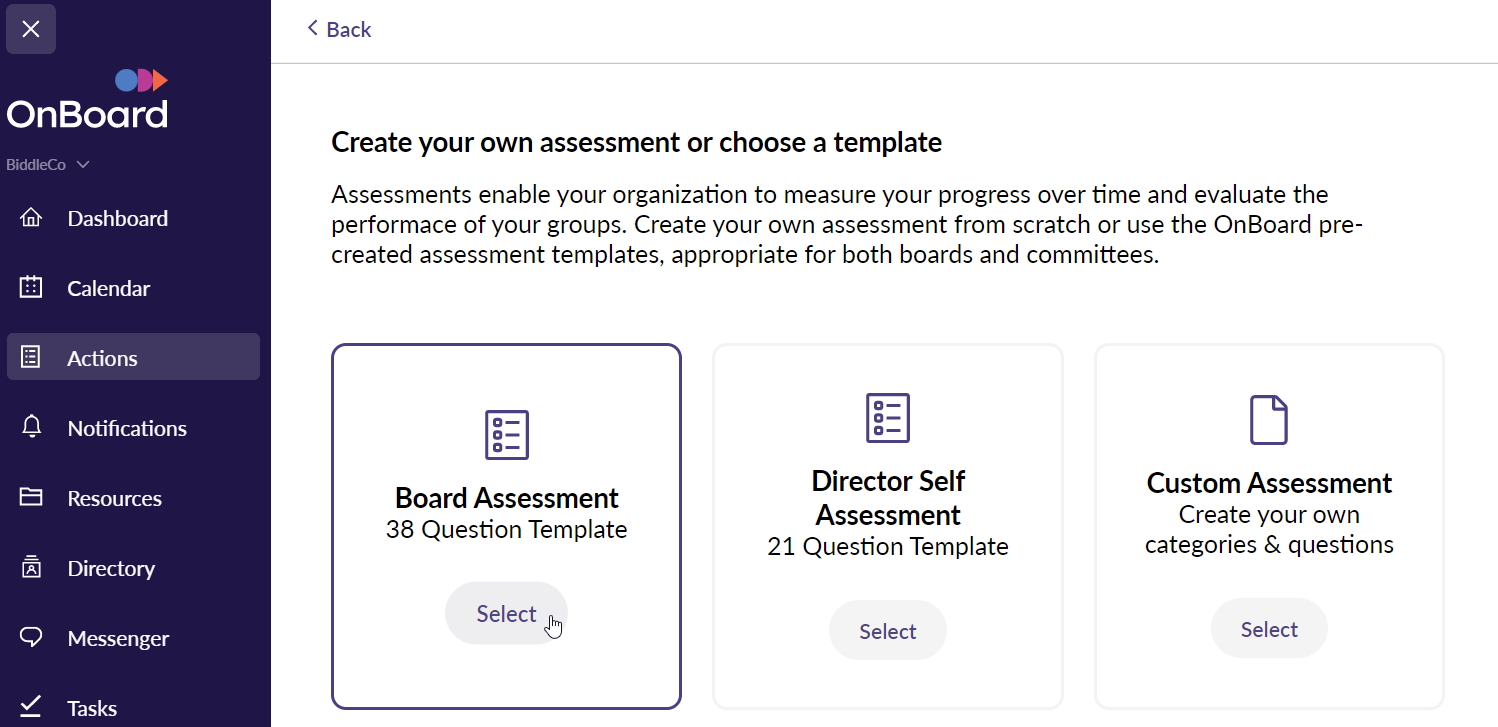 If you choose one of the pre-created templates, you can still modify it to suit your needs. Selecting "Edit" at the top right will display a drop-down menu, and from here you can choose to edit category details, edit questions, duplicate the category, or change the order of the categories.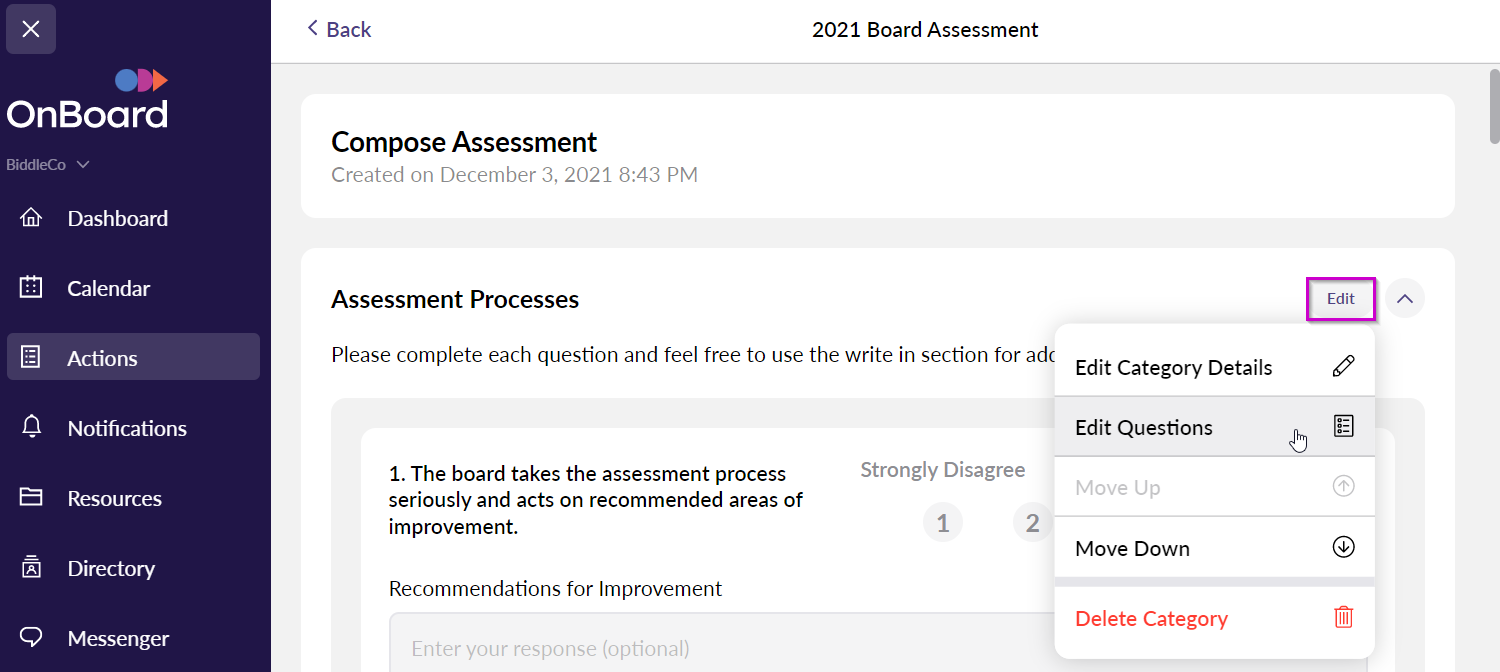 If you click on the 3 dots to the right of any question, a drop-down menu to tailor the question will appear, giving the option to edit question details, duplicate questions, change the order of the questions or delete the question.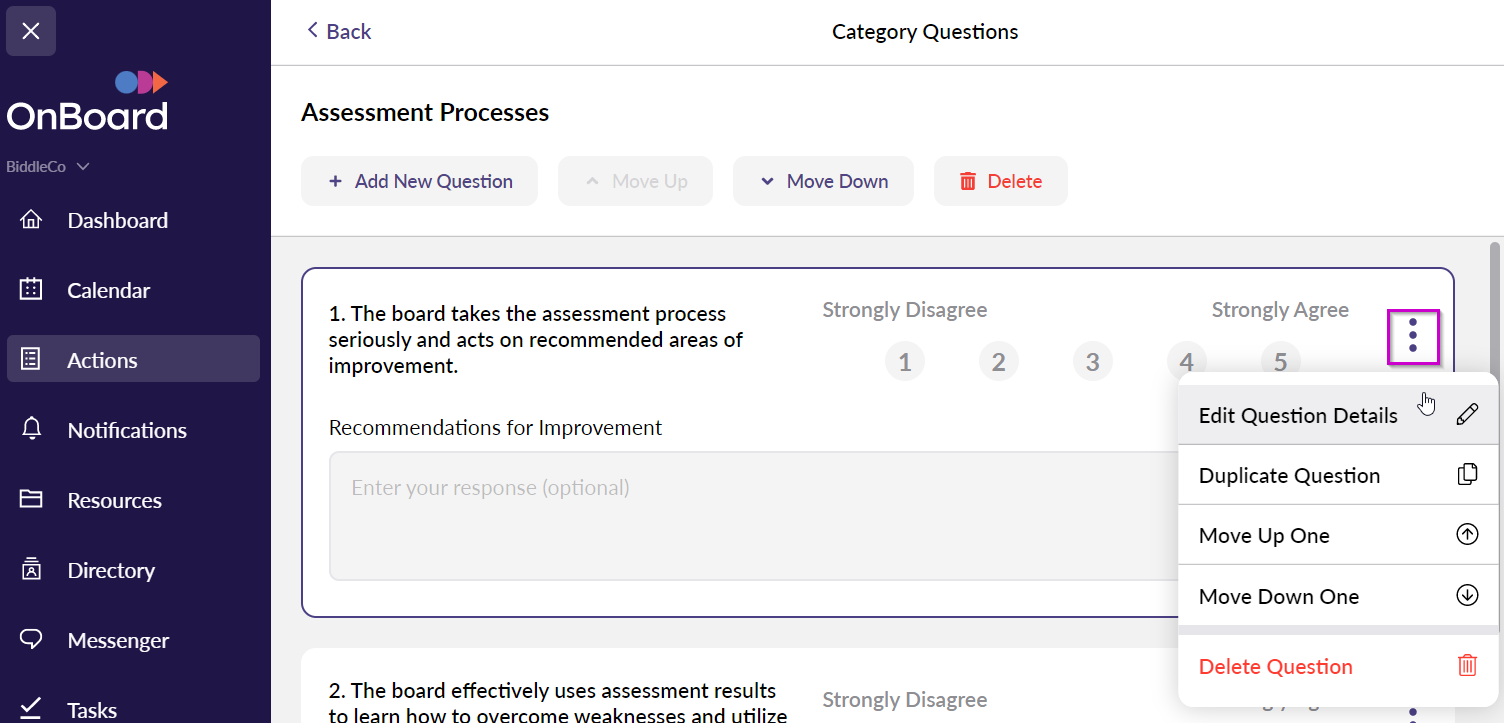 When you click "Edit Question Details" you will be able to change the question or modify the question type and answer format. If you select "Require this question", it will be mandatory for the responder to answer that question. Required questions will have a small red dot to the right of them. You also have the option to include write-in responses. Click "Save Changes" when you are done with this part.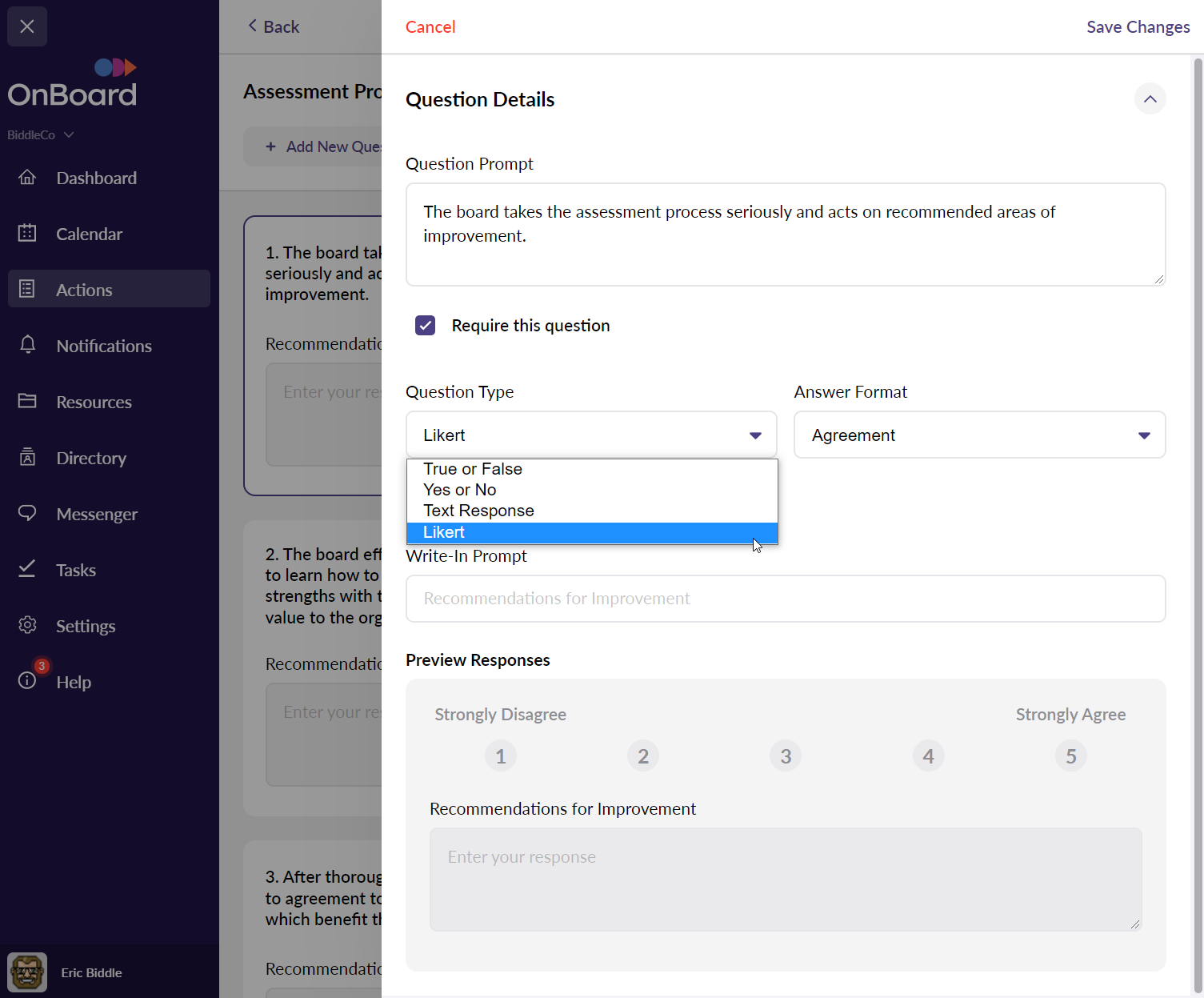 You can add a new question by clicking on "+ Add New Question"

You can then choose a "Blank Question" to create a custom question, or if you previously chose questions from a bank, you'll have an option from "Question Bank" which will allow you to choose an unused question from that Question's Bank.
Then you can fill in the new question along with the question type, if the question is required, and if you want to include write-in responses. Click on "Save Changes" when you are done adding your new question.
You can also change the order of your questions by selecting the question you want to move, and then clicking on "Move Up" or "Move Down"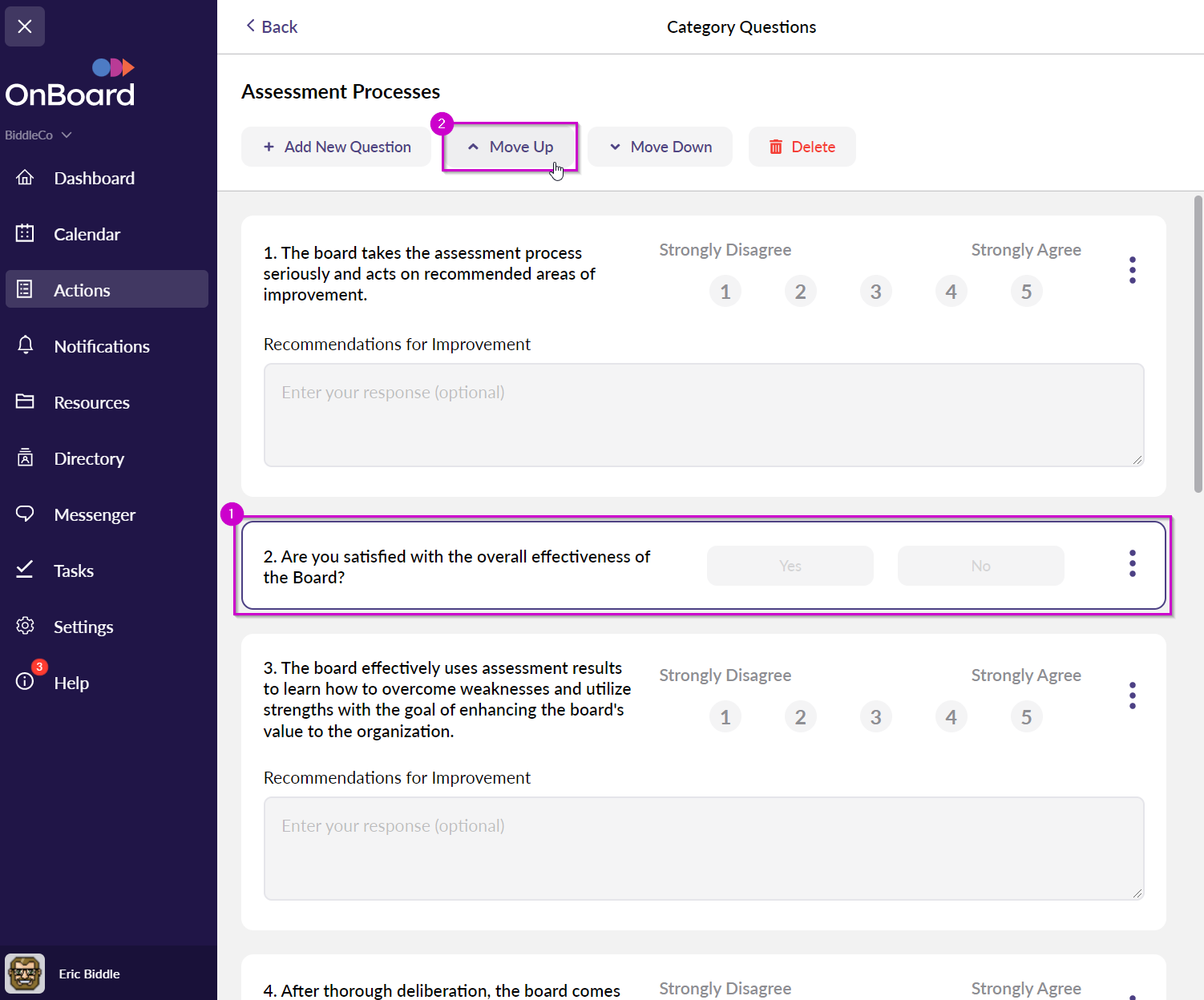 When you are done setting up your questions, select "Back"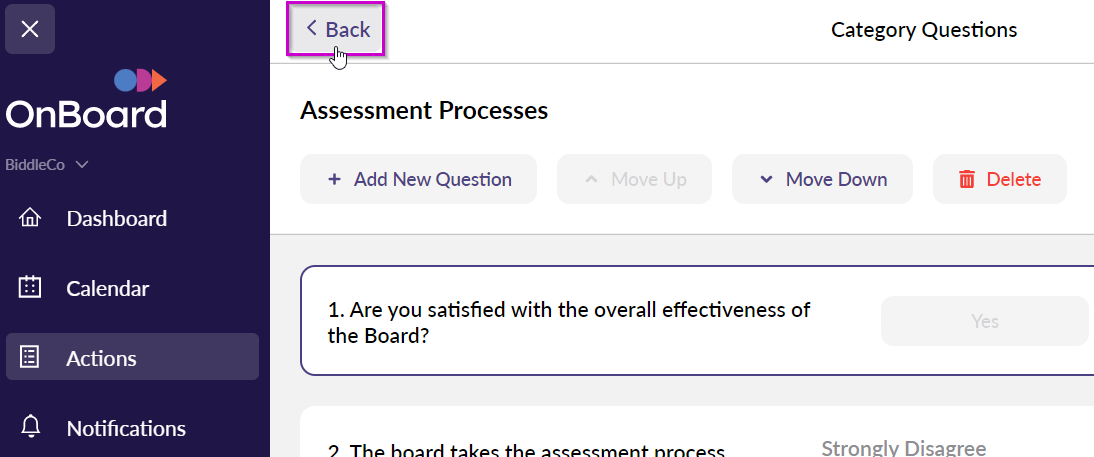 Click "Back" again to get back to the Assessment.

Opening the Assessment
Now it's time to open your assessment to your participants. Click on "Draft" and a drop-down menu will appear. Select "Open"

You will then get this message confirming that you are ready to open your assessment to your responders:
As the last step before opening, you will be prompted with an option to notify your responders and include a custom message.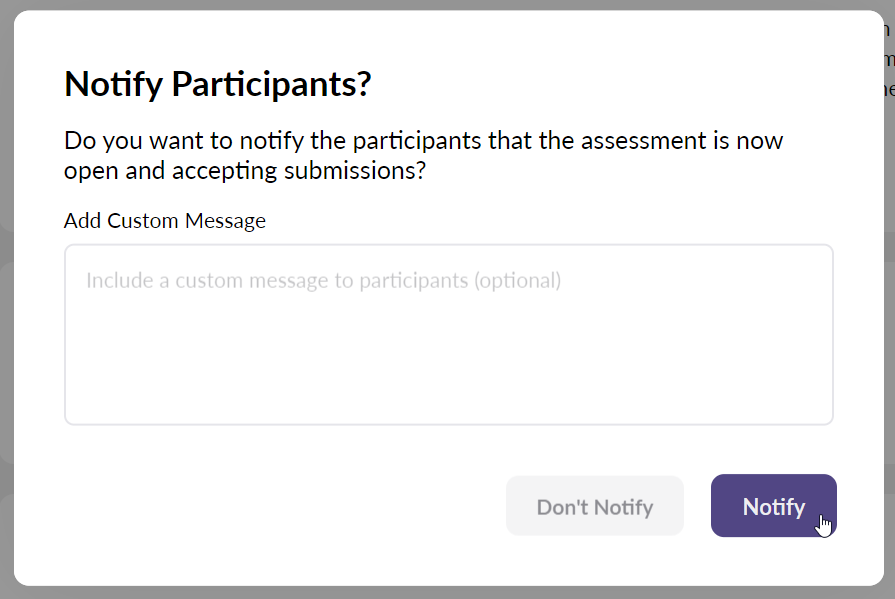 How Directors Can Respond to an Assessment
When you log in, click on the Actions icon. The open assessment will be listed under "Awaiting Your Response". Click on it to open the assessment.

Once you open it, you'll be able to see the description and instructions, the other respondents, and any supporting documents that have been included. To begin, click on "Start Assessment"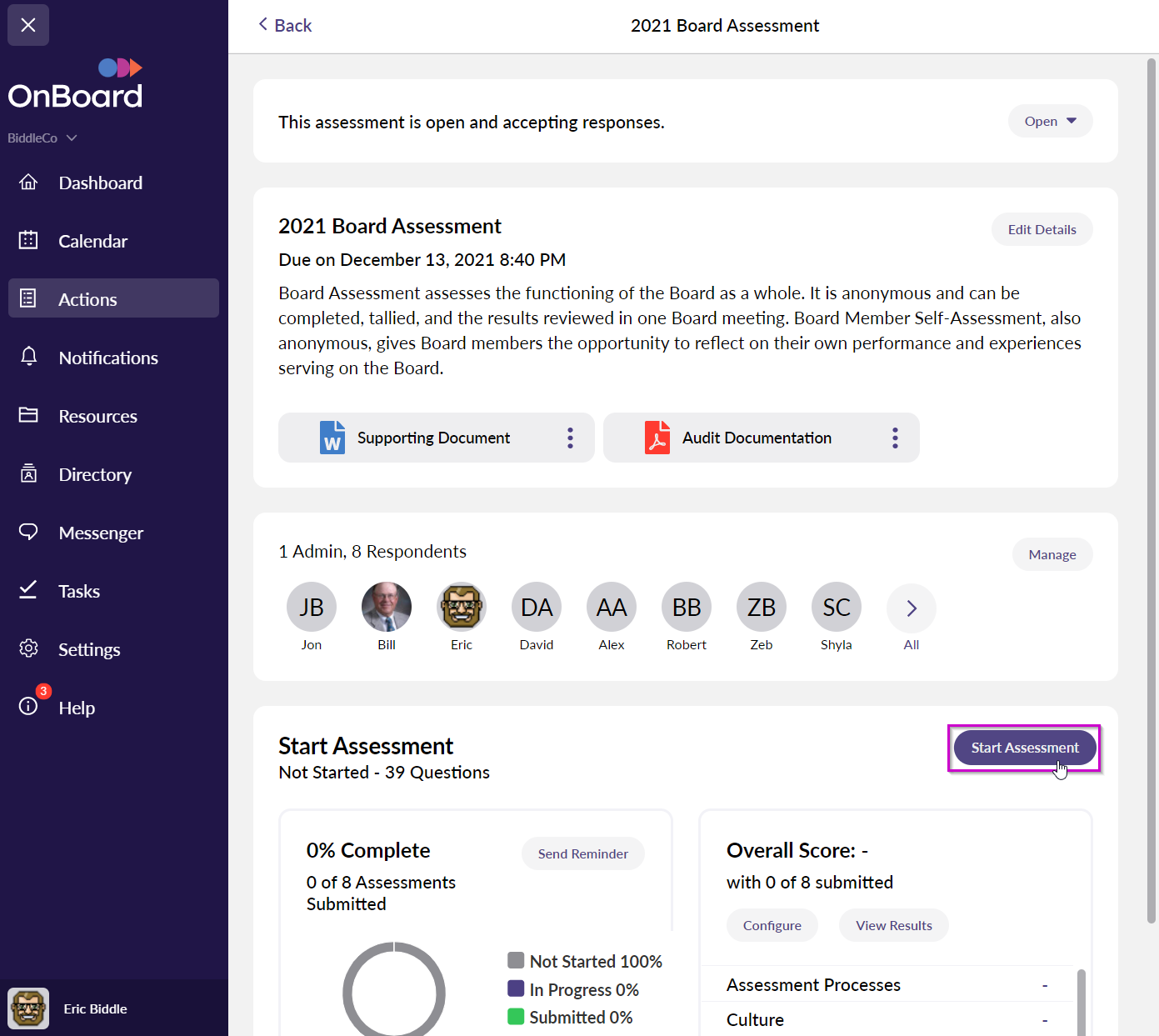 Now, go through and answer the questions. There will be a progress bar at the top to show how close you are to completion. Any questions with a small red dot next to them are required.
When you are done, click the green button at the top right that says, "Submit Responses". You'll be taken back to the assessment overview page, and it will say that you have submitted your assessment.

Sending Reminders and Closing Assessments
You can send reminders to your board to let them know you are waiting for them to complete their assessment. On the assessment overview page, you will be able to see how many have submitted responses so far. To send a reminder, click on "Send Reminders"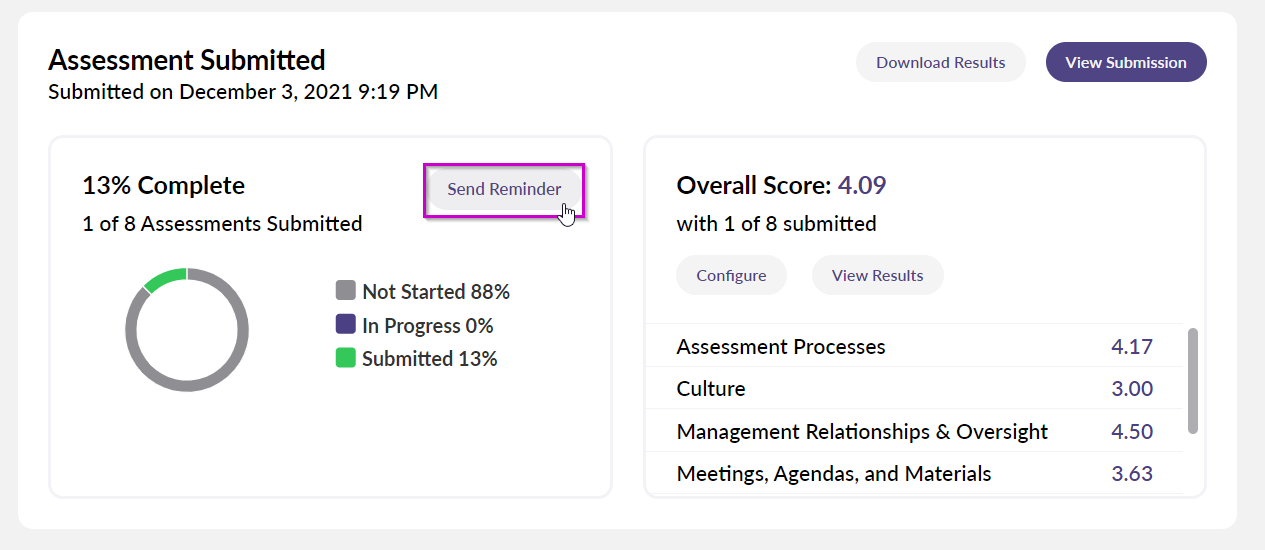 A window will open and you'll have the option to choose if you want to send a note to all participants or only those who haven't submitted yet. You can include a custom message to be included. When ready, click on "Send Reminder"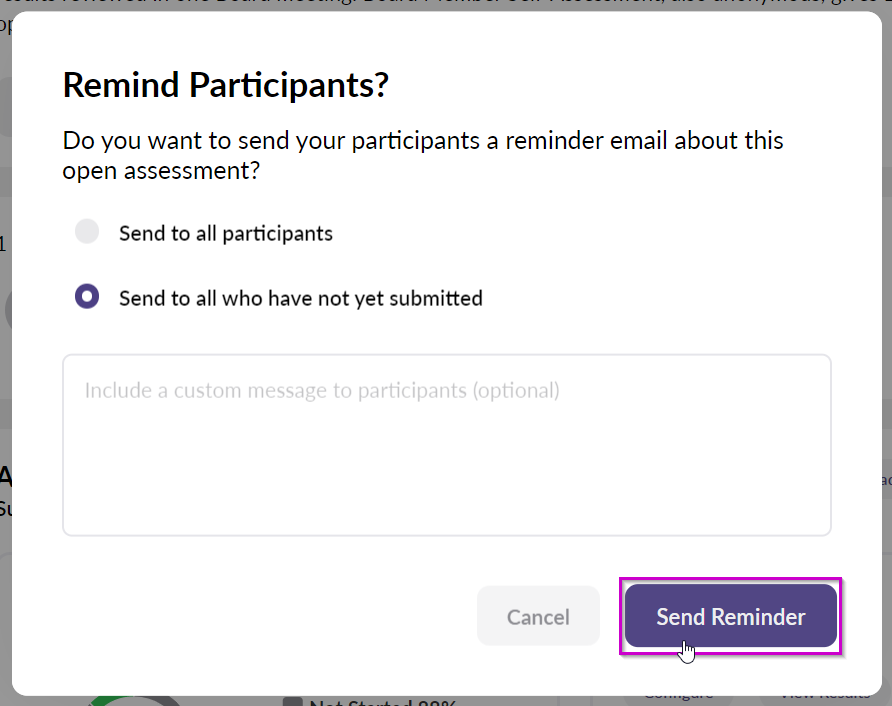 When you are ready to close the assessment, from the assessment overview page, click on "Open" to pull up the drop-down menu. Select "Close"

A window will open confirming that you want to close your assessment. Once you close it, no additional responses can be submitted. If you are ready, click on "Close Assessment"

How Administrators Can Review Assessment Results
From the assessment overview page, you can see an overview of your results and will be able to download the data in an Excel workbook. To see more detail on your results, click on "View Results"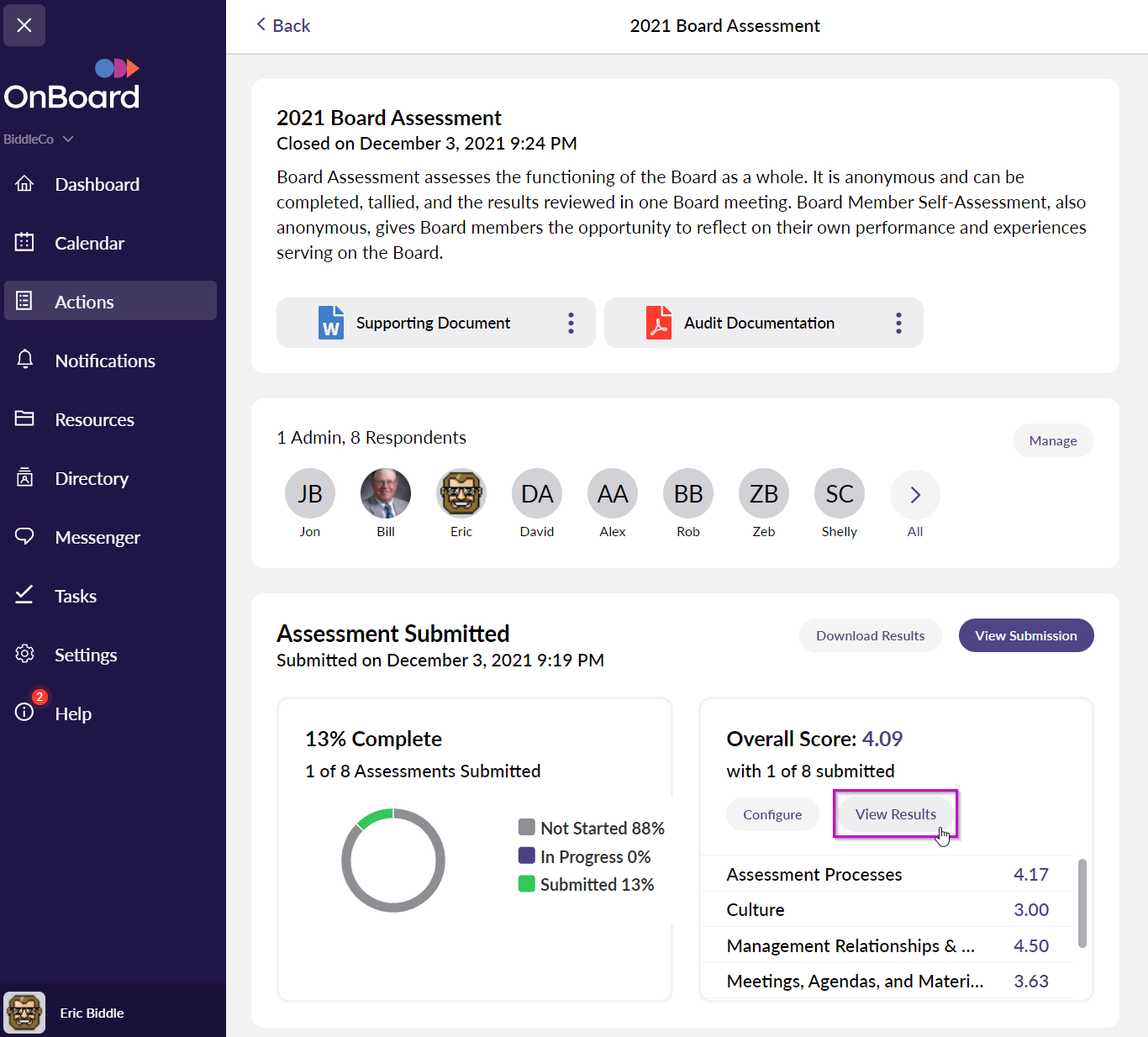 This will open a page that shows detailed response data for each category and question.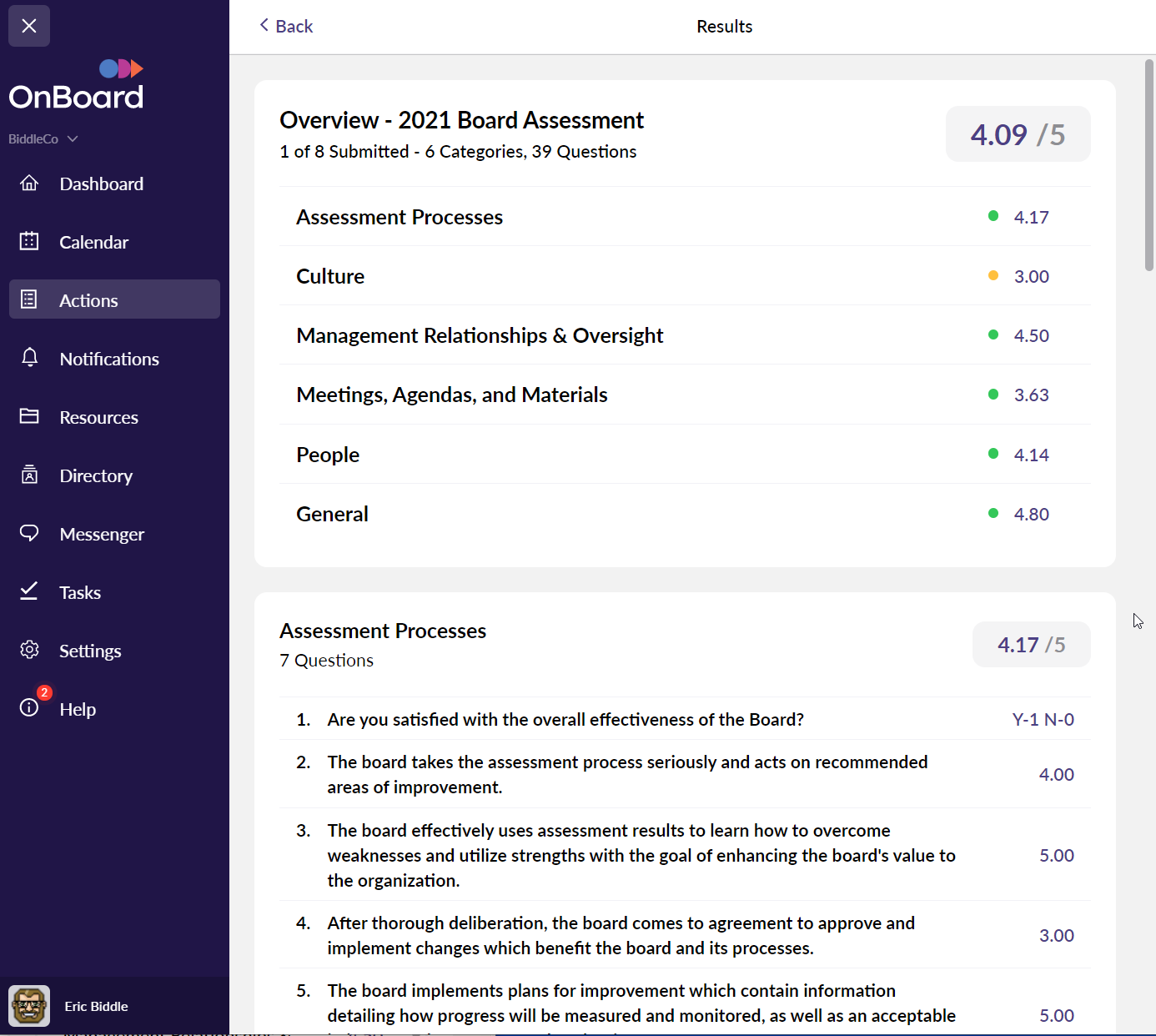 You can click on any question to drill down into how your respondents answered. If there were write-in questions, there will be a speech bubble icon to the left of the score that you can click on to view these responses.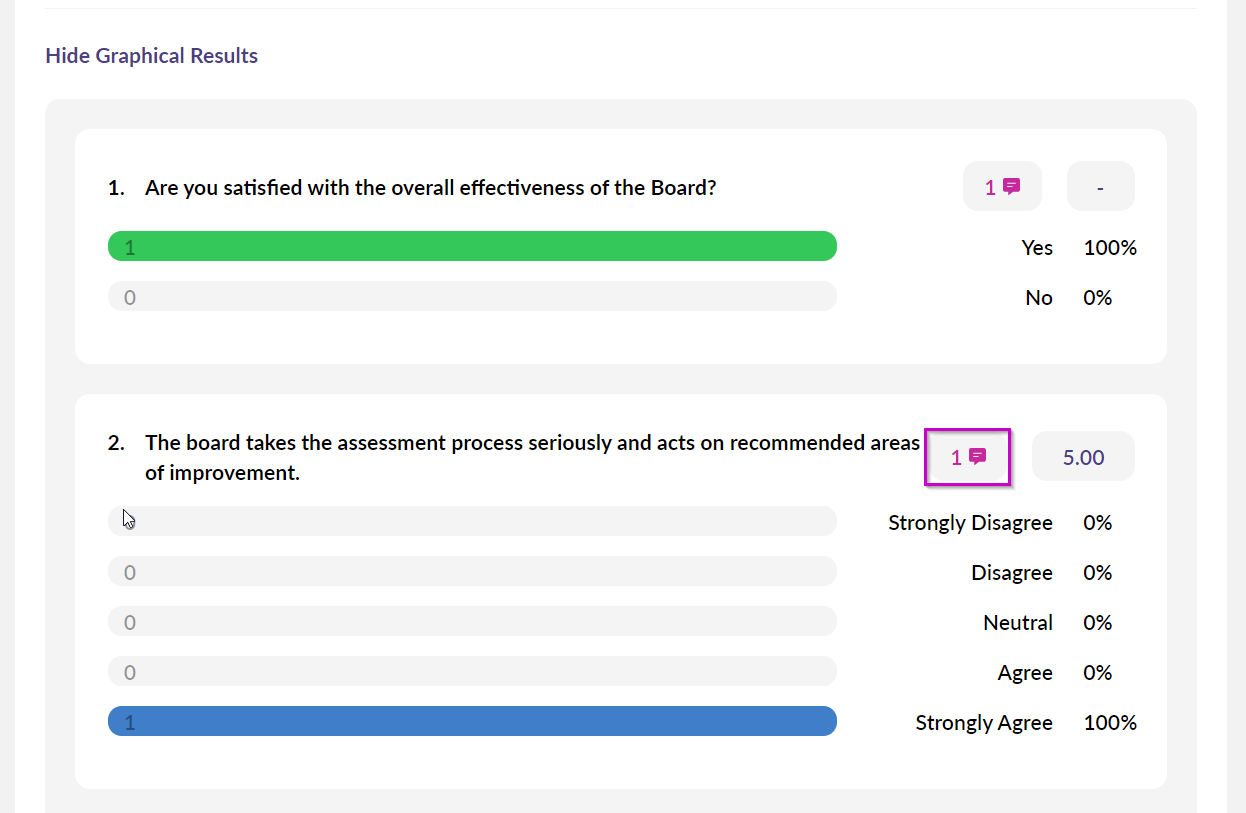 You can also download the results by clicking "Download Results" above the Overall Score.


This will allow you to save an Excel workbook containing the results of the Assessment.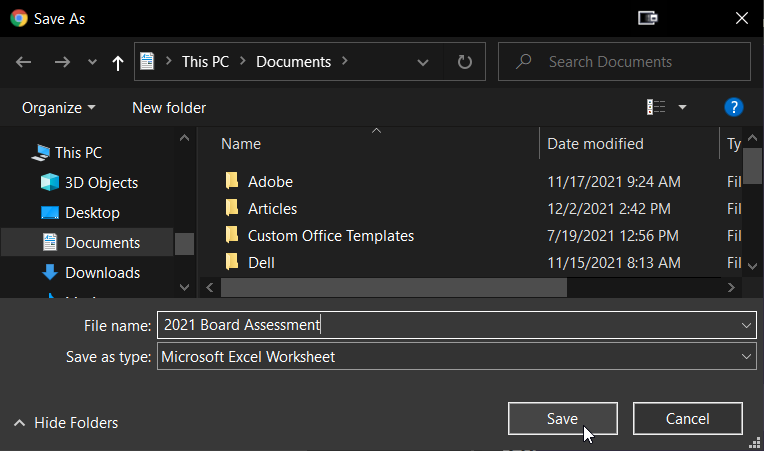 This file will contain worksheets such as the basic Assessment Info, the Aggregate Results of the questions, and the Individual Responses to questions.
Duplicating a Previous Assessment
You can save time creating your next assessment by duplicating a previous assessment.
To duplicate an assessment, locate the assessment in your Actions list. Click on the 3-dotted menu to the right of the assessment and select the Duplicate option.

Duplicating an assessment will create a copy of the assessment in Draft status. The following components of your previous assessment will be duplicated:
Assessment Title (with the text " - Copy" added)

Assessment Description
Anonymous Assessment Responses
Supporting Documents
Assessment Permissions
Assessment Questions
Once duplicated you can edit the details, permissions, and questions as necessary and open the new assessment to your respondents.