OnBoard's security reporting tool allows your organization's IT team to keep tabs on what is happening inside your instance of OnBoard. To use this feature, you must log into OnBoard as a Global Admin account, which is different than a regular Organization Administrator.
If you do not have one of these accounts, or you are interested in obtaining that special access, please get in touch with your OnBoard representative or Customer Support.
After logging into OnBoard with your Global Admin account, select Reports from the left Navigation menu.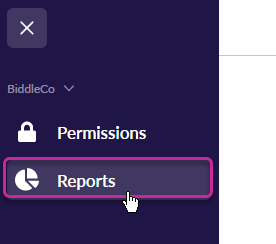 You'll then use the dropdown menu to select a specific type of report, fill in the date ranges, then click Generate to download your report.

Report Types
There are a total of four different reports that the Global Admin has access to pull. The Login Report, The Book Downloads Report, The Resource Downloads Report, and an All Organization Events Report.
The Login Report
The Login Report can assist with OnBoard Security Audits. Generating this type of report, we'll see which user accounts are logging in (either successfully or unsuccessfully). We can see which device is being used for logging in (Web, iPad, Android, etc), and the IP Address of that device.
Here is an example of a Login Report:

The Book Download Report
This report will tell you which users have viewed a board book by clicking "Open Book" or have downloaded a PDF copy of the book. This download feature can be disabled either by using the Organization Settings or from a meeting-to-meeting standpoint.
Here is an example of the Book Download Report:


The Resource Download Report:
This report is very similar to the one above, except the Resource Download Report is specific to documents found in the Resource Document Repository. Users who have downloaded and exported these documents for use outside of OnBoard will be listed in this report.
Here is an example of the Resource Download Report:


The All Organization Events Report
This last report type is a combination of the others, plus the addition of many other actions that can happen inside OnBoard. As an example, this report shows when the board book was opened and viewed, when documents are added or removed, when permissions have changed for items, when votes and eSignatures are completed, and many more action types.
Here is an example of what the All Organization Events Report looks like, but be sure to check out what actions are happening inside your report as well!: