OnBoard Accelerate Release Overview
We are excited about the design updates that are coming in the release and we think you will be too! To help support you, we've provided some notes on the most impactful changes to help answer any questions you may have so you can tackle the new experience with confidence.
If you have questions about areas we have not covered below, please reach out to your CSM directly, or our Technical Support team (help@passageways.com), who will be happy to assist.
Key Themes & Structural Changes
Before digging into the specific items that have changed, we wanted to cover two key items at a higher level that have impacts throughout all of OnBoard.
Auto Save vs. Save Button Process Changes:
As you progress through making changes to your content, be it Meetings, Approvals, or other similar features, you'll notice that we've broken each major editable section into "Cards", each with their own distinct Save Button. This approach makes it clearer what specifically is being edited and ensures there is minimal risk of a change not saving. With this change, users will pro-actively save their selections before moving to another section. In the future, we are looking at a blended approach that provide the benefits of this change but with additional auto save functionality.
Admin & User Experiences Aligned
The changes to the auto save model mentioned above have enabled us to bring our admin and director views together to form a unified experience. Now administrators start in the same base view that their users experience and can pop open and edit small consumable "Cards" of data without leaving the fuller context of a meeting or an approval, etc.
Design Highlights: What's Different and Why?
In this section we'll overview more specific changes and underlying rationale.
Meetings
We've improved Meeting Icons for better and easier visual awareness of common items.

Meetings with a board book now will have an icon showing a small book for a quick indication of whether a book is present or not.
"Add To Calendar" button has been added (which will download the .ics file from this view).
Instead of displaying a long conference link, there is now a one click to join button for remote meetings.

Document / Description / Linked Action Icons show up within the agenda.

Blue Page Icon = Document is attached to this section.
Green Check Mark = A linked action is in this section
Orange Pencil = There is a description for this section.
These icons allow directors and admin to collapse down the agenda more compactly than previously possible, significantly improving overall ability to consume the information, while providing visual indicators that there is more to see.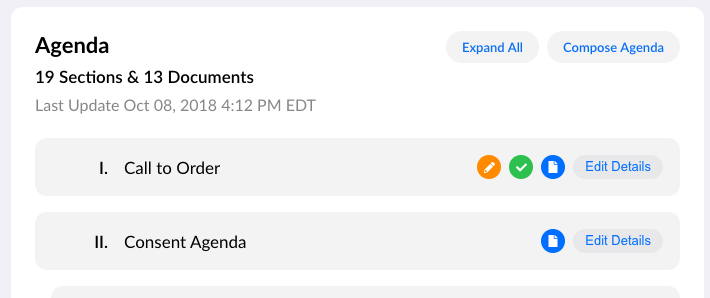 The Meeting Creation Workflow in now consistent across all workflows (Actions, etc).

Admins now will edit panels one at a time - each panel works independently, and each panel must be saved before moving along. You will be prompted to save if you navigate without saving.
Why? The reason behind this change away from auto save functionality is focused on stability and ensuring that there is no loss of data. This new approach will eliminate these issues and provide warnings on unsaved pieces. We will be looking at re-implementing updated auto save functionality in the future.


Improved Date and Time picker has been updated for ease of use with the ability to set date and time in one step and easier navigation across months and years. Additionally, time can be set via keyboard and disabled dates for days that should not be selected (e.g. - Dates in the past, etc.)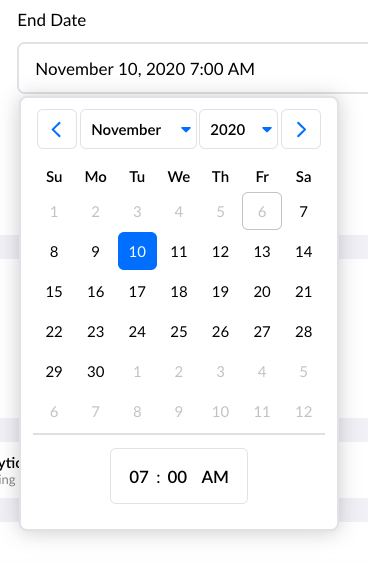 Agenda Creation – There are now defined controls for moving sections up or down within the agenda rather than relying on drag and drop which sometimes was activated unintentionally and was difficult to properly indent/un-indent previously.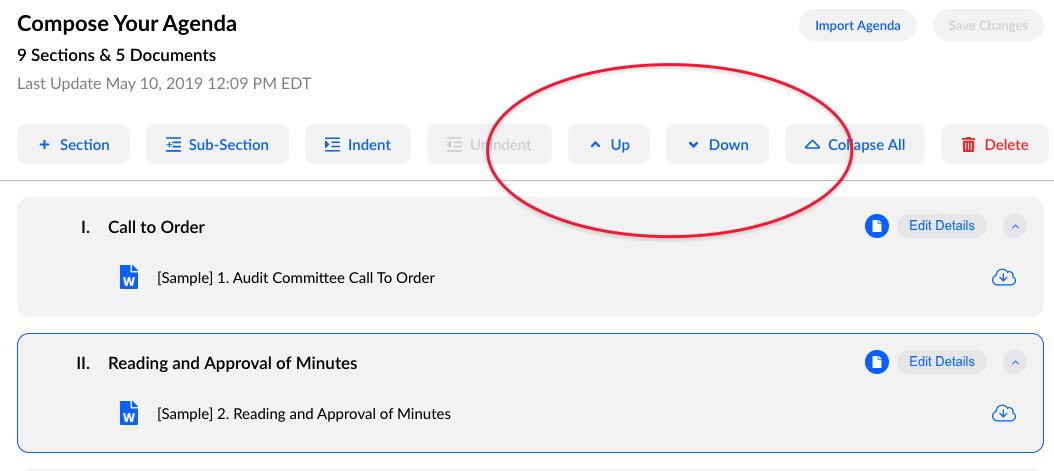 Unnumbered Sections - You now make a section unnumbered by hovering over the section number itself and selecting to Remove Section Numbering.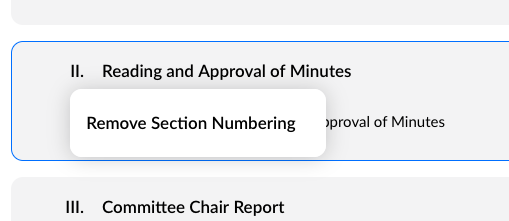 Consolidated Views - Meeting Admin & Reader Views have been combined to make them consistent across all workflows (Actions, etc.) This helps ensure that admins are always aware of what users are seeing and can more easily assist. There is no longer the need to switch between a "Reader" and "Admin" view – the views are now identical outside of the "Edit Buttons."
Resources
Sorting Improvements: New sorting options allow users to easily sort by column headers within resources, which allows for easier navigation and quicker finding of the correct resources they are looking for.

New Breadcrumb Navigation: This allows users to navigate through resources more easily. Specially, users can locate a higher-level folder easily by accessing the breadcrumbed icon and folders list, rather than relying on the back button only.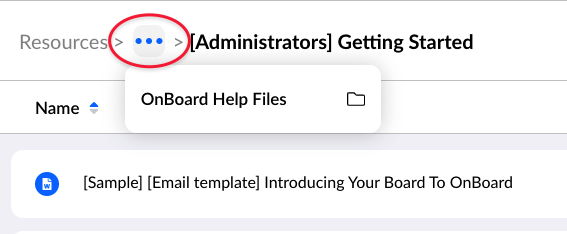 Document Drag and Drop capabilities are now prompted by going to ADD > FILE - This new workflow does provide a staging area for your uploads, so you have full confidence of what is being uploaded. Additionally, when files are located in multiple locations you can pull them in more easily and upload in one step. We do plan to add back the drag and drop functionality on these resource screens soon – providing flexibility in how users approach resource uploads.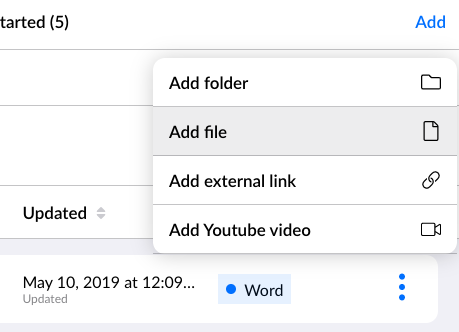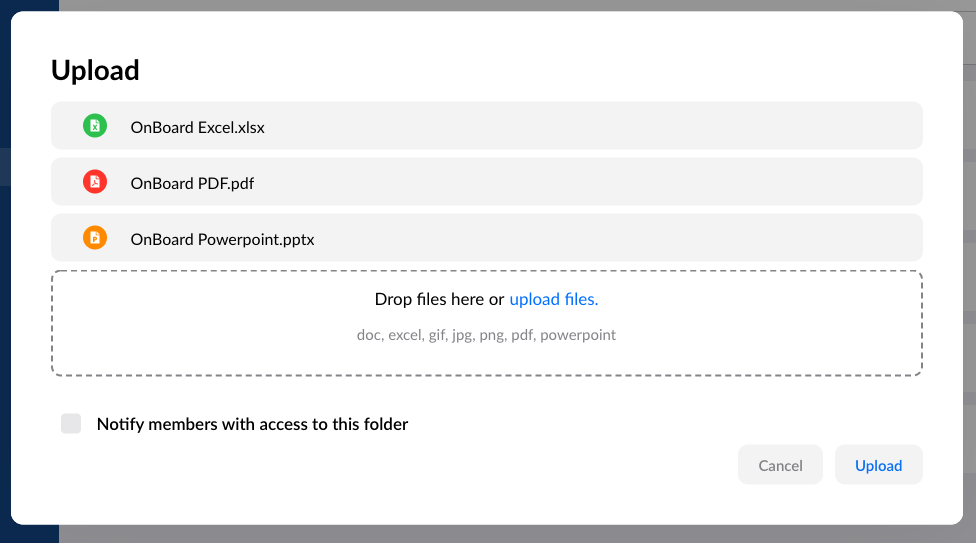 User Directory
Single User edits: All Actions are now completed with 3-dot menu for each individual user. Improved, consistent method for performing user-level actions.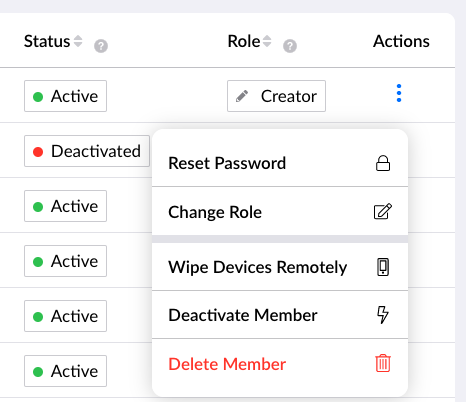 Multiple User edits: The Bulk Actions menu item appears once you have selected multiple users. Once marked, you can take the action for the selected subset of users. In this menu, there are now three new bulk actions (Change Role, Wipe Devices, Deactivate Member), in addition to the previously available multi-user actions (Reset Password and Remove Users.)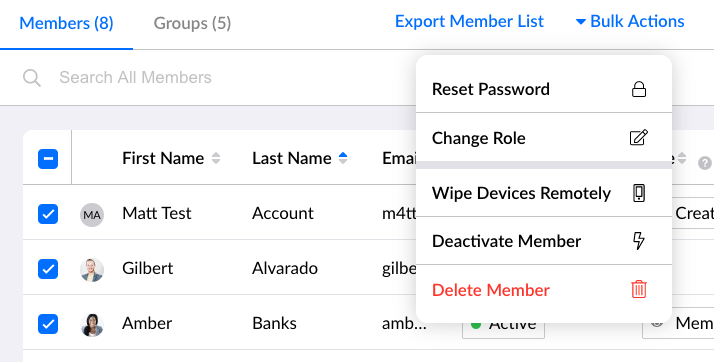 We've clarified and simplified permissions (going from 4 permissions to 3) by removing "Deactivated" as a permission type. This is now a status that you can be turned on/off with 3-dot menu.
Groups
The updated card style look and feel makes managing groups more visual and easier to digest --- this includes the ability to sort the groups by either Name or Date Updated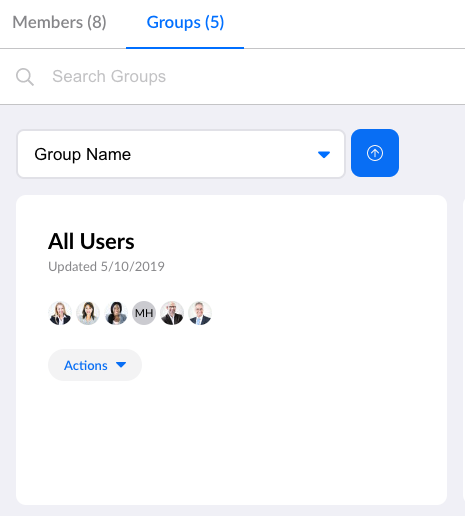 Group-Level actions can be taken directly from the group card.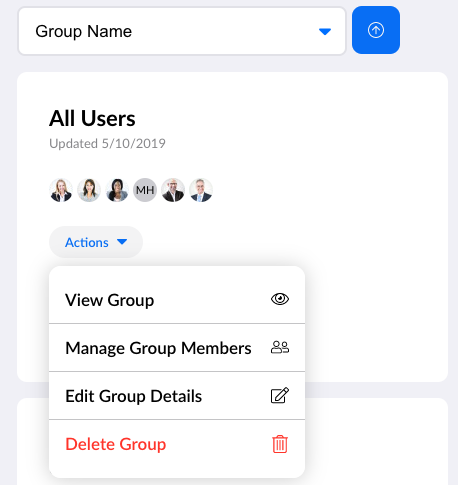 There is a new search filter within Groups that allows you to search by either Group Names OR Group Members – this is a helpful tool to quickly search for all the groups a specific member is part of or to find a group itself in larger orgs.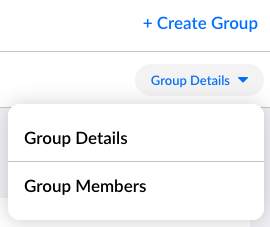 Actions
Actions (Approvals, Surveys & eSignatures) now have a workflow like Meeting Creation – in setting up actions, you'll move panel by panel, editing and saving, smaller chunks of work and updates at a time create a more guided workflow and ensure that data is never lost.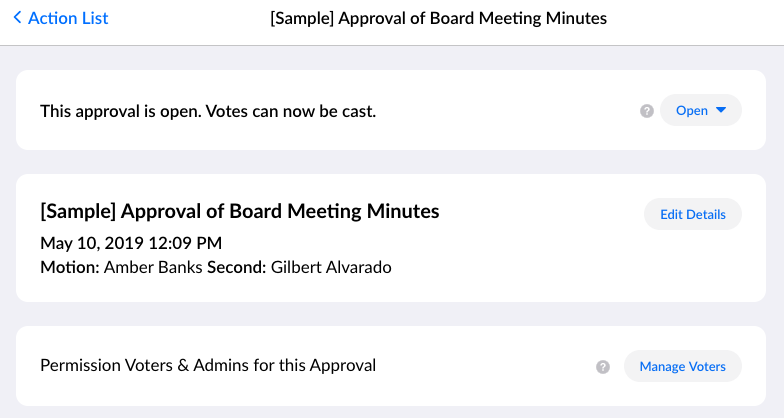 There is no more switching between Admin/Voter views --- continuing the theme of aligning the views of the admin with user views and preventing confusion.
Surveys
Configuration of Results Display: This is a known issue that will be addressed soon – currently you are only able to adjust the results display configuration while you are in draft of a survey, but once it is open this option is no longer there.
Dashboard
Organization Info Page

There are now EDIT Buttons along the right to configure each category. Green/Red status indicators improve visibility at a glance, but they are not clickable. We have plans to improve this further soon.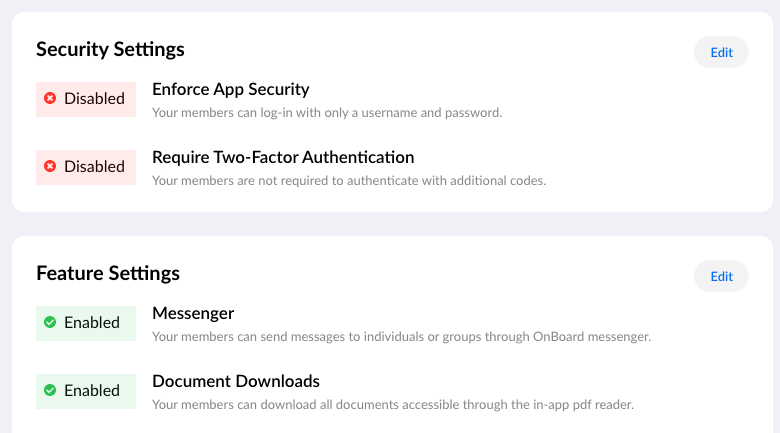 The functionality of Organization Settings (Feature Settings) has not changed. However, there was a change in how system preferences are displayed and worded. Any previously configured setting will remain, so you will not need to make any changes. The confusion may be with how Exceptions to features are handled. The "Set Exceptions" button will only be visible when the feature/setting has been enabled.
For example, Admins who wish to set Exceptions for the Document Download feature, this is how they would accomplish this with OB Accelerate:
Check Enable Downloads – enabling the feature for all users, but more importantly, exposing the Exceptions button.
Click Set Exceptions – Choose users who need to be able to download documents.
Uncheck Enable Downloads – which will disable the feature for everyone not in the Exception list.