When you begin to see meetings listed in the OnBoard Calendar, you'll have the ability to indicate your attendance through the RSVP feature. There are a few reasons why you might like to do so:
1) As an Administrator of the meeting, it's nice to have an RSVP for planning purposes. How many chairs will be needed in the room, if a remote meeting session will need to be established, and so on.
2) Once you mark your RSVP as either Attending, Attending Remotely, or Tentative, OnBoard will ask you if you'd like to save the meeting to the calendar software of your choice.
Here's how!
RSVPing to a Meeting
Access the meeting like normal, from the Meeting Calendar page. Take Note: The device from which you mark your RSVP will have an impact on which external calendar you'll be able to export the OnBoard Meeting.
On any of the available OnBoard device platforms, you'll see the RSVP to Meeting button near the Open Book button when viewing the Meeting Details page. After clicking this button, you'll be presented the four available RSVP options. Click any of these to indicate your attendance intentions.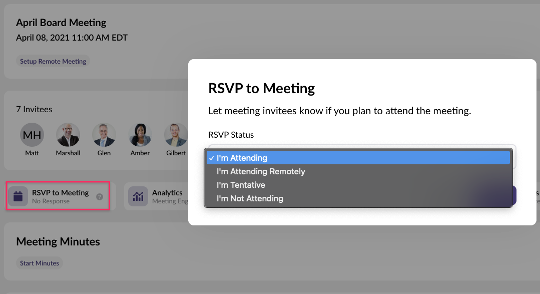 Saving the OnBoard Meeting as an Event in Your Personal Calendar
When RSVPing as either Attending, Attending Remotely, or Tentative from a computer's web browser like Chrome or Firefox, you'll be asked if you wish to save the meeting to your calendar. Selecting Yes from this pop-up menu will automatically download an Event File (*.ics) to your computer's Downloads Folder. Double-clicking this downloaded file will open it in your computer's default calendar program (such as Microsoft Outlook or iCalendar), where you can save it as an event to be reminded about later.
(Note: It is possible to import this .ics file into Google Calendar as well. Here's a Google Support article describing how that is done.)

When RSVPing from the OnBoard App on your mobile device, when saying Yes on the pop-up confirmation, the meeting will be automatically added to the calendar associated with that device, such as your iPhone's calendar.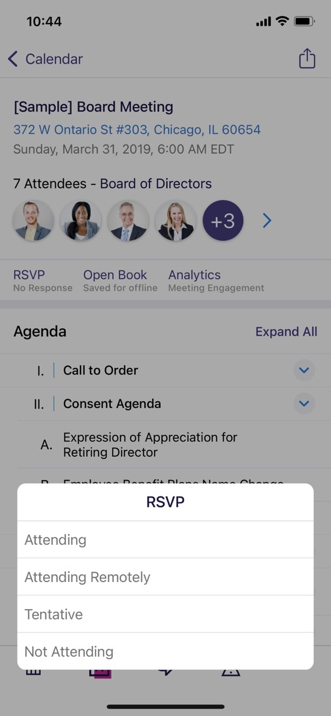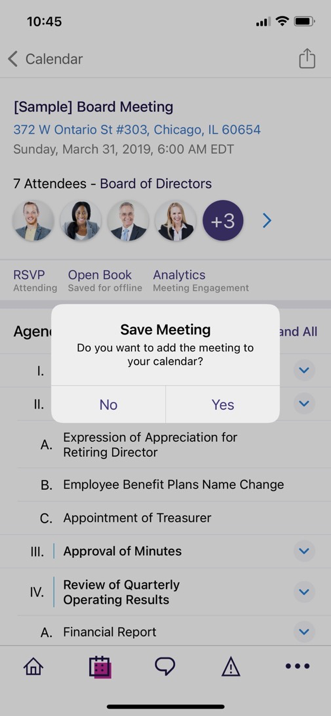 Here is some information about how to import *.ics files into web-based calendar programs, such as Google Calendar: Import ICS Files into Google Calendar