After the Administrator's Zoom Account has been properly linked to OnBoard (See Zoom Configuration article), you're ready to begin creating and linking new Zoom Meetings directly from inside your OnBoard Meetings.
How To Create a new Zoom Meeting for OnBoard
Start from the Meeting Details page. You can create a new meeting, or work from an existing one. From here, click the Setup Remote Meeting button.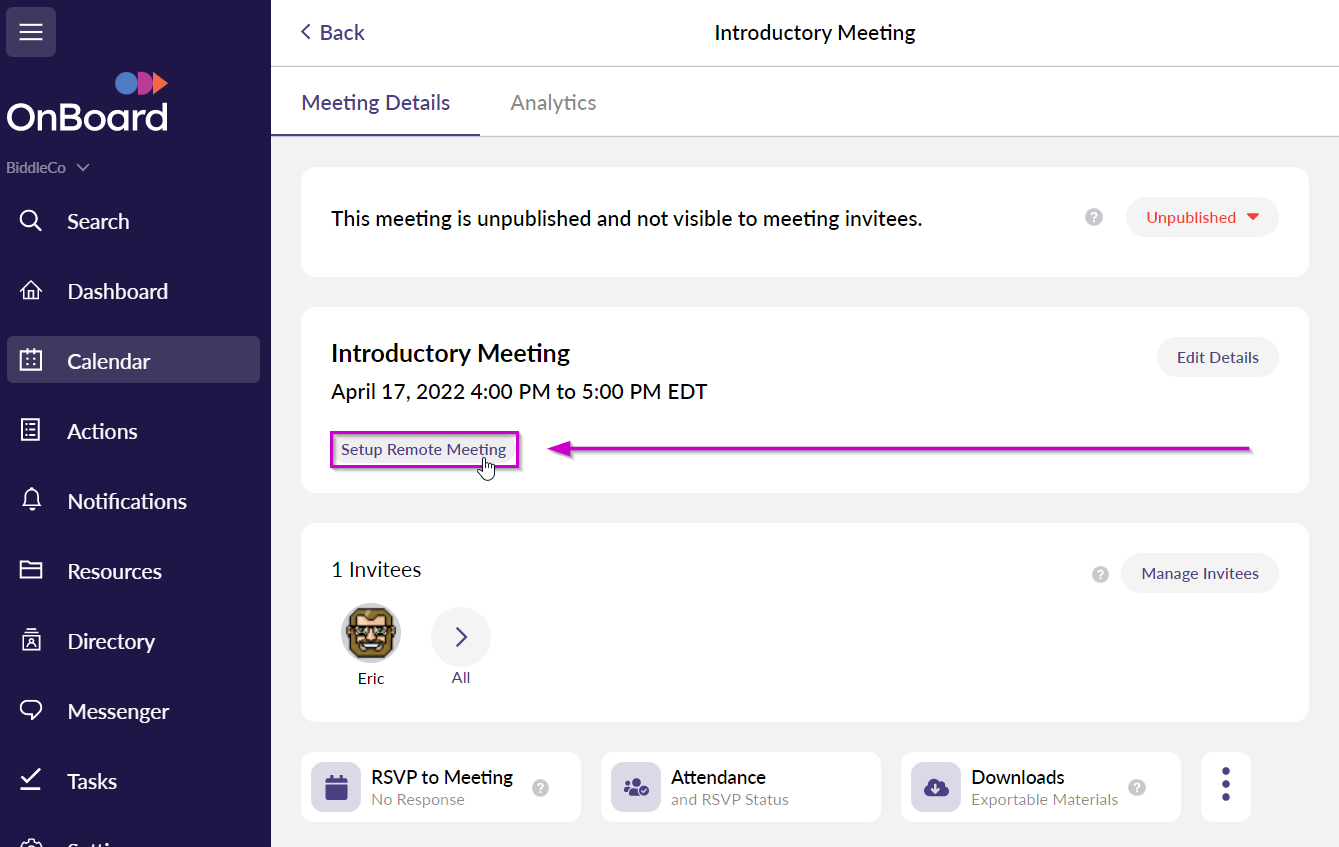 A fly-out window will appear along the right side of the screen, showing all the details of our Remote Meeting.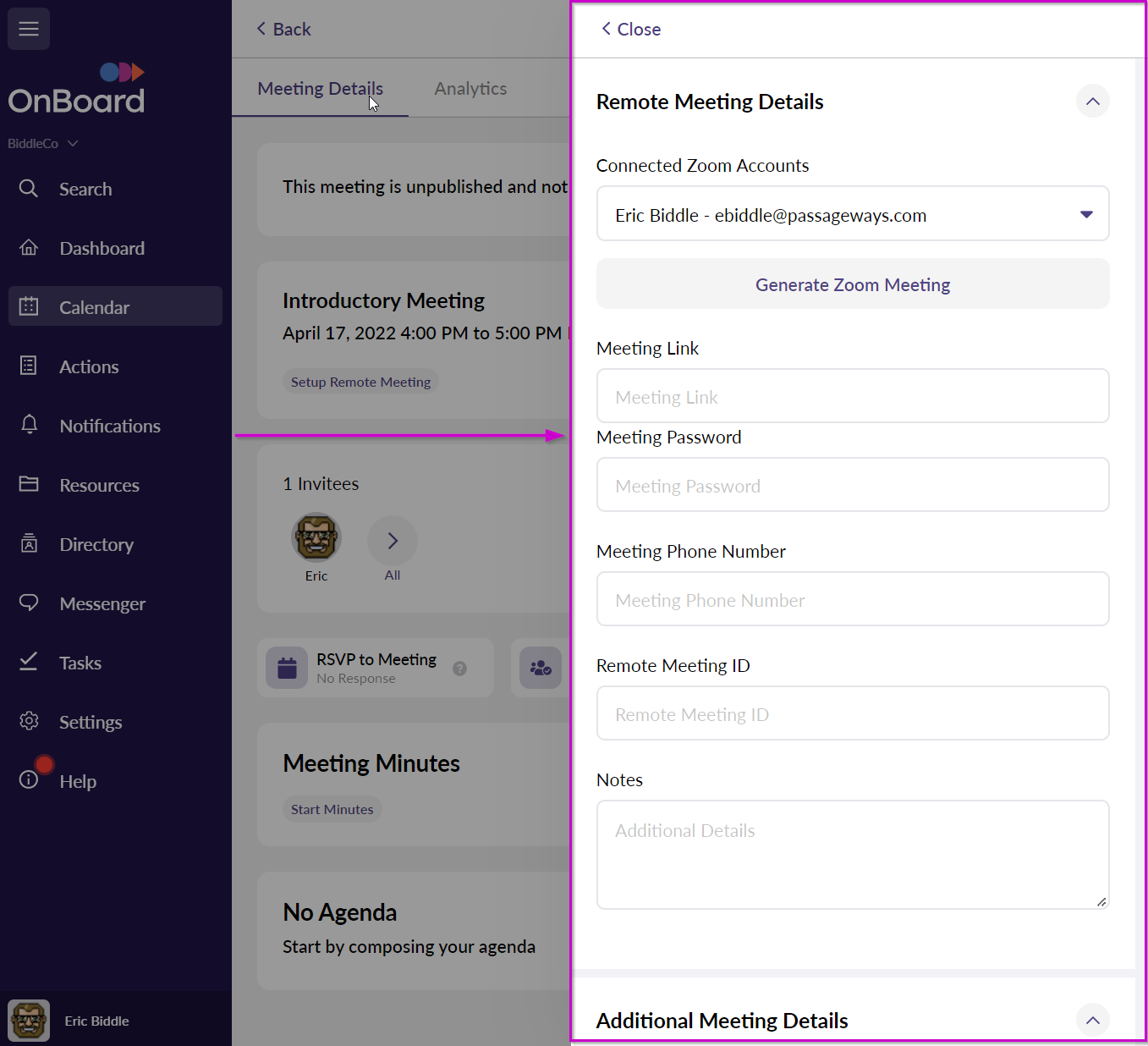 You'll also be able to select the Zoom account attached to the Organization or add a new one from the "Connected Zoom Accounts."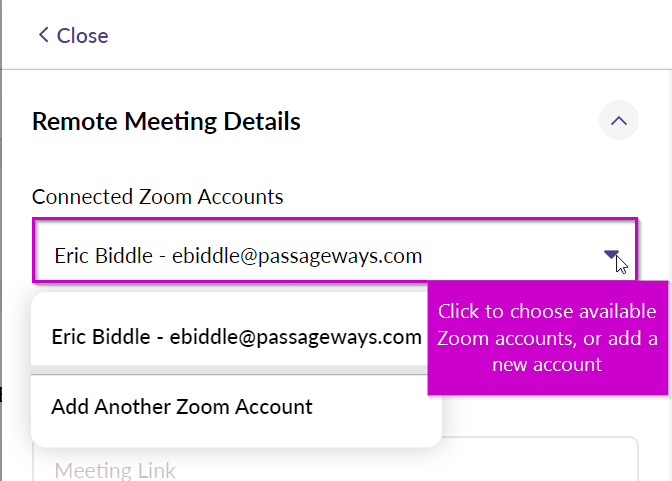 Next, click Generate Zoom for Meeting, and watch how your meeting details are all populated automatically!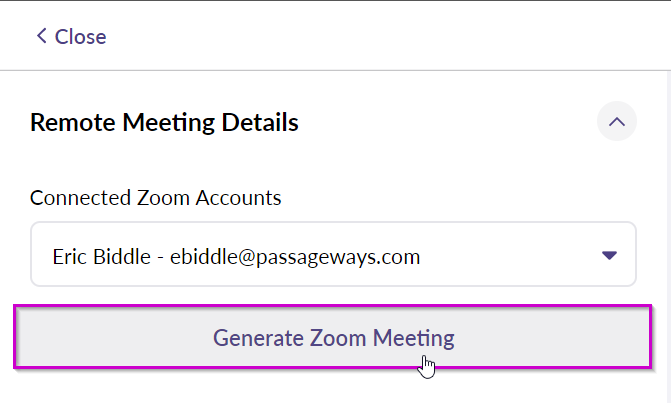 Behind the scenes, OnBoard has reached out to Zoom, scheduled a meeting on your behalf, and brought in all the details for you to view right here inside your OnBoard meeting.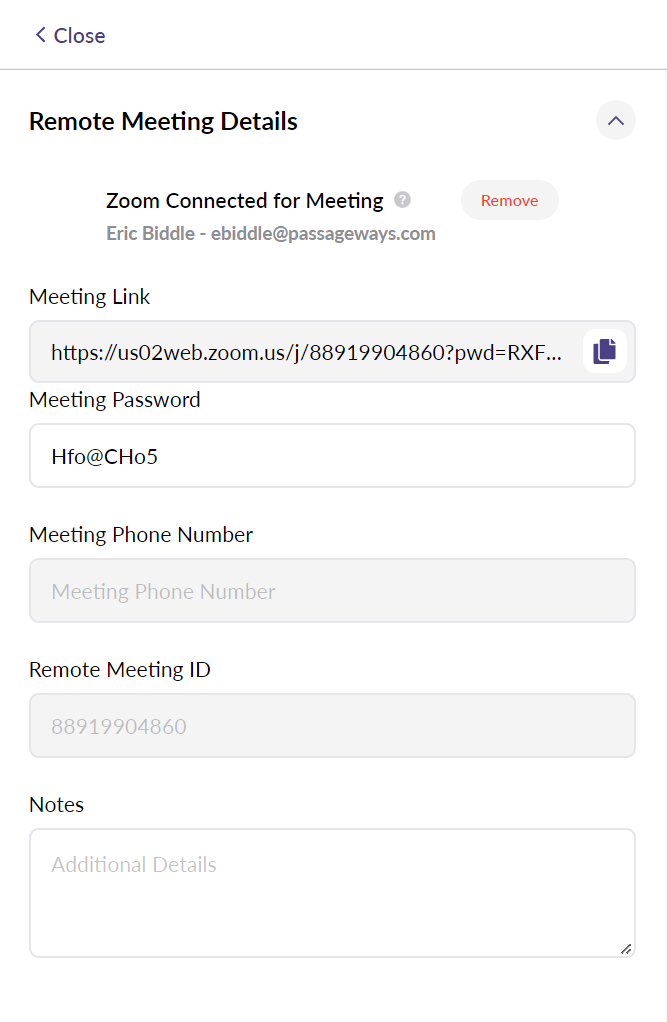 Important Note: Changes made to the meeting's name, date/time, or password will update the information in Zoom automatically. However, there is a 10 minute delay between when these changes are made in OnBoard and when they're reflected in Zoom. Also note that after the Zoom meeting is generated, making any changes to the meeting IN ZOOM will NOT be automatically reflected in OnBoard. We recommend making changes in OnBoard, then waiting 10 minutes for Zoom to be updated automatically.
How to Remove a Zoom Meeting from my OnBoard Meeting
Removing a Zoom Meeting from your OnBoard Meeting is as easy as a single press of the Remove Connected Zoom Meeting button. Give that a click, and your OnBoard Meeting will be unlinked from this Zoom meeting. From here, feel free to add another Zoom Meeting if and when the need arises.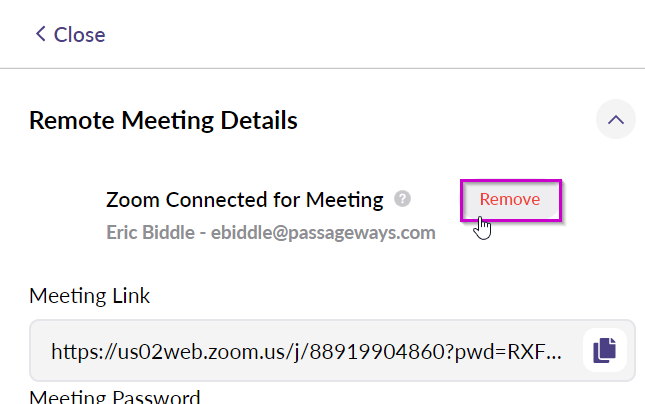 Joining a Zoom Meeting from OnBoard
When it comes time to join the Zoom conference during the meeting, simply locate the meeting you wish to join and click it's Join Zoom button. This can be found either on the main Calendar page just below the Meeting's title.

It can also be found within the Meeting's Details if you open your meeting.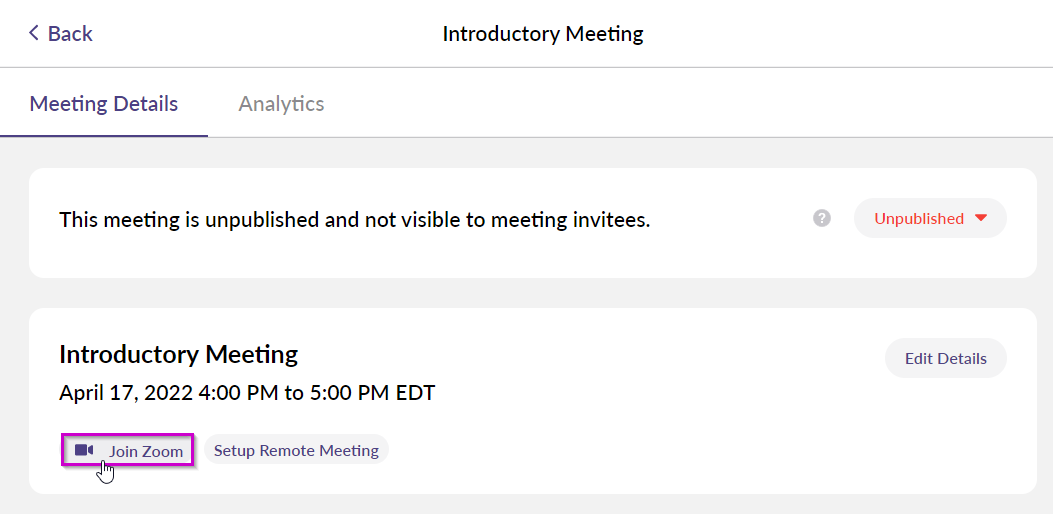 A window will appear in the bottom corner of the screen, showing you the presentation of the Zoom meeting, or the current speaker.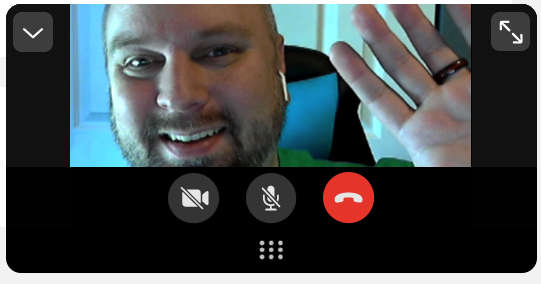 Here's a quick overview of the actions available in the Zoom window within your OnBoard meeting:
This window can be moved about your screen by clicking/dragging the handle at the bottom of the Zoom window, or enlarged to full screen by clicking the arrows in the upper right corner.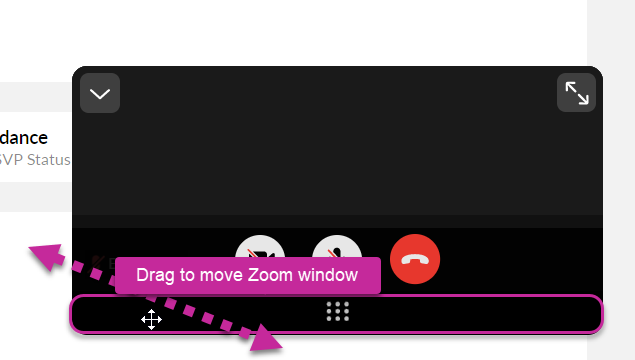 By clicking the button in the top right corner of the Zoom window you can expand it to fill the Full screen and allow access to a few more of Zoom's features.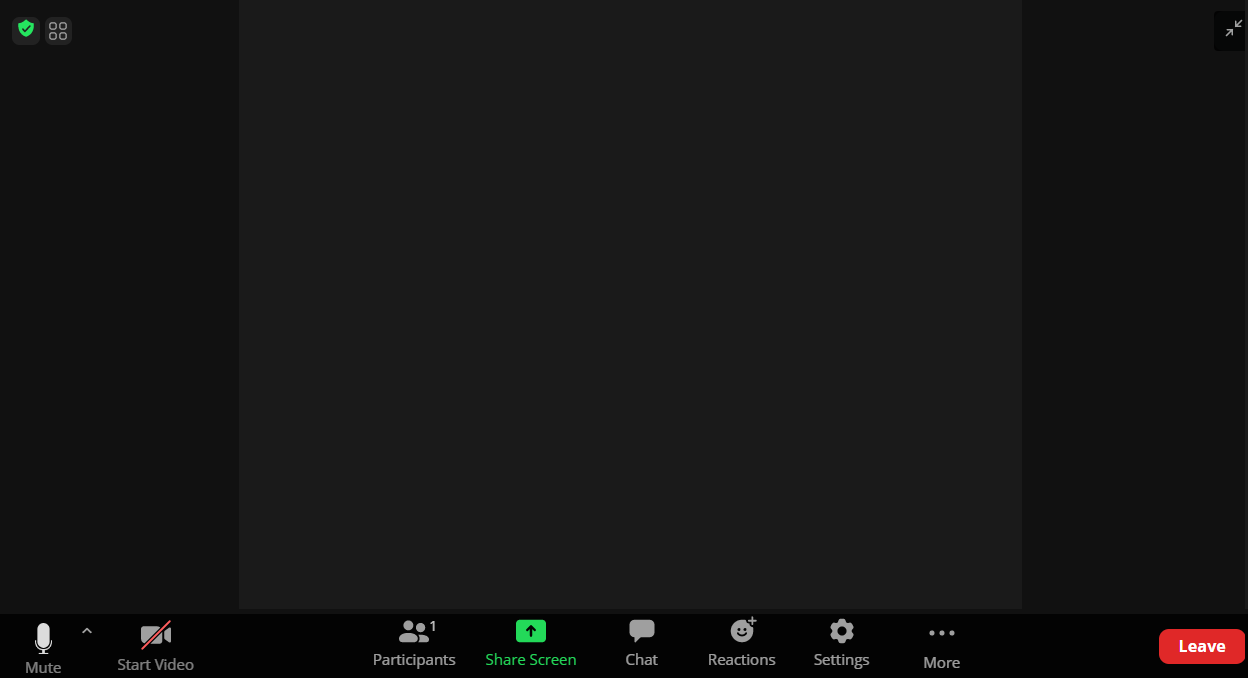 The Full Screen functions you'll see are described below: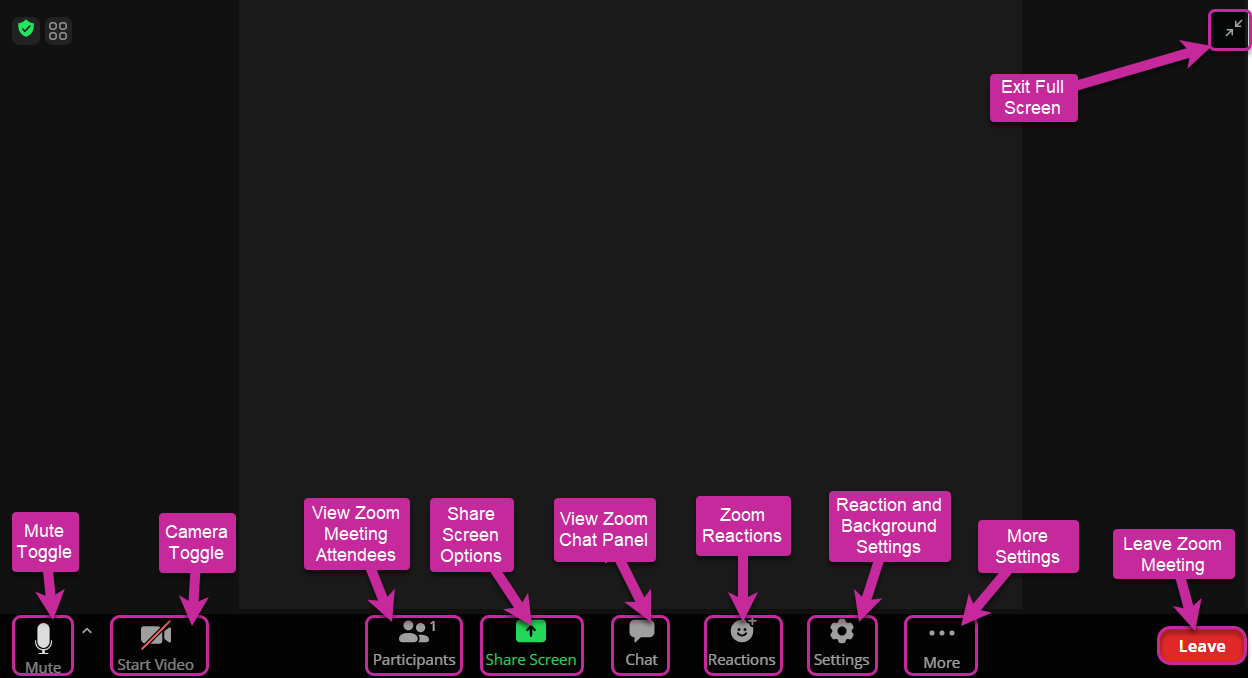 Clicking the small carat next to the Mute and Camera toggles will allow you to change your Audio and Video options for the Zoom Meeting.

IMPORTANT Best Practice Recommendations
We've put together a short list of recommendations when working with Zoom meetings to help keep everything secure and hassle free.
If you must use a web browser to join the meeting, use Chrome.

OnBoard's Zoom integration works with all of our mobile applications, such as iPhone and iPad, but if you must view the meeting from a computer's web browser, you'll have the best experience in Chrome.
Outdated browser such as Internet Explorer will not be able to join the audio portion of the meeting.

Ensure your Zoom meeting is not running concurrently with another Zoom meeting for your organization.

The Zoom integration allows for only one single account to be linked. This means that only one meeting can occur at a time.

Zoom Host controls are in Zoom only.

Your Zoom meeting inside of OnBoard can progress without a Host present, but if you wish to have Host controls such as the Record button, or the ability to mute/remove users, you will need to join the meeting from Zoom instead of OnBoard.

Do not post your meeting's hyperlink publicly.

Everything a user needs to know to join the remote meeting is securely kept right here inside of OnBoard. If you need to communicate the link outside of OnBoard, make sure you keep it in a secure channel. Posting the meeting link to social media makes it exceedingly public. ANYONE with that hyperlink can attempt to join your meeting.

Set up a password for your meeting.

After clicking the button to generate a new Zoom meeting in OnBoard, be sure to type in a password to lock it down even further. That way, people who might manage to get ahold of your meeting hyperlink still needs to know the password to join.

DO NOT use your PMI (Personal Meeting ID) for Zoom Meetings

The Zoom integration feature will simply not work if your meetings are set up to automatically use your PMI when the meeting is created.
Be sure to have the Zoom Account Holder disable this setting from Zoom.

For more information about how to use Zoom, please refer to this article: Zoom Web Client
---
OnBoard Group Trainings:
If you are interested, we do offer further education. You can find the calendar and register for OnBoard Admin group training sessions by clicking here.