Some organizations, such as universities, are required to make their meetings available to the public. OnBoard makes it easy to do just that. You can choose which meetings to publish and which to keep private, visible only to members of your organization. Here's how!
Publishing The Meeting:
First, navigate to the meeting's details page by clicking Calendar in the navigation tree, then selecting the desired meeting from the list. From here, click the Settings menu icon.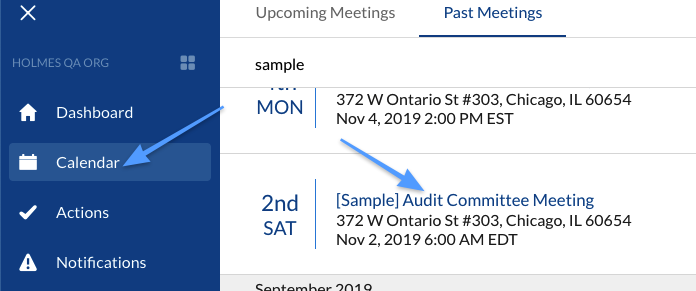 At the bottom of the Settings menu, you'll find the section labeled "Publish Meeting", with the Select Content and Publish button. Click this icon, but take note of the warning that appears next.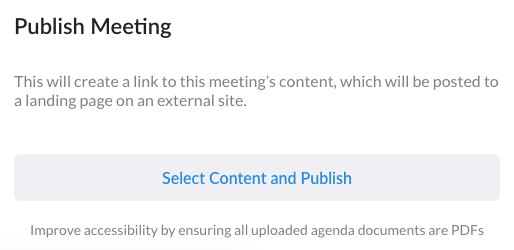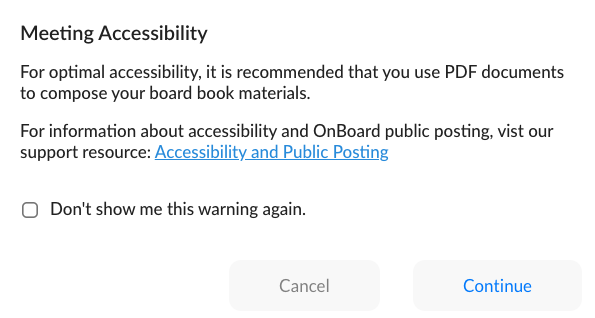 Important: This warning message is very important. OnBoard allows the upload of many different types of documents. However, to ensure 100% ADA accessibility compliance, it is recommended that you use only Adobe PDF documents. Passageways is not liable for documents that do not meet the accessibility requirements.
After clicking CONTINUE, you will be given the opportunity to choose which documents in your board book to make public, and a warning next to any document that will not meet accessibility standards. Make your selections with the checkboxes here, then click Publish Meeting.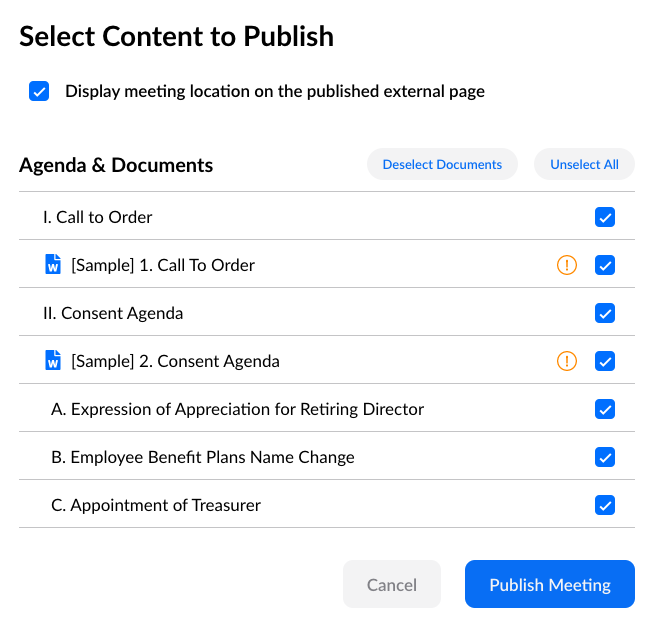 That's it! Your meeting and the documents you've selected here are now visible to anyone who has the hyperlink shown in the very next screen. Feel free to distribute this link to anyone who needs to view your organization's public meetings. Keep in mind that the link shown here will be the location for this one specific meeting. To capture a hyperlink that will show a list of more than one meeting, continue reading below.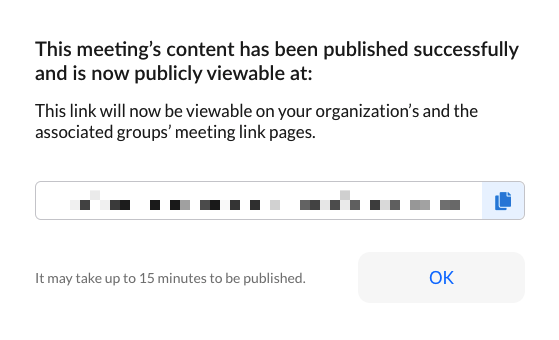 Hyperlink to the Entire Organization's List of Public Meetings:
Instead of individual hyperlinks for individual meetings, your organization may wish to have a single hyperlink that displays a dynamic list of all of your publicly published meetings. To access this link, navigate to the Dashboard page in the navigation, then click the Organization Info tab at the top of the page. Here, we'll see the public hyperlink that can be posted to your company's website, or handed out to those who need to view your materials.

Public Posting and Meeting Visibility Statuses
It is important to know that the Public Posting feature and the Meeting Visibility statuses are completely independent of one another. For example, if you fully complete your meeting creation (full agenda and uploaded documents), then Publicly Publish your meeting with the settings described in this article, the documents you've chosen to publish will be visible to the public REGARDLESS OF THE VISIBILITY STATE SET IN ONBOARD. This means that your meeting could potentially still be set to the Unpublished visibility state, but still publicly visible to the public through the public hyperlink.
Once your meeting is published publicly, it is NOT updated if your meeting in OnBoard changes. To have any changes take effect for a meeting that has already been published, you must Unpublish and re-publish the meeting for the public to be able to view the changes.
Tips:
Section descriptions do not appear on the Public Posting page. They will appear in the Open Book agenda panel, Table of Contents, and exported Agenda.

Unnumbered sections appear in the Open Book agenda panel and Public Posting page, but not in Table of Contents.

Supplementary documents will appear on the Public Posting page if left selected as content to be published.

Caution: when selecting which documents to be published, there is currently no indication of which doc(s) are supplementary.