The Profile & Settings page in OnBoard allows you to manage many aspects of your profile and your OnBoard experience.
Below are the items we'll cover on this page, which you can click to jump to:
Profile
To edit your personal user data, click on your name or photo from the bottom left corner, then select Profile.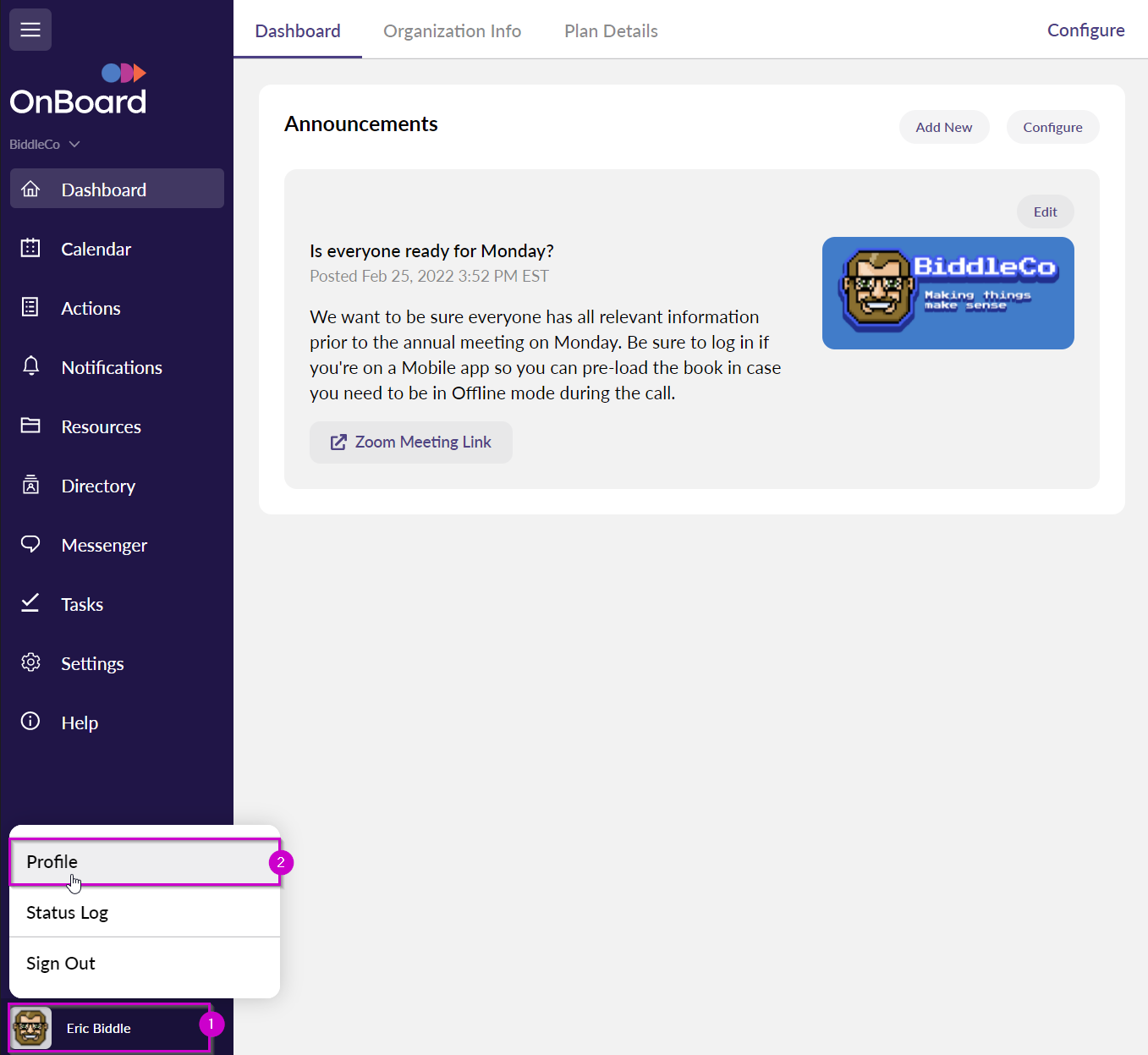 At the top of the next page, you'll see two tabs: Profile, and Settings. The first tab labeled Profile contains your account's personal information such as name, address, phone numbers, biography, etc.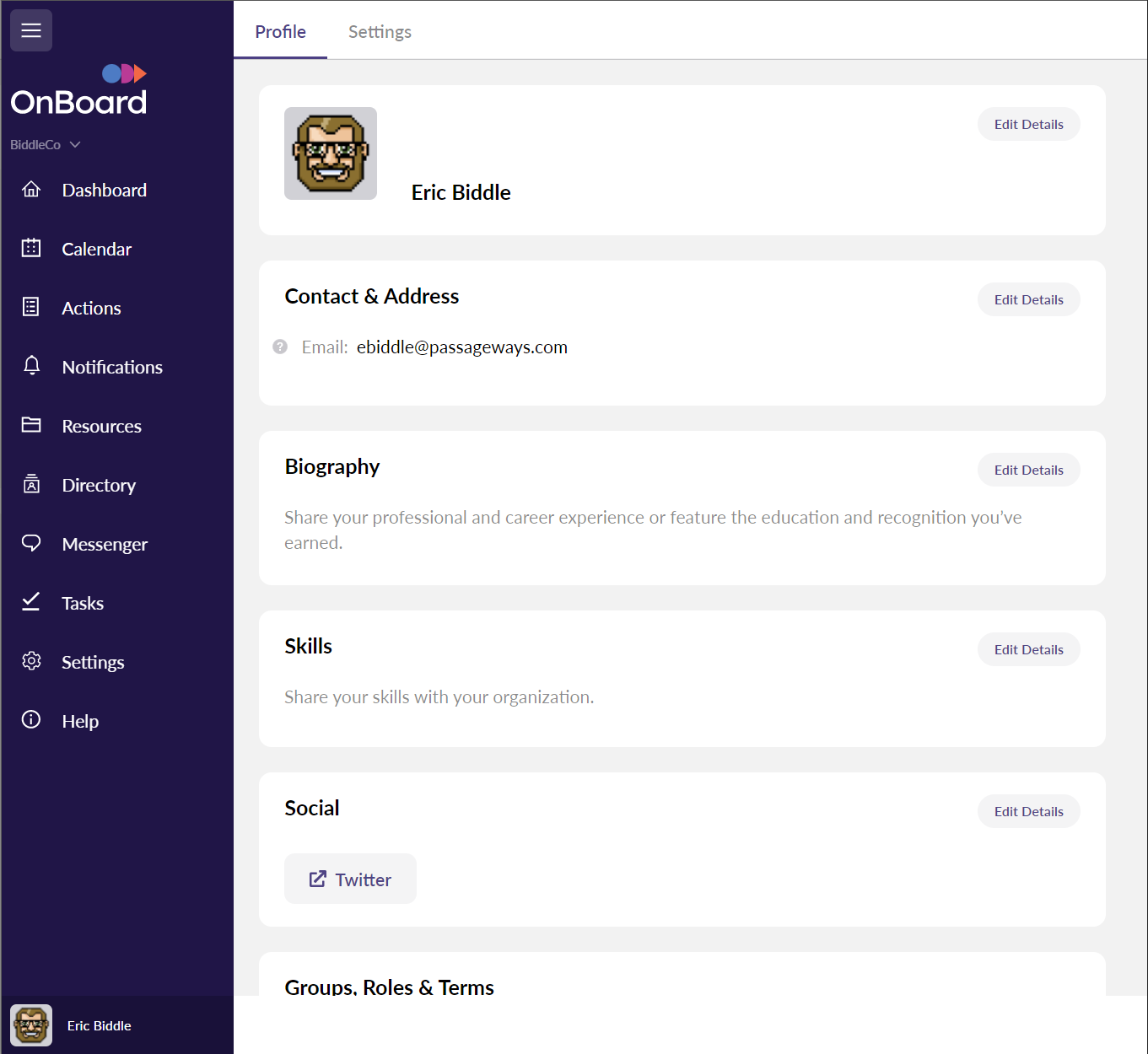 Profile Photo
If you don't already have a Profile photo uploaded, you can click Edit Details next to the top panel with your name.

Clicking on the words "Upload Image (jpg, png gif) will allow you to upload a profile image. Please note that the file types for the Profile Photos are restricted to jpg, png, and gif files.

About & Employment
Below the Profile Photo in the same panel you'll file the fields to change your Salutation, Name, and your Employer and Title.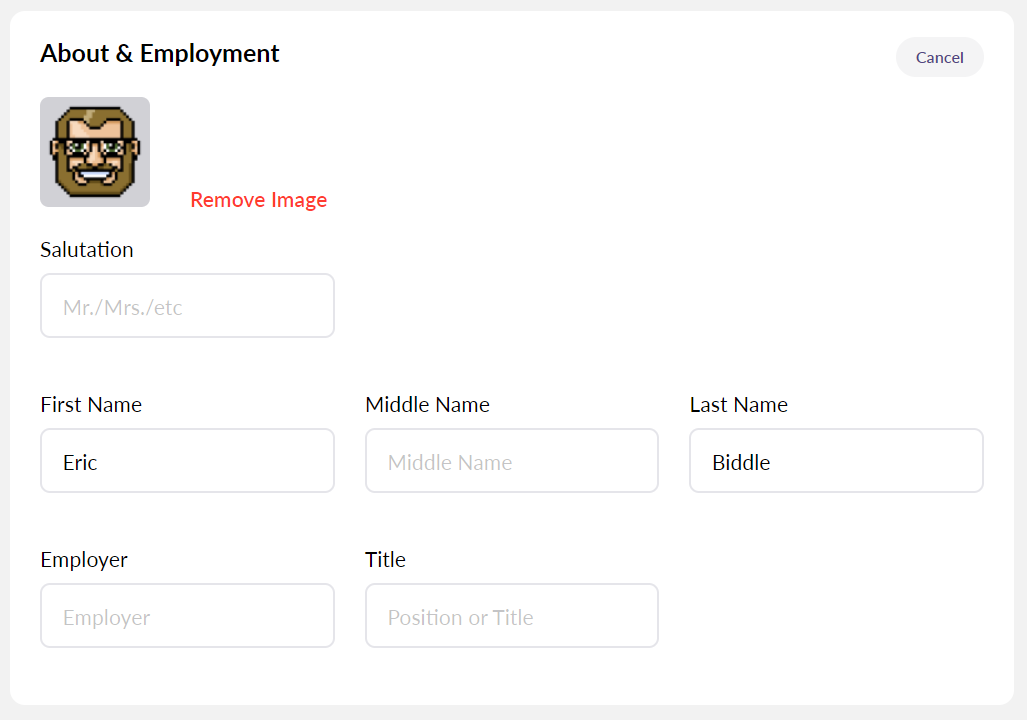 Once you've added this information in, click Save Changes at the top right corner, or hit Cancel if you'd like to back out without saving changes.

Contact & Address
The next panel is Contact & Address, which will show your OnBoard ID email address (please note, the OnBoard ID email address must be changed on the Settings page, details on this are further below).

When you Edit Details you'll be able to enter your Work Phone, Cell Phone, Home Phone info, as well as physical address data.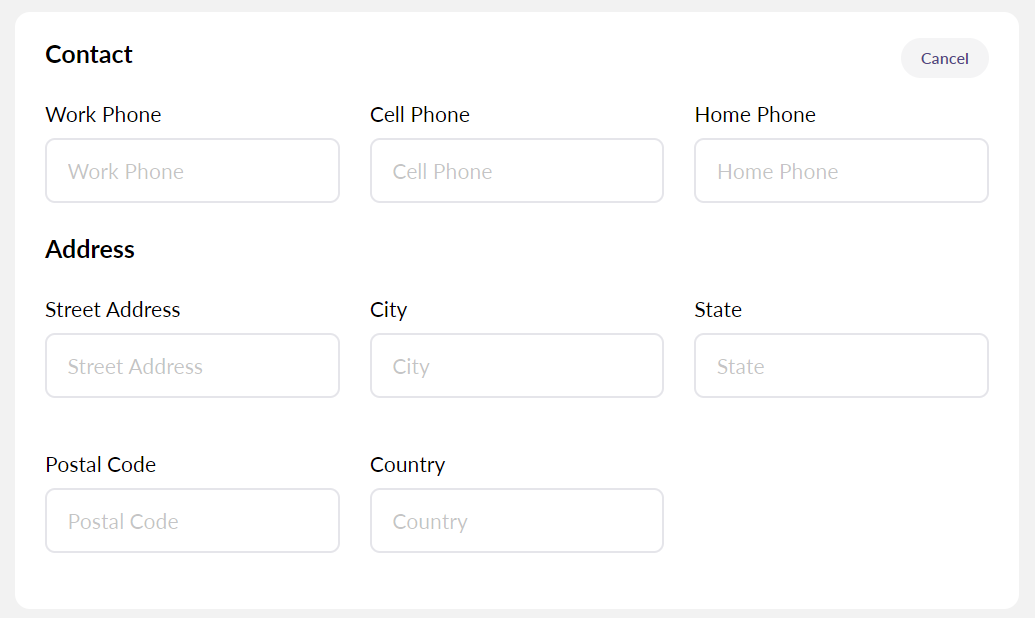 Biography
The third panel in the Profile is the Biography panel.

Here you can enter in your professional and career experience or feature the education and recognition you've earned. Or any other information you'd like users viewing your profile to know!

Skills
The Skills panel may not appear for all users, however, if it does it will allow you to select the skills your Organization has marked as Essential and enter your proficiency or experience with the skills.

Clicking "+ Add Skill" under Additional Skills will allow you to add a new skill not listed.
You can find out more about Skills Tracking by checking out the full article on Skills here: Getting Started With Skills Tracking
Social
If you have a Twitter handle or a LinkedIn profile link you'd like to add to your Profile, you can click Edit Details on the Social tab.

Users viewing your Profile will be able to click the links in this panel to view your social media items linked.

Groups, Roles & Terms
Lastly, the Groups, Roles & Terms panel will list the Groups you are a part of, as well as any Roles & Terms set for your user.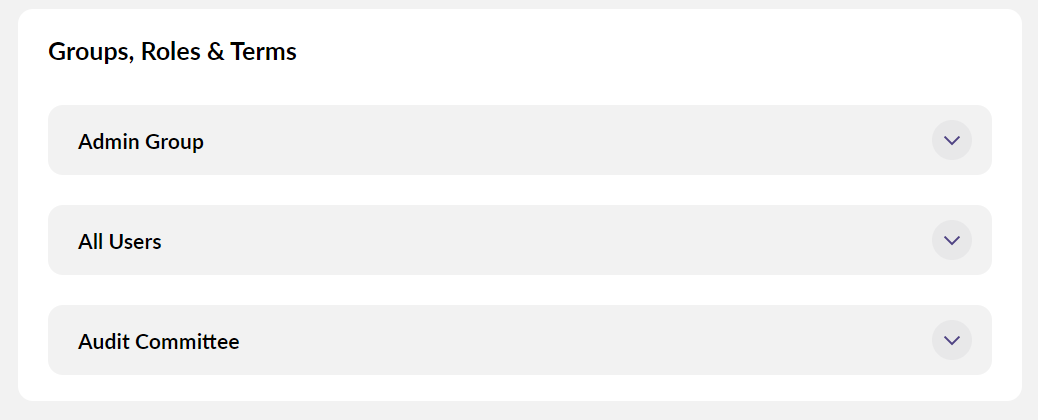 You can expand each Group by clicking on it to list the Roles & Terms assigned to you.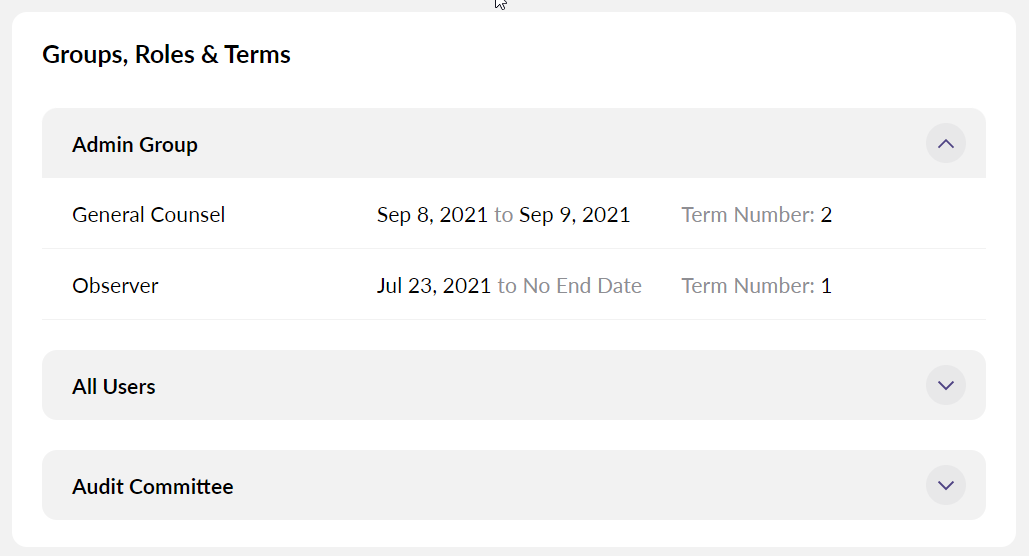 You can find out more about Roles & Terms here: Creating and Managing User Roles and Terms.
Settings
The second tab, Settings, is where you will find a few important controls for your account, such as notification preferences, security settings, and saved signatures that can be applied to eSignature Actions.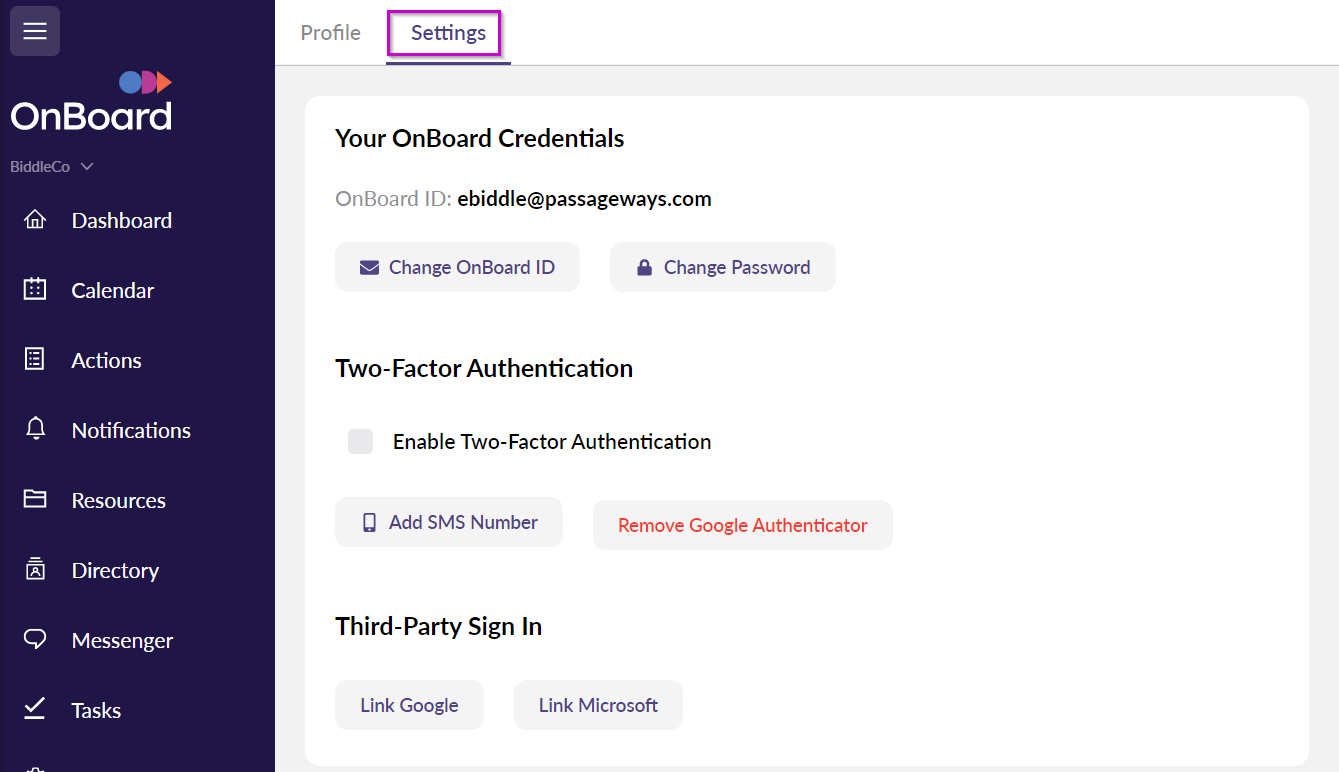 Your OnBoard Credentials
At the very top, you'll have the ability to manage your OnBoard credentials such as changing you OnBoard ID and changing your Password.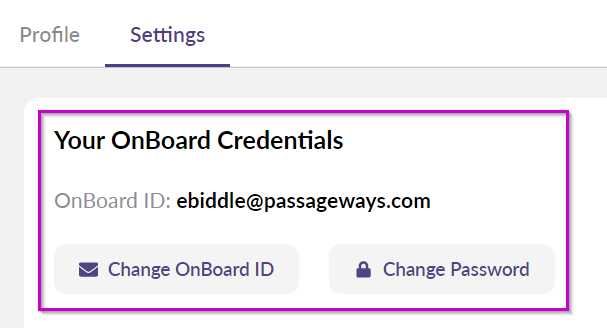 For more information on changing your OnBoard ID, please see this article with a full walkthrough:
[All Users] How do I change my OnBoard ID (Email Address).
For more information on changing your Password, please see this article: [All Users] How do I change or reset my OnBoard Account Password.
Two-Factor Authentication
Below Your OnBoard Credentials you'll find your account's Two-Factor Authentication options. You can enable the Two-Factor Authentication for your account here, as well as add an SMS number or Google Authenticator to send your Two-Factor codes.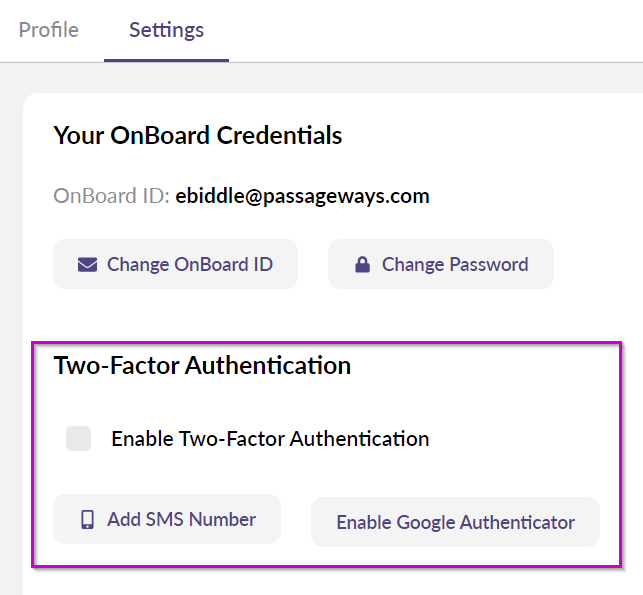 Third-Party Sign In
If you have a Google or Microsoft account that you'd like to link to use as a Third-Party Sign In option, you can link those here.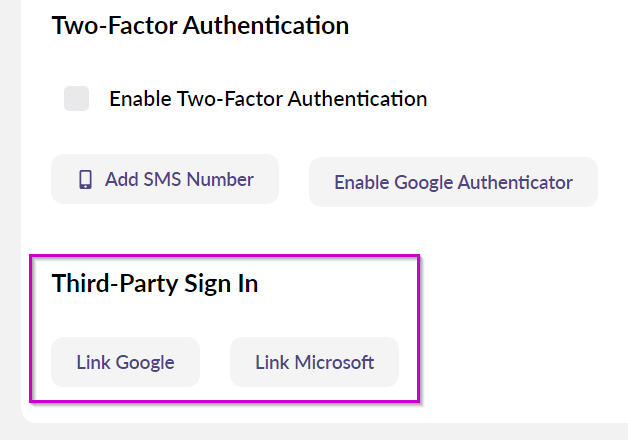 Calendar Integration
The second panel on the page will allow you to link a Calendar to receive Meeting invitations and RSVPs from OnBoard and sync these items seamlessly.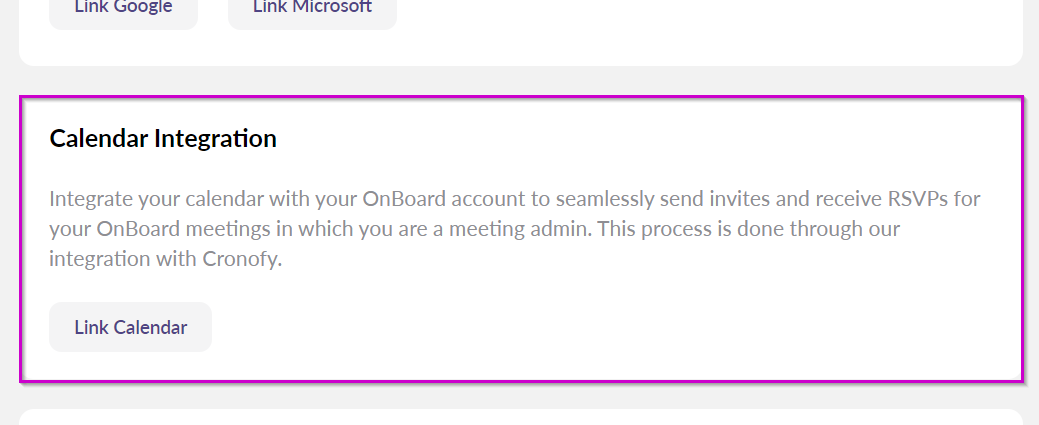 Please see this article for an expanded view of Calendar Integration.
Organization Settings
The final panel contains settings specific to the Organization you currently have selected.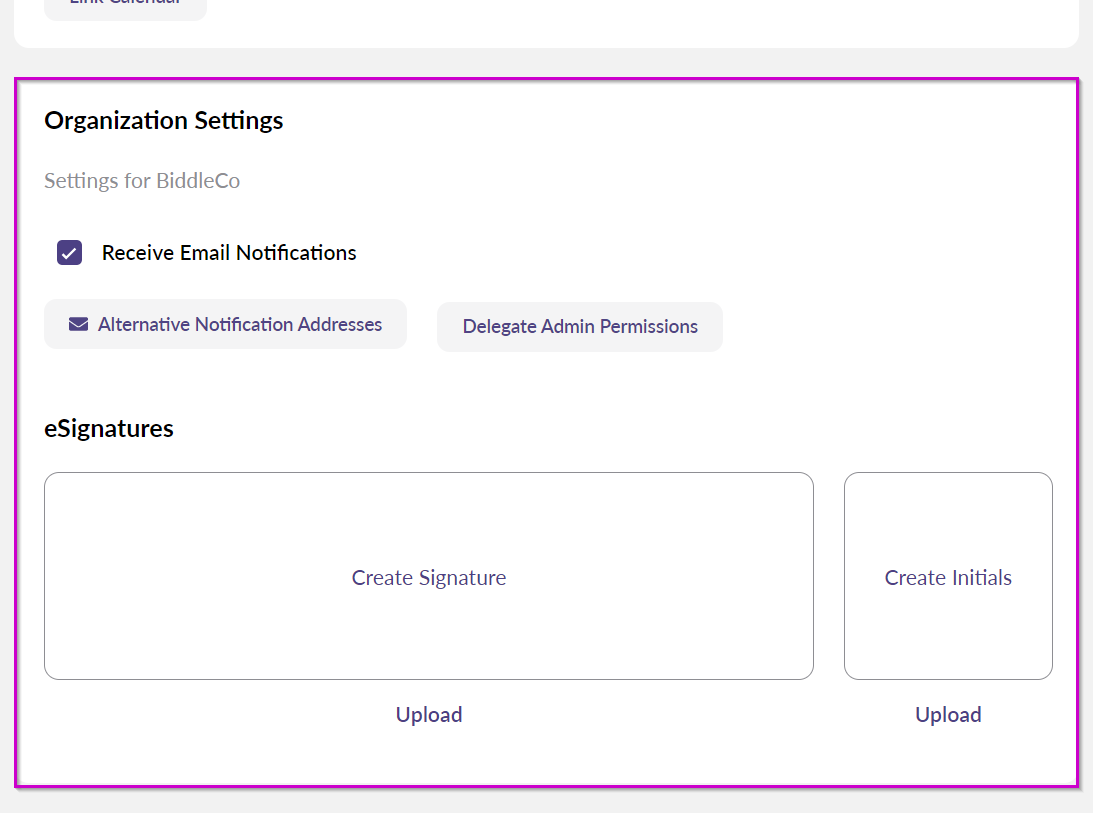 Here you can set whether you'd like to receive email notifications or an Alternative Notification Address to also receive notifications about your account for this Organization.

If you're an Administrator of the Organization and you'd like to duplicate your permissions to another user whether due to a vacation, retirement, or other reason, you can click Delegate Admin Permissions to do this. You can find a full walkthrough of Delegating Admin Permissions here: OnBoard Administrator Permissions Delegation.

eSignatures
To upload or create an eSignature Signature and Initials to use for items that require these in OnBoard, you can add those here. When signing on either web or mobile apps you'll be given the option to use these signatures so you don't need to manually sign every time.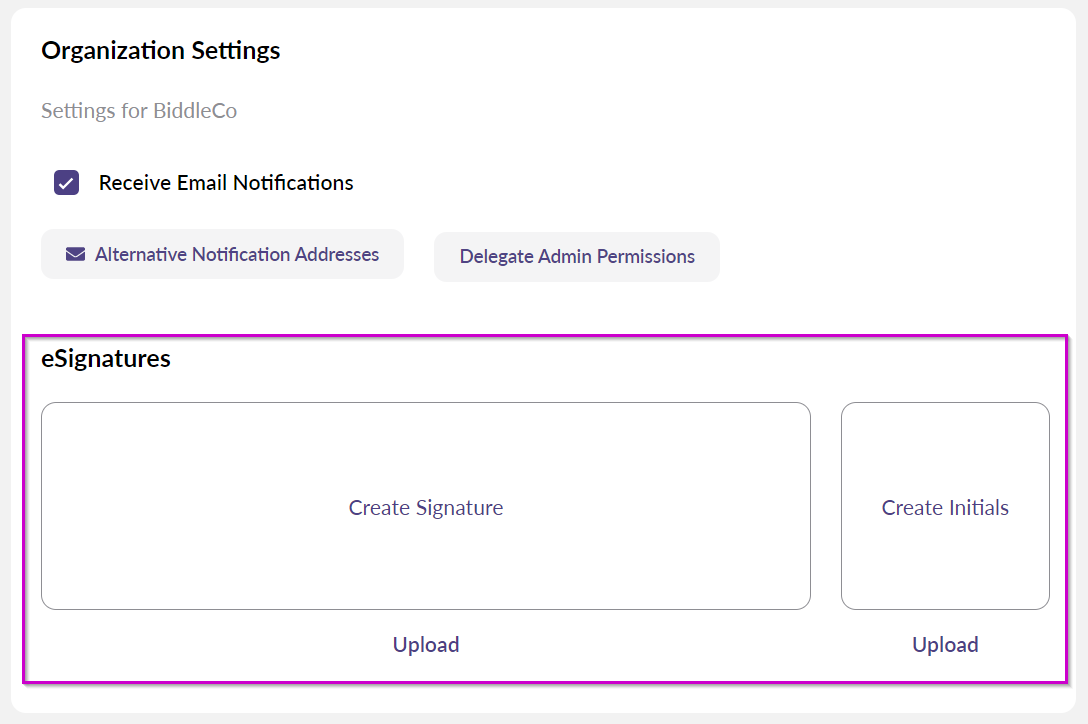 Clicking "Create Signature" will allow you to sign using your mouse, touchscreen, or stylus to sign the screen.

Once you have a signature that is to your liking, you can click "Save Changes."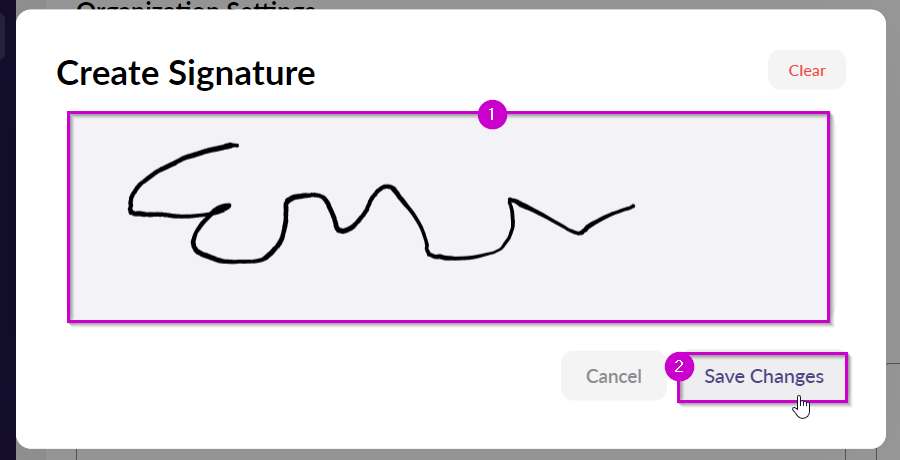 If you click Create Initials you'll have a similar option to manually enter your initials.

Once you write out initials you'd like to keep, go ahead and click the "Save Changes" button.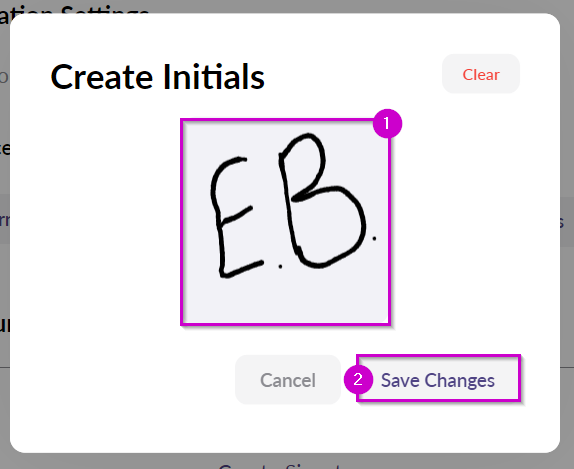 If you would instead like to upload a scanned image of your signature and initials, you can click Upload beneath either option to be able to upload a JPG, GIF, or PNG image to use.

---
OnBoard Group Trainings:
If you are interested, we do offer further education. You can find the calendar and register for OnBoard Board Member/Director group training sessions by clicking here.