OnBoard allows you the ability to create a wide range of Survey questions to distribute to the board or committee members. Survey participants can then submit their answers, which are automatically recorded in the survey results. These results can then be exported in a number of different ways, making record keeping easier for your organization.
Creating a New Survey
Begin by clicking "Actions" in the left navigation, then click on "Create New."

You'll then select "Basic Survey" and then click "Create Survey."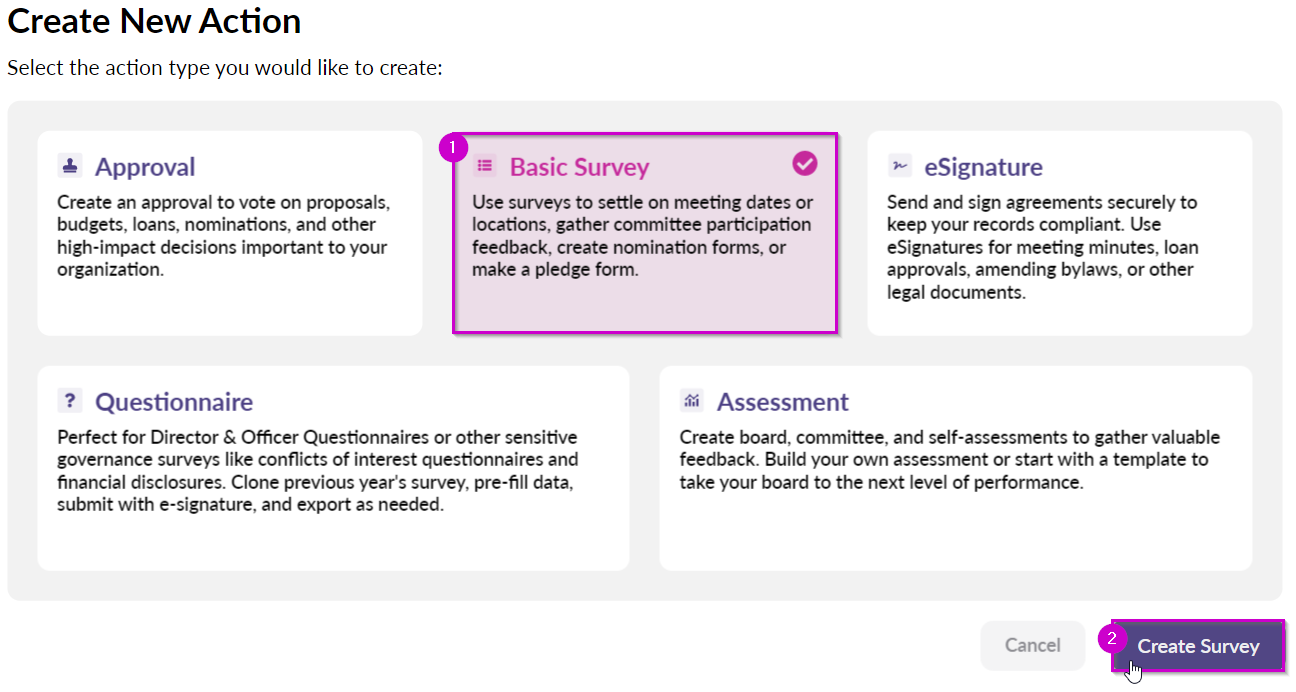 Once you have clicked the Create Button, you can then begin filling in the details of your new Survey.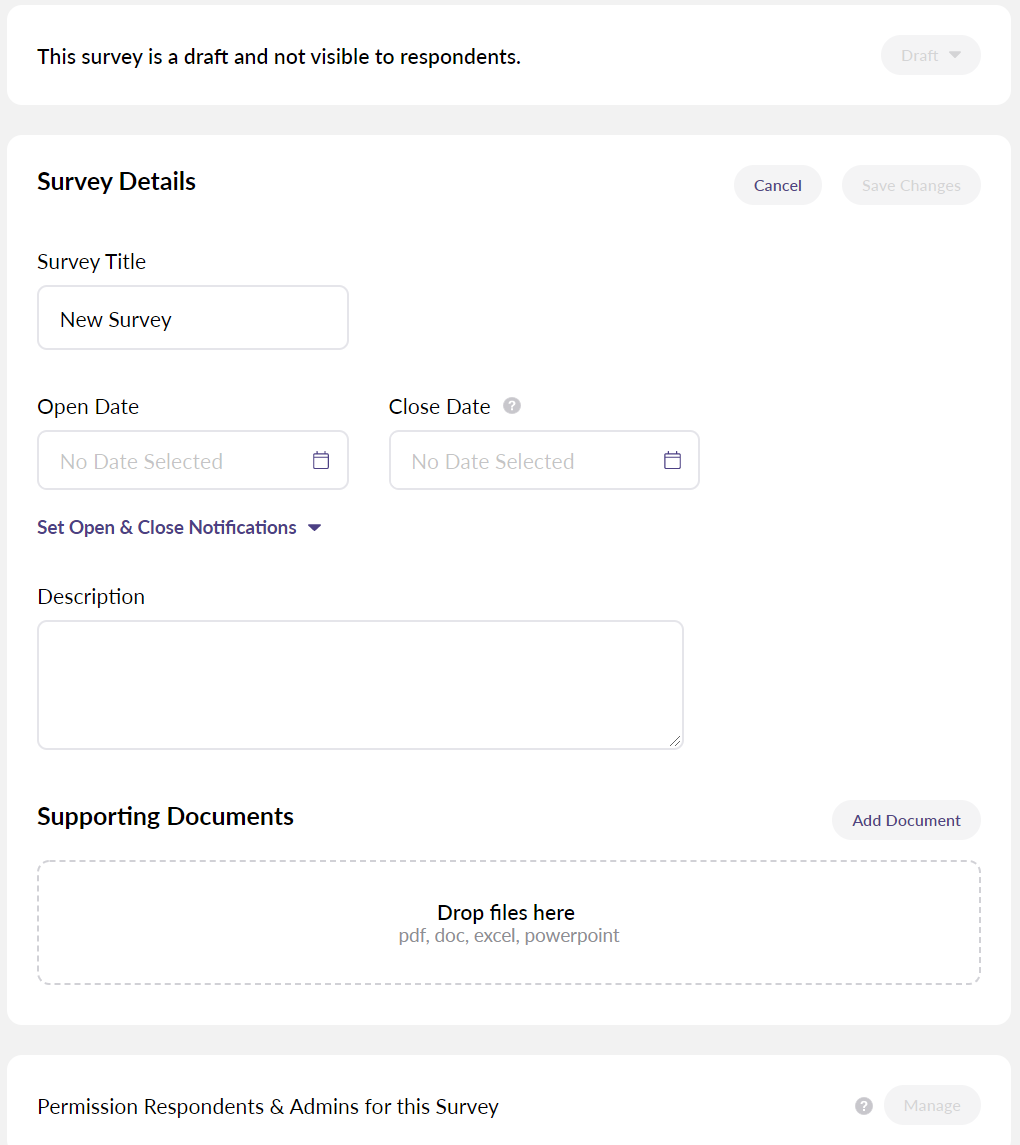 Start with the Survey's Name, optional Open/Close Dates, and Description.
You'll also want to set your Notification options for users by clicking on "Set Open & Close Notifications."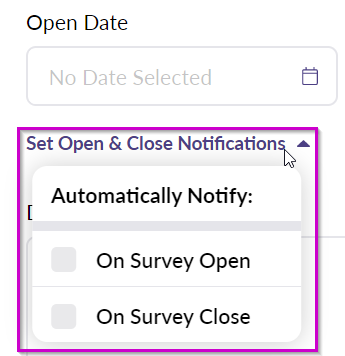 Here you can select if you'd like users to be automatically notified "On Survey Open" and/or "On Survey Close."
This is also your opportunity to attach any supporting documentation in the Supporting Document area.

Don't forget to save your changes before moving on to the next step!

Your Survey will stay in Draft status until you Open the Survey to the participants. You may edit the Survey as needed up until it is Opened. The Survey will AUTOMATICALLY transition into the OPEN status when the Open Date rolls around. Alternatively, use the Status dropdown menu (shown below), to transition the survey manually.

You have the opportunity to upload a supporting document to the overall Survey Details, as well as to each individual question. Simply click the Add New button located next to any of the Supporting Document sections to choose which document to upload.
Adding Respondents to a Survey
The next step of creating your Survey is to add your participants. Adding users can be done by "group" or individual. Like with the other permissions within OnBoard, the individual user permission will override the group permission. Click "Manage" in the Permissions panel for the Survey.



Click the + icon next to any user or group you wish to give the Respondent permission, which can be further altered by clicking that blue permission button and selecting an alternate one. Respondents will receive an email notification that the Survey is ready for them once it has been marked as Opened. You can find a description of each permission in the Master OnBoard Permissions List section of this guide.
You may add Respondents to the Survey at any time before it "closes," however, Respondents added after it opens will not receive an email notification and will need to be notified personally. Click Save to continue to the next step.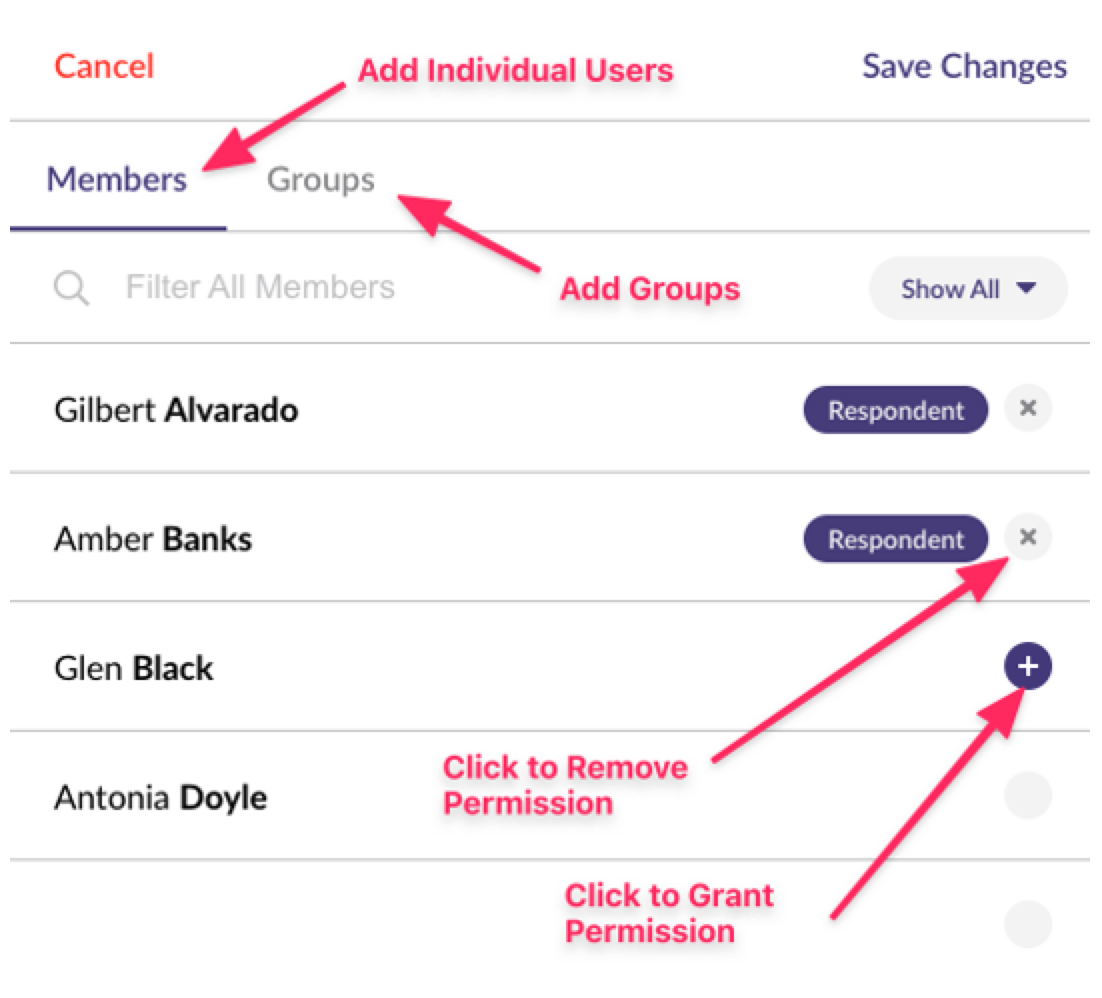 Creating Survey Questions
After the details and permission list for the survey have been configured, you can now begin creating the list of questions and answer choices. Begin by clicking the Compose Survey button, then use the Add Question button. A panel will extend off the right side, allowing you to edit your question's details and answers.


Question Types
You can choose from a few different Question Types by using the dropdown menu. Some of the question types will have a default set of answers that will pre-populate for you.
NPS Score – This is an index ranging from zero to ten that measures the willingness to recommend a company's product or service to others. When selecting this type of question, the zero through ten answer choices will be populated for you automatically, and they cannot be edited.
Check Boxes – This type of question will be used when you wish to display multiple different answer choices, and allow the survey participant to be able to select more than one
Radio Buttons – This type of question will be used when you wish to display multiple different answer choices, and allow the survey participant to be able to select only one.
Likert Scale – Likert Scales are used to gauge the participant's attitude or opinion of the question. With questions of this type, participants will need to indicate the extent to which they agree or disagree. Selecting this option will populate a few answer options automatically, but they can be edited to your liking.
Essay / Long Answer – This type will elicit a more verbose and detailed response from the survey participant. When using this question type, participants will need to key in their own text as an answer.
After you've selected a question type, enter the question text you would like to ask within the textbox provided. The Require This Question checkbox can be enabled if this question must be answered before the survey can be submitted.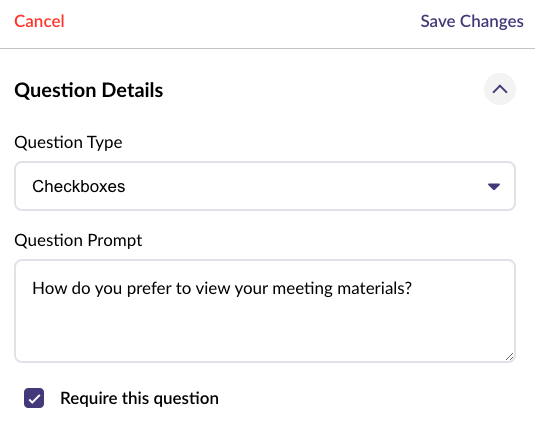 Creating Answer Choice Options
You must now configure the different answer choices for this particular question. To do so, click the Add Response button, type in your answer choice, and repeat the process for additional answer options. Checking the Allow Write-In option will include a blank line for users to fill in their own custom response when completing the survey later.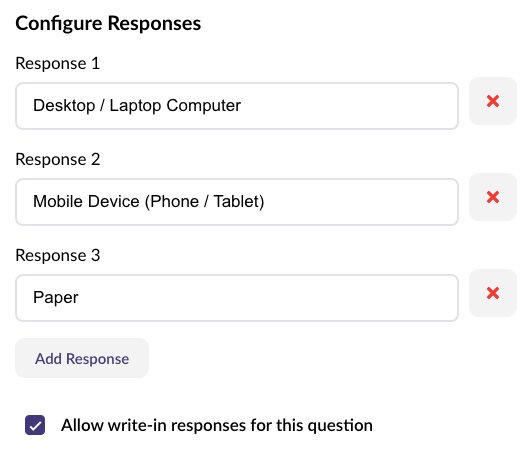 Adding Question Documents
Documents can be uploaded to each individual question by dragging and dropping a PDF, Word document, Excel workbook, or Powerpoint file into the "Drop files here" area, or clicking "Add Document" to add from Resources or browser your computer for a file.

Setting Results Display
When creating each question for your survey, you have a few different options for displaying results. You must select one or both of the "Graphical, or "Roll Call" options to be able to see the results in any fashion. Choosing either "Results Visible to Respondents," or "Results Visible to Admin" will restrict the results to one permission or the other. Keep in mind that the Roll Call option will display every participant's name and the answer they choose.

Reordering and Deleting Questions
This entire question-creation process can be repeated to add several more questions to your Survey. Once a list of questions has been generated, you may wish to reorder them. On the Compose Survey screen, select any of your questions in the list to enable the Move Down, Move Up, or Delete buttons in the toolbar. Use these to restructure your survey or remove questions entirely.

Opening a Survey
Once all of the Survey's details have been locked in, the Survey is ready to be opened for voting. This can be done two different ways. If you wish to open the survey immediately, so that the Respondents may begin answering questions right away, simply click "Open" in the Status dropdown menu at the top of this page.

Once you do this, you'll be prompted to be sure.

If you decide to Open, you'll then have the option to notify your users of the Survey becoming available and including a custom message.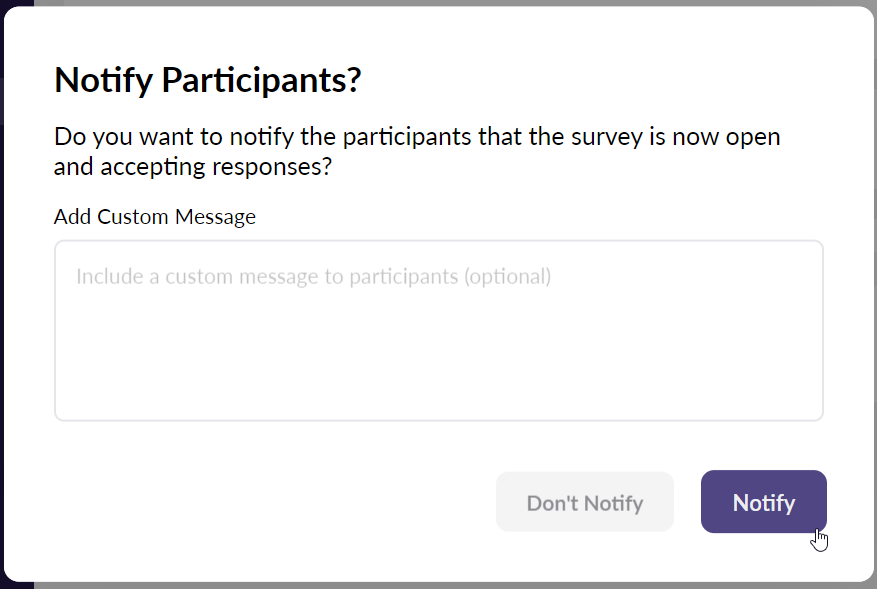 Alternatively, you can set a Survey to open automatically by entering a value into the Open Date field. Once the date and time entered into this field become current, the Survey will automatically open, alert the Respondents, and begin capturing the answer results.
Responding to a Survey as an Administrator
If you are the admin and a Respondent, you will be allowed to complete the survey once it has been opened. Simply click the Take Survey button to participate.

Sending Reminders to Survey Respondents
If you'd like to remind participants to respond to the Survey you can click Send Reminder.

You'll have the option to send a Reminder to all participants, or just the ones who haven't yet completed the Survey, and you can include a custom message to the users.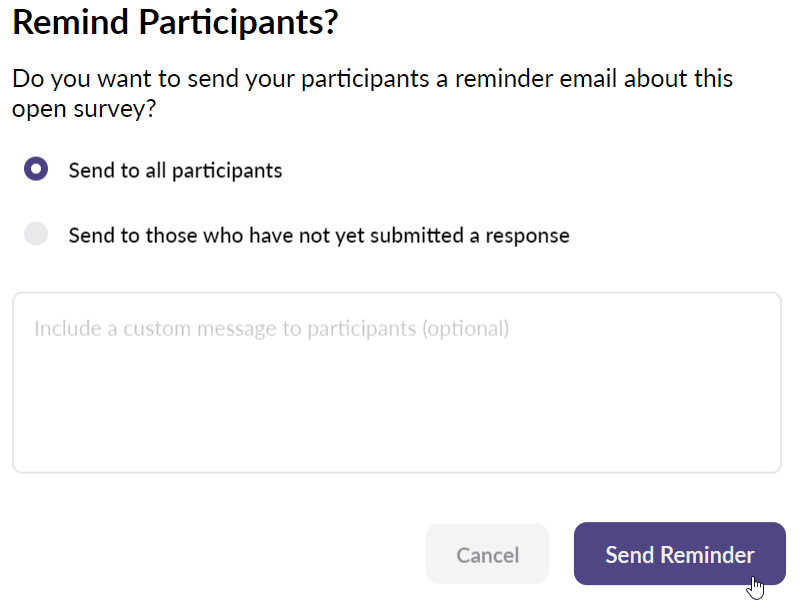 Closing a Survey
Once all of the question's answers have been recorded, you will need to close the Survey. Click on the "Close" button in the Status dropdown menu.

You'll be prompted to be sure you want to close the Survey, since this can't be undone.

Once Close Survey is clicked you will be presented with the option to notify participants that the Survey has closed and include a custom message.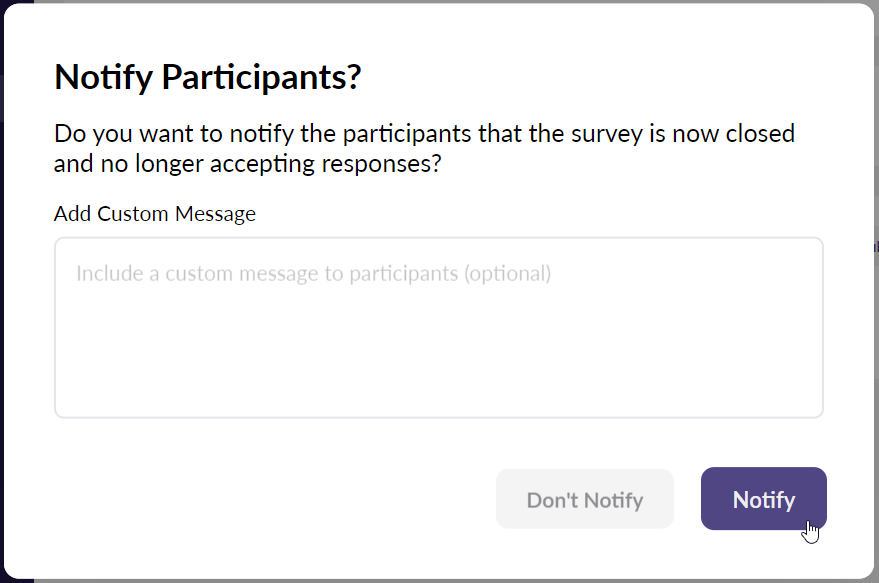 Alternatively, you may wait for the Survey's "End Date" to come and go, if one has been filled out in the details of this particular Survey. It is at this point that the Survey becomes locked and participants will no longer be able to submit answers.
Viewing and Exporting Survey Results
Once the Survey is closed, you can review each question's results by clicking the View Results button.

Click Downloads Results to export a copy of the results of the entire survey. When clicking the button, you're presented with an option of either Microsoft Word format, Microsoft Excel format. Selecting either of these options will download the respective file to your computer, with the result details of this particular Survey.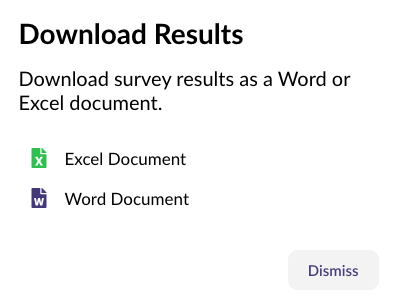 Deleting or Duplicating a Survey
Sometimes, it may be necessary to reuse the questions of a Survey over and over again. You do not have to recreate the questions and answers every time you need to create this survey. You can simply copy it! This can be done very easily by clicking the options menu next to any survey's name, then clicking Duplicate.
From this menu you can also Delete the Survey, View the Survey, or copy the link to the Survey to send to users who have permissions to view it.