With the most recent update to OnBoard, the web now has a pdf viewer with the ability to annotate the book. From this view, there has been some confusion as to where to click to actually download the book. Luckily, this is a very easy thing to do once you know what icon to look for from the book viewer.
Navigate to the meeting you're want to download the book for then click the Downloads button.

A small menu will appear. Choose either of the "Meeting Book" options from this list.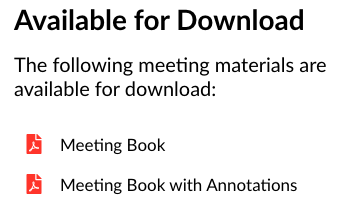 If you do not see the Book option from this list, the book has been disabled for download. This is an administrator permission. Please review this article for more information.